THE CHEAP SEATS with STEVE CAMERON: Mariners ailing, in more ways than one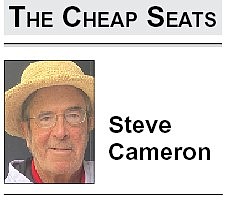 The Mariners are in the toilet.
That much is pretty obvious.
Now, to be fair, this was never supposed to be more than a "build-up" season — something like batting practice for honest-to-goodness competition in 2022.
Still…
Nobody could have guessed that the M's might be stuck so FAR down the toilet, and so soon, in a year that promised excitement — if not exactly a pennant race.
But as the Mariners limped out of San Diego on Sunday evening, following a three-game sweep in which they were walloped twice and merely slapped around in the middle game, they're looking at a six-game losing streak, a looming visit to Oakland, and…
No logical way to see things improving until, when?
Next year?
Honestly, it feels like that.
Look, Seattle wasn't going to be a World Series participant this season, and we knew that.
Truthfully, though, it would have been a cruel mind that could have foreseen everything that's gone wrong in less than two months.
WE CAN start with the fact that the M's currently have 13 players from their planned everyday roster gone to the injured list.
Thirteen!
Some are done for the season — like James Paxton, whom the organization hoped would form a 1-2 tandem atop the pitching rotation with Marco Gonzales.
In what was maybe a perverse hint of what was to come, Paxton pitched exactly one inning before feeling pain in his forearm.
Diagnosis: Tommy John surgery.
Oh, and Gonzales is gone, too, ominously feeling similar forearm pain after starting the season poorly.
Marco is throwing again, at least, but the way things are heading, I'd suggest an MRI twice each week before letting him actually throw a pitch.
Let's see, who else is on the IL?
Second baseman Dylan Moore, who had a breakout year in 2020; Ty France, the pure hitter acquired last season in that big trade with San Diego, now suffering from an injured wrist; Kendall Graveman, converted to the closer role and unscored-upon in 16 innings, hit the IL on Sunday; then, there's Evan White, who eventually will be a solid power hitter in addition to his Gold Glove at first base — if he can ever get the at-bats after recuperating from a hip flexor..
And so on.
Even reigning Rookie of the Year Kyle Lewis missed the first 17 games, came back rusty, and just now has managed to shove his batting average up to .240 — but so far, with little of his natural power.
Aaaahh!
SOME OF the club's woes lie at the feet of GM Jerry Dipoto, who knew fans would be returning to T-Mobile Park and wanted to create some excitement.
Jerry summoned the confident (but woefully inexperienced) outfielder Jarred Kelenic from AAA Tacoma at least several months too soon — and Kelenic now is forced to learn on the fly.
The result is a .133 batting average, and the need for fans to light candles that Kelenic will not lose faith in himself.
Even more irresponsibly, Dipoto called up right-handed starter Logan Gilbert after one five-inning start in Tacoma.
Since he had no minor league work in the washed out 2020 season, Gilbert actually made his major league debut with just that one AAA appearance on his resume in nearly 600 days.
Predictably, Gilbert — who does have the arm and the arsenal to win in Seattle sometime down the road — got a rude greeting in his first two big-league starts.
So, what to do now?
Back to Tacoma, for some work on his secondary pitches, or hang in there with the Mariners who, by the way, have almost no one else to fill out the rotation?
ALL THIS would be grim enough, but on top of things, the Mariners insist on self-destruction through COVID-19 exposure — with far too many players choosing NOT to be vaccinated.
The M's had to put four relievers from their already stressed bullpen into the COVID protocol in San Diego.
Manager Scott Servais has done everything but beg his troops to get vaccinated, but sources around MLB say Seattle has one of the lowest participation rates in the game.
Swell.
By the way, only baseball could get itself into this kind of fix.
All minor league players are under control of their clubs, and can be removed from lineups or pitching rotations if they decline the vaccine.
Tacoma, for instance, has nearly a hundred percent participation.
At the major-league level, though, suddenly you've got the union involved, and of course, one demand from the MLBPA was that members could decide for themselves.
THAT SEEMS fair on the one hand, but exceptionally selfish on the other, since catching the virus impacts individual teammates and the club as a whole.
So…
Where does it all go from here?
Can the Mariners pry themselves out of this Porta-Potty, maybe sometime before next season?
You'd like to believe so, and yes, quite a few players might be set up for a decent second half of the season.
Unfortunately, it feels like this team won't come busting out of the gate in 2022.
Not unless quite a few of the prospects are tearing up the American League by August.
Possible, I guess, but…
I suspect we'll have to settle for some fun.
And hope.
Always…
Hope.
Email: scameron@cdapress.com
Steve Cameron's "Cheap Seats" columns appear in The Press on Mondays, Wednesdays and Fridays. "Moments, Memories and Madness," his reminiscences from several decades as a sports journalist, runs each Sunday.
Steve also writes Zags Tracker, a commentary on Gonzaga basketball which is published monthly during the offseason.
The next Zags Tracker will run Tuesday.
Recent Headlines
---