Human rights group emerges from pandemic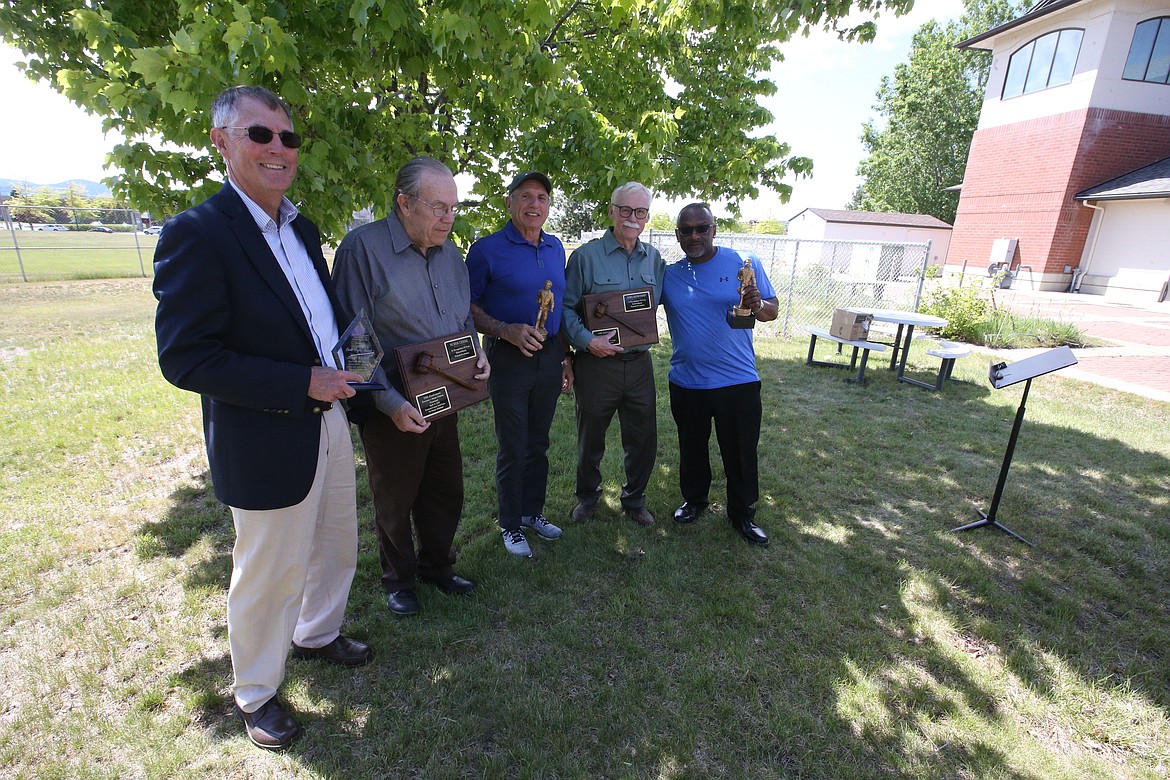 (From left) Jerry Keane, Norman Gissel, Dane Hanna, Ken Howard and Cedric Clark humbly accepted awards from the Kootenai County Task Force on Human Relations Saturday. Keane was awarded the 2020 Civil Rights Award for his work as Post Falls School Superintendent battling with bullying in his district. Gissel and Howard received 20th-anniversary commemorations for their work on the lawsuit that brought down the Aryan Nations. Clark and Judi Hanna received Bill Wassmuth Memorial Volunteer Of The Year awards for their work with the task force; Dane accepted the award on his wife's behalf. (CRA...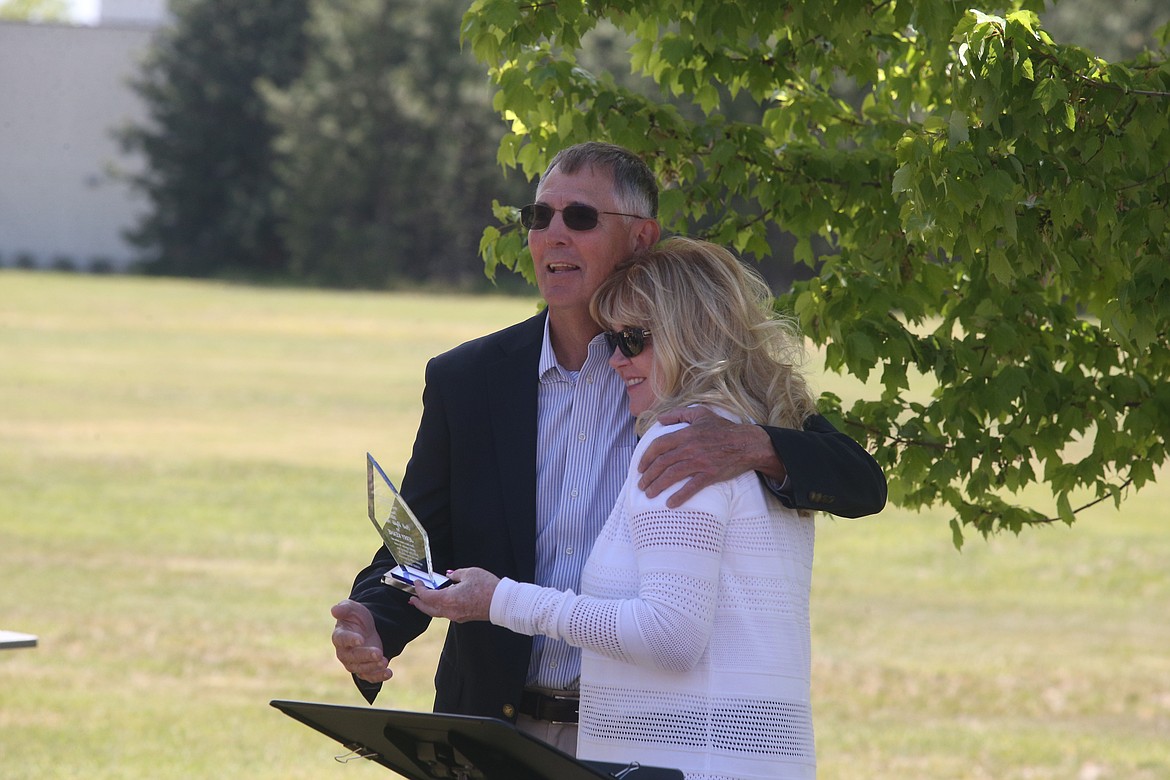 Post Falls School Superintendent Jerry Keane accepts an award and an embrace from Kootenai County Task Force on Human Relations President Christie Wood Saturday. "It was an opportunity to tell these people how important they are to the community," Wood said. "We didn't want to wait another year. These awards were from last year. For us, we want to recognize people who work so hard for human rights and civil rights all the time. We didn't want to wait any longer." (CRAIG NORTHRUP/Press)
Previous
Next
by
CRAIG NORTHRUP
Staff Writer
|
May 24, 2021 1:08 AM
The roughly two dozen residents and civic leaders sitting behind the Community United Methodist Church in Coeur d'Alene on Saturday was not a typical gathering of the Kootenai County Task Force on Human Relations.
But as founder Tony Stewart said, very little has been normal lately.
"The last year has been difficult for us to carry on our work in a normal way," Stewart told The Press. "… What we're doing today is honoring some very special people who have spent a lifetime supporting human rights."
Due to the COVID-19 pandemic that has spent the past 14 months shuttering most large gatherings, the task force has not been able to hold its past two annual banquets. It's an unfortunate side effect of the pandemic Stewart at least partially remedied Saturday, thanks to a minister with ties to the task force.
"It is with special thanks to Rev. Heather Seman, a new board member of our task force and pastor of the Community United Methodist Church, that we gather here on this beautiful day to recognize and honor five special individuals for their many contributions to society," Stewart told the crowd Saturday afternoon. "Especially our region in advancing civil and human rights, diversity, inclusion and social justice."
Alongside task force president and Coeur d'Alene City Council member Christie Wood, Stewart presented Post Falls Schools Superintendent Jerry Keane with the 2020 Civil Rights Award for his work to reduce bullying in his schools.
"Keane's decades as an administrator in the Post Falls School District included working with the Kootenai County Task Force on Human Relations on numerous human rights initiatives to combat bullying [and] establishing student human rights clubs," Stewart said. "For 35 years, he joined with the Coeur d'Alene schools and the KCTFHR to sponsor the annual Dr. Martin Luther King Jr. 5th Grade Children's Program."
Keane told The Press he was honored to accept the award, and that many people who collaborated with him along the way to help curtail bullying deserve awards all their own.
"It's always special to receive an award for helping people, and that's really what this is all about," Keane said. "I've been blessed to be associated with smart people willing to help me through difficult times."
The task force also awarded Judi Hanna and Cedric Clark with Bill Wassmuth Memorial Volunteer Of The Year awards for the time they've donated to the task force. Both have helped with fundraising, prepared the yearly human rights banquets and the annual gala, all while manning booths during the annual North Idaho State Fair and Rodeo.
"I love being on the task force," Clark said. "It means a lot to me … Where I'm from, Virginia, a lot of people hear things about Idaho, about North Idaho. We talk about race, but I tell them, 'I've met some of the best people up here.'"
"Cedric's become just one of our closest and dearest friends," Wood said. "His commitment to human rights was so clear and so evident to us."
Hanna was in Alabama tending to personal matters, but her husband, Dane, accepted the award on her behalf.
"I know how much she appreciates this organization," Dane said. "I know how important she feels the issues we're facing today are."
The task force also recognized Ken Howard and Norm Gissel on Saturday. The two attorneys were integral in Keenan v. Aryan Nations, the landmark trial that ultimately dismantled the Hayden Lake-based Aryan Nations white supremacist group. Saturday's ceremony commemorated the 20th anniversary of the case that cast the hate group into bankruptcy.
Gissel said the people who worked together on that trial — particularly Howard, Morris Dees and the Southern Poverty Law Center — all deserve awards.
"That trial sent two messages," Gissel told the crowd. "It not only sent a message across the United States, but internationally. That is the magnitude for what [Howard, Dees and the SPLC] have done. Their legacy is going to live forever."
Stewart warned that the work of establishing an Idaho committed to human rights and social justice is far from over, and that recent rhetoric demonizing the tenets of the group's ethos is troubling.
"Over the past couple of years, there has been a very serious attack within our state against a number of our leaders on human and civil rights and social justice, even labeling such things as 'communist doctrine,'" Stewart told The Press. "Many of us in our organization and around the state have worked hard for years to promote the dignity of all people, human and civil rights, and social justice."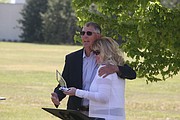 More work — and, for that matter, more honorifics — will come Friday, when the task force will present a trio of global human rights award to philanthropist Gregory Carr, North Idaho College President Rick MacLennan and the NIC Foundation at the Rotary Club luncheon.
Saturday's reception, meanwhile, served as an indicator to its recipients that things are slowly returning to some semblance of normal.
"I thought it was a very nice ceremony," Gissel said Saturday evening. "Family and friends were there. They're all allies in this fight. The people there were real warriors. It was nice to press the flesh again. It reminded me that we're not alone in this."
Recent Headlines
---