MOMENTS, MEMORIES and MADNESS with STEVE CAMERON: If pros think Kiawah Island is brutal, I know where the wind is much worse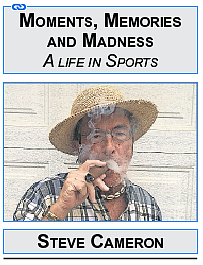 Whoosh!
It's hilarious how the world's best golfers complain about the slightest gust of wind.
The PGA Championship is being played this weekend at the Ocean Course on Kiawah Island, S.C.
Yes, the wind can blow across the island.
The hint there is that the venue is called the Ocean Course.
So, suddenly, these big bashers are whining about a bit of breeze.
You'd think the tournament was being played in a hurricane.
"It's diabolical," Bryson DeChambeau told ESPN's Bob Harig about the wind at Kiawah. "You've got to be on point every single hole.
"The wind just kicked my butt," DeChambeau said. "Just grinding out there. It takes a lot out of you. Working really, really hard to hit every shot the exact way I want to.
"It's windy when you're over a 4-footer. Wind is blowing really hard, and you think [the putt is] going to break. When the wind stops, it's not going to break.
"It's all just a really difficult thing that you've got to control out there. It's a lot of work."
EVEN A notoriously good wind player like Brooks Koepka chimed in to claim that the whole experience at Kiawah is just plain terrifying.
"You are holding on for dear life," said Koepka, who has won four major championships.
Hah!
Boys, you ought try playing No. 4 at Strathlene on a normal Wednesday afternoon.
Or No. 12 at Hopeman, a par-3 on which you literally have to aim your tee shot out into the Moray Fifth — trusting that the gales off the North Sea will pull the ball back into play, rather than pushing it to Greenland.
Yep, those are routine, everyday golf courses in Scotland, where I lived for four years — and where I learned that complaining about the wind was not only useless, but considered a little wimpy.
When you ask the locals about a weather forecast, they'll say: "Scotland will be what Scotland will be."
What's more, courses all seem to be laid out with the idea of torturing you.
For instance, I was a member at Strathlene Golf Club, and took a routine battering.
CONSIDER…
Nos. 8 and 9 are par-4s, going in opposite directions, so no matter which way the wind is blowing, you're going to have one hole that calls for a driver and a couple of 3-woods.
Strathlene is a par-69 layout, but only because three of par-4s would be par-5s anywhere else in the world.
The members find it amusing.
Nos. 9 and 12 are about 450 yards, and they play against the prevailing wind — plus, I'm pretty sure the numbers on the scorecard are lies.
Now, about the wind…
You know, the breezes that the pros are complaining about this week on the South Carolina coast.
Let's say it gusts to 20 miles per hour during the PGA Championship.
My goodness, half of Scotland would call in sick to work and rush out to play 18 if there were a day with wind laying down inside a modest 20.
That's a nice day for golf on the north Scottish coast.
Or down south in parts of England, for that matter.
I WAS fortunate (or unfortunate) enough to cover the British Open one year when it was played at Royal St. George's on the south coast of England.
The closest place to get a sandwich was Canterbury.
The course itself looked like a moonscape, and the wind absolutely howled over the place.
The tournament was halted a couple of time because balls would not stay in place on the greens.
During a practice round, the late Seve Ballesteros came back in, thoroughly battered, and said, "I lost three of them out there today."
Titleists?
"No, caddies," Seve replied.
The bottom line here is that if a tournament isn't being held somewhere in Great Britain, I'm going to be laughing off any complaints about the wind.
South Carolina?
You've got to be kidding.
I'D LOVE to tell the boys — all my mates who are having a pint in the men's lounge at Strathlene — that DeChambeau says Kiawah is kicking his backside.
Those Scots have likely just finished a round where the wind ramped up to 35 or 40 miles per hour.
I saw a visiting American hit a high wedge shot — a rare attempt in Scotland — on No. 5 at Strathlene (the green sits up on a plateau), and the ball blew back straight backward.
It nearly hit him on the head.
That sounds like something you'd make up, but in THAT kind of wind…
No, honestly, I saw it happen.
The first thing the local players tell you in Scotland is simple: "Keep the ball on the ground whenever you can."
It's nothing to see a wise old Scot putt the ball from a hundred yards away.
The general rule is that anything you have to hit high is in the hands of the gods.
And golf gods have no sense of humor at all.
Seriously, I've had my brains beat in many times while playing a round in Scotland.
So, Bryson and Brooks can just enjoy that beautiful weather at Kiawah, cash those fat checks, but…
Please don't tell us what a miserable slog it was.
I've got just the spot if you REALLY want to suffer.
Email: scameron@cdapress.com
Steve Cameron's "Cheap Seats" columns appear in The Press on Mondays, Wednesdays and Fridays. "Moments, Memories and Madness," his reminiscences from several decades as a sports journalist, runs each Sunday.
Steve also writes Zags Tracker, a commentary on Gonzaga basketball which is published monthly during the offseason.
The next Zags Tracker will run on Tuesday.
Recent Headlines
---