HOT. DRY. DANGEROUS.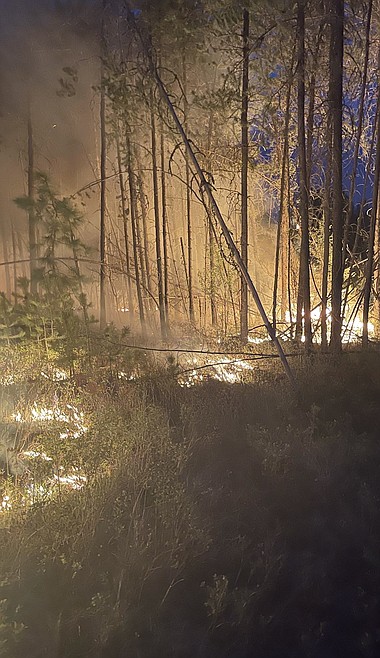 Photo courtesy of Timberlake Fire This May 6 fire was started by lightning near Remmington Road in Athol.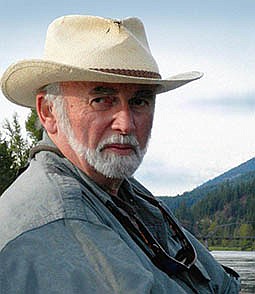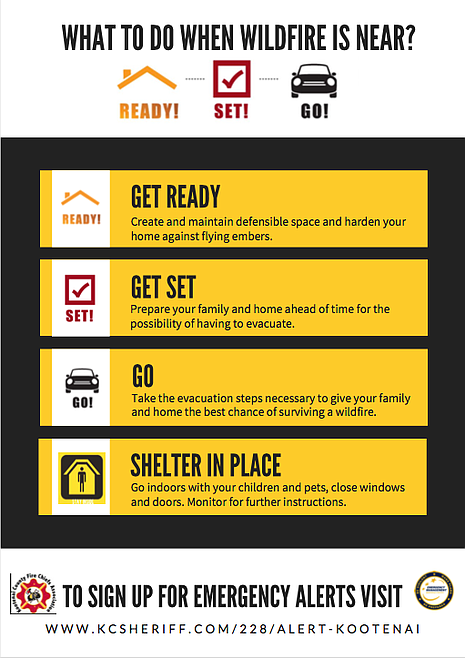 Be prepared for fire by following these steps.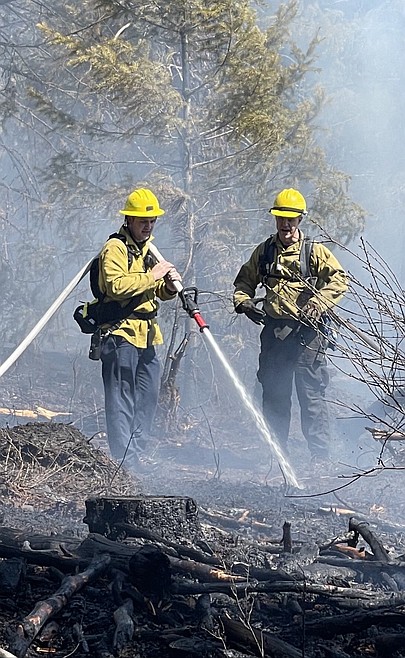 Photo courtesy Timberlake Fire Ben Kaplan of Timberlake Fire and Ethan Colby of Selkirk Fire battle a slash fire that recently spread into timber land off Highway 53.
Previous
Next
by
BILL BULEY
Staff Writer
|
May 23, 2021 1:40 AM
It's dry as dirt in some of North Idaho's forests. That's not good. It presents the potential for increased wildfires this summer.
Does Josh Harvey, fire management chief with the Idaho Department of Lands, worry about this?
"At this point in time, I do," he said.
"We're definitely below our level of moisture that should be sitting in the ground right now," he added.
With North Idaho in a drought, with the Panhandle snowpack about 60% of normal, and with the driest first half of May in history in Coeur d'Alene, the scenario is not setting up for a moderate fire season.
"It's dry out there," Harvey said in a phone interview with The Press.
More than 120 wildfires have already been reported in Idaho in 2021, according to the Bureau of Land Management. In 2020, the vast majority of wildfires on BLM-managed land in Idaho were human-caused, with 138 human-caused wildfires burning a total of 44,010 acres while 39 lightning-caused wildfires burned 16,137 acres.  
Harvey said the next six weeks are going to be critical in terms of fire danger in Idaho's outdoors.
Almost all the current fires were human-caused, he said, adding that campers, hikers and loggers must be cautious in the wilderness.
Should Idaho need help fighting fire, it might not be nearby, as Montana and Oregon are also looking at dry conditions and could be busy battling their own blazes.
IDL is gearing up.
This year, it has contracted for seven more engines to supplement its engine fleet and plans to bring on more crews that can "move strategically around the state to meet the needs." They plan to bring on two helicopters, four single-engine airtankers and land-based small airtankers.
Still, Harvey said the situation has looked similarly dire in past years, and rains in June and July have lowered fire risk closer to normal. That could still happen.
If it does, "I think we'll be doing all right," Harvey said.
But Press meteorologist Randy Mann said it's not looking good.
"As I've been saying for weeks, the upcoming summer of 2021 looks drier than normal across North Idaho as well as the Far West," Mann wrote. "Over the last 10 years, the summer seasons in North Idaho have been on the dry side, so I don't see any immediate change to that pattern, despite a predicted brief period with above-normal moisture, perhaps in late May and early to mid-June."
U.S. officials said last week that they will try to stamp out wildfires as quickly as possible this year as severe drought tightens its grip across the West.
"By aggressively responding to smaller fires, officials said they hope to minimize the number of so-called megafires that have become more common as climate change makes the landscape warmer and drier," The Associated Press reported.
2020 was one of the worst fire years on record, with more than 10 million acres of land scorched and almost 18,000 houses and other structures destroyed, according to federal data and the research group Headwaters Economics.
Interior Secretary Deb Haaland and Agriculture Secretary Tom Vilsack recently told firefighting personnel to brace for another challenging year given the historic drought conditions.
The Associated Press reported that Haaland and Vilsack wrote in a memo to fire leaders that "90 percent of the West is currently experiencing drought."
For 2021, the Biden administration is seeking a 4% increase in wildfire fighting spending — to $2.5 billion — for the U.S. Departments of Agriculture and Interior.
An additional $1.7 billion is sought by the Forest Service to manage fire dangers including by thinning stands of trees, conducting controlled burns and other measures, the AP reported. That's a $476 million increase, according to the White House.
'First, Put Out the Fire!'
Jim Petersen knows a little something about wildfires and North Idaho.
He is a founder and president of the Evergreen Foundation, which was established in 1986 to help advance public understanding and support for science based forestry and forest policy.
He has won awards related to forestry. His fifth book, "First, Put out the Fire!" traces the origins of the West's wildfire pandemic and offers a science-based path to safety, resiliency and sustainability.
Petersen grew up in Kellogg and graduated from Kellogg High School in 1962. His family roots are in logging, sawmilling, cattle ranching and mining.
The University of Idaho graduate lives in Dalton Gardens.
"Managing a forest is no different than caring for your yard or your garden," he said. "It's just a much larger scale."
When he talks about wildfires and the growing threat of them this summer, he says his book is an "attempt to explain how we got into this mess and how we can get out of it."
Earlier this month there was the 30-acre Lee Fire near Coolin. That's early in the year for a large fire, Petersen said.
"It's not looking good anywhere in the western United States," he said. "Our forests are exceptionally dry and increasingly so as time passes."
Petersen, 73, said it's been dry for years and forests are overstressed.
"Those winter snow storms that packed the mountains and kept things moist well into summer aren't what they used to be," he said. The Panhandle's snow water equivalent is 49% of normal, according to the USDA/NRCS National Water and Climate Center.
"When trees are stressed they attract all sort of disease and insect," Petersen said.
He believes lack of forest management — leaving too much dead timber and not removing diseased trees — has resulted in wildfires becoming more destructive and more frequent.
Petersen calls for a combination of thinning and prescribed burns to restore forests.
"We have a lot of work to do to fix the problem," he said. "It will take a long time and the clock will probably run out before we get the work done."
He worries that history will repeat itself and North Idaho may be due for a catastrophic fire.
"We're living on borrowed time here, I think," he said.
Petersen spoke of the Sundance fire of 1967. It started in mid-August, blew up in September, and burned 56,000 acres in the Selkirk Mountains and killed two people fighting the blaze.
"What's impressive about Sundance, it ran 16 miles through heavy timber in 9 hours," Petersen said.
He recalled standing on the dock at Hills Resort at Priest Lake and seeing the red glow of the fire as it came over the top of Sundance Mountain.
"It looked really scary," he said.
He fears a fire could start in the dry timber around Lakeshore Drive in Coeur d'Alene and quickly run up Potlatch Hill. Residential neighborhoods could be in its path.
"There's nothing really to stop it," he said.
Petersen said there are people who understand forests must be managed. Some say, let nature take its course, but Petersen says, "that's not really a viable option."
"When we leave forests to nature, as so many people today want to do, we get whatever nature serves up," he said.
Forest Service management efforts
Forest Service officials said they are managing the forests.
Kary G. Maddox, fire public affairs, Forest Service, Idaho Panhandle National Forests, wrote that The Idaho Panhandle National Forests, and the Forest Service as a whole, has been continually increasing the pace and scale of forest management.
She wrote that this can be seen in timber harvest board feet and prescribed fire acres, but other management activities include road and trail maintenance, stream restoration, and recreation site management.
Acres accomplished for fuel reduction:
FY17 = 6,385
FY18 = 13,740
FY19 = 13,538
FY20 = 9,745 (reduced due to COVID mitigations and air quality limitations)
FY21 = 12,700.
"As you can see in the fuel reduction numbers (which include burning of hand and machine piled slash as well as landscape scale burning), we have doubled the acres treated from 2017 to 2021," she wrote.
A similar trend can be seen in board feet of timber, from 55.9 million board feet in 2015 to 85.2 million board feet in the works for this year.
Maddox wrote that the number, duration, and intensity of wildland fires is the result of a number of interacting factors, from climate change to human caused starts, with length of fire season continuing to increase nationally. Wildfire incident response is coordinated on an interagency level to promote safe and effective initial attack.
She said the Idaho Panhandle National Forests will continue to work with state, local and tribal governments, along with private landowners, to mitigate wildfire risk.
Maddox noted that a recent press release from the US Department of the Interior and U.S. Department of Agriculture summarizes the challenges that land management agencies face with wildland fire:
"We used to call it fire season, but wildland fires now extend throughout the entire year, burning hotter and growing more catastrophic in drier conditions due to climate change," said Vilsack, the U.S. Agriculture Secretary. "USDA will increase the resiliency of communities at risk for wildfire with more effective land management decisions and partnerships with local communities and Tribal Nations to address climate adaptation, conservation, and ecological resilience."
Protect your homes
May is Wildfire Awareness Month and the BLM is asking for the public to help prevent human-caused wildfires.
BLM Idaho State Director John F. Ruhs recently signed the 2021 Fire Prevention Order, which prohibits specific fire-related activities from May 10 to Oct. 20.  
The order makes it illegal to burn explosive material or use exploding targets, fireworks, or steel component ammunition on the nearly 12 million acres of public land the BLM manages in Idaho.
The order also prohibits shooting at steel or ferrous materials on dry vegetation.

"We have already had a significant amount of fire activity in Idaho this year and the current national significant wildland fire potential outlook indicates that we could be in for a real challenge this summer, including in southeast Idaho," Ruhs said.

The Northern Lakes Fire District says, "Now is the time while the weather is beautiful in North Idaho to prepare for wildfires so you can later enjoy summer outdoor activities without being unprepared."
"This early warm spring with below-average rainfall and coupled with the multiple high wind events since February has left many homeowners with home repairs and yard cleanup of broken branches and fallen trees," a press release said.
That makes the community vulnerable to fires, said Chris Larson, Northern Lakes Deputy Fire Marshal.
He said the abnormally dry spring and below-average snowpack with late greenup of vegetation have contributed to increased wildfires in Kootenai County. Since Jan. 1 there have been more than three dozen fires with close to 100 acres burned in the county.
Homeowners should take steps to protect their property, he said. The NFD calls for creating a 30-foot defensible space around homes by removing combustible materials from roofs and gutters, under decks and stairs.
Do not store firewood against the house or under a porch. Clear vegetation away from homes. Keep your lawn green and mowed. Flower beds next to your home should be bare dirt or with rock for a boundary.
Trees near your home should be trimmed six feet from the ground in the yard and 10-feet high in natural vegetation areas. 
Petersen said there is time to "pull forests back from ecological collapse."
"It's going to take time and it's going to take political resolve," he said.
People agree they want clean air, clean water and thriving wildlife, Petersen said.
"The only way to get that is to take care of the forests," he said. "This isn't rocket science. A lot of it is just plain old common sense."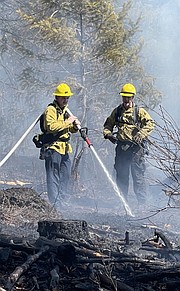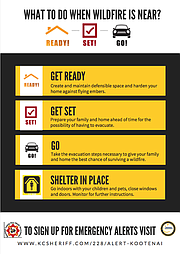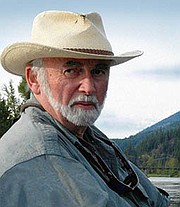 Recent Headlines
---