Gabrio Estates and more near McGuire Road in Post Falls
Spotting home construction in Post Falls is easy. Spotting available properties is much more challenging.
We did, however, find a number of intriguing properties stretched across all price ranges, from new construction homes with custom components to more affordable options in established manufactured home communities, in and around McGuire Road and Seltice Way on the west side of Post Falls.
Gabrio Estates, located off McGuire Road on Okanogan Avenue, is a small pocket of homes with options for shops, as well as three and four-car garages. The homes in the development will all be unique, according to the website of developer American Crew Builders.
A pre-sale listing can be found in the multiple listing service (MLS) — a three-bedroom, 1,800-square-foot home priced at $619,500. The builder website lists some different prices, and there are multiple for sale signs running down the street, so your best bet is to contact the listed agent for more information on availability and current pricing. That's Bob Grossglauser with Professional Realty Services Idaho at 208-640-3127.
If you like the area and want something right now, then you can consider a three-bedroom, 1,400-square-foot home a few blocks east of this stretch of McGuire (in the ever-popular Montrose development) for a price of $470,000. When I say right now, I probably mean "it sold a day before this article was published." Such are the ways of a hot real estate market.
If we're talking about homes priced hundreds of thousands of dollars outside your price range, then good news! Head south on McGuire for a minute, cross Seltice and find two listings in the Camelot Estates manufactured home development.
One active listing is a three-bedroom, 1,000-plus-square-foot home with plenty of quality outdoor space listed at $149,000. Another is a nicely updated three-bedroom, 1,200-plus-square-foot home with an open-concept main living space priced at $170,000. HOA lot fees in the community are $415/month and includes use of facilities and amenities.
Need even more outdoor space? Keep going on McGuire, south of Interstate 90 for a home near access to the Centennial Trail. The three-bedroom, 1,000-square-foot home sits on a .44 acre lot and a 24-by-24 shop is included on the site. Price: $315,000.
Those in the manufactured home market can also head west on Seltice Way and find two more active listings near Pleasant View Road priced around $220,000.
• • •
Let us know about more standout neighborhoods and developments that we may feature in an upcoming Neighborhood of the Week. Contact Tyler Wilson at twilson@cdapress.com.
Real Estate Agents, take advantage of Neighborhood of the Week by sending in your suggestions for featured areas, including sites outside the normal confines of Coeur d'Alene, Post Falls and Hayden.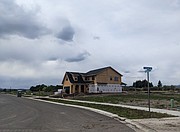 Recent Headlines
---