Celebrating Camp Easton
The Inland Northwest Council of Boy Scouts of America will commemorate the "100 plus 1" anniversary of Easton Scout Camp on June 12.
The fair is open to the public and Scouts and will feature educational booths, historical displays, food trucks, games, Pinewood Derby races, and camp tours.
Situated on the east shores of Lake Coeur d'Alene, the 383-acre camp was gifted to the local council through Fred Fitze and with major funding for facilities construction led by mining entrepreneur Stanley Easton.
Camp operations began in the summer of 1920. Since then, tens of thousands of Scouts have walked through its gates for summer camp and other scouting activities.
"If you visit our rustic dining lodge, you will see the banners, plaques and messages from Scout units from all around the world," said Mike Dolan, an event coordinator. "Camp Easton attracts units from across the United States who are awed at the natural beauty of the mountain lake setting while enjoying the quality of camp programs offered to their Scouts."
Features include an afternoon lecture on the "Life and Legacy of Stanley Easton" presented by historian Robert Singletary.
Another feature is a "Story Booth" for current and former Scouts to share memories of Camp Easton and scouting in North Idaho.
"We'll set up a booth where folks can come and sit while we record their scouting stories before they are lost to time," Dolan said. "I couldn't say how many people I meet who wish to share their stories about Camp Easton and North Idaho Scouting. Their eyes just come to life with the joy of their youthful experiences, and it's such a tragedy to lose those people and their stories."
Limited-edition patches and Scout memorabilia will be available for purchase.
The event is free to adults, and $5 per non-scout youth. Scouts can attend with their unit or family and register for $15 online or on the day of event.
Camp Easton is about a 40-minute drive from Coeur d'Alene. Go east eight miles on Interstate 90, take Exit 22 and go south 11 miles on Highway 97. The address is 23516 ID-97, Harrison.
Info: bit.ly/3vaDcRC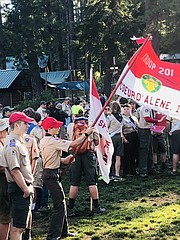 Recent Headlines
---