Athol man seeks permission to build internet tower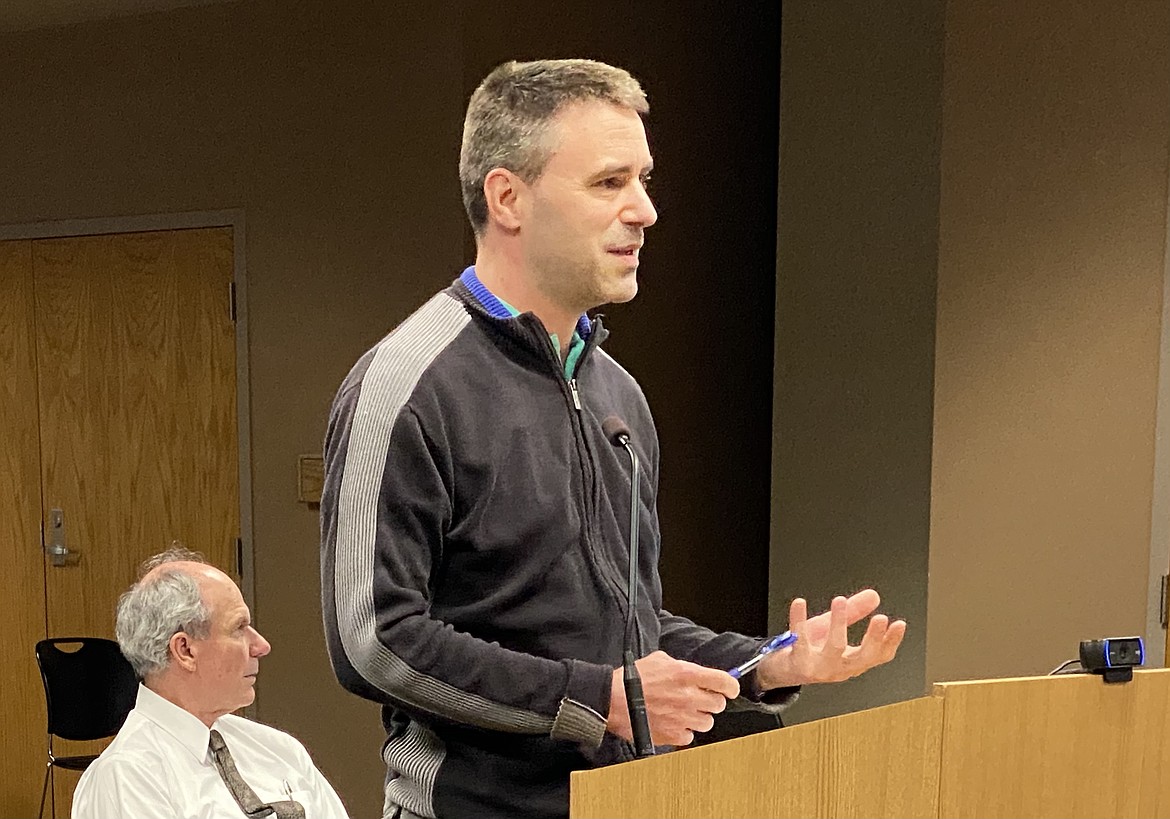 Athol resident Michael Beiter spoke on his proposed 100-foot internet tower during a public hearing with the county Thursday night. (MADISON HARDY/Press)
Broadband service at Michael Beiter's Athol home is nonexistent.
Six months ago, he decided to try and fix this issue by building an internet tower in his backyard. 
When the Beiters bought their Athol home last year, there was no service, making work and some leisure activities almost impossible. He had attempted to connect to local providers like Intermax but due to the height of his roof, line of sight to nearby towers at Lone, Long, or Hoodoo Mountain was out of reach. 
"There is no internet out in Athol," Beiter said. "Depending on where you live, sometimes you're lucky to get a look at Lone Mountain and get internet from their antennas, but in the grand scheme of things, specifically where we live, you don't have those views at all."
He said taking the traditional route of purchasing a provider antenna and nailing it to the roof wasn't an option. Instead, Beiter is taking an untraditional path by constructing a 100-foot tall, self-supporting tower and related ground equipment to reach internet signals from regional wireless internet service providers. 
The Wireless Communication Facility (WCF) tower, which would sit on Beiter's 20-acre property in the county rural zone, would primarily be for residential use but would be designed to allow for collocation of up to four providers. 
A secondary purpose of the structure, which Beiter feels is simply a bonus, is serving as a repeater tower that would enhance internet service for his neighbors and surrounding community. 
"It's a real problem, I work from home, and I cannot work from home if I don't have internet," Beiter said. "It affects a lot of people, not only inconveniences such as watching Netflix at night, but it is a real productivity inhabitant for people working from home due to COVID that need to attend things like video conferences."
Before he can make any progress, Beiter had to file for a Conditional Use Permit with the county, which was heard for a public hearing Thursday night. Only one of Beiter's neighbors, John Hague, spoke against the idea. 
Hague and his wife moved to Athol after living on Kailua Beach in Hawaii, a place he said he watched grow from a hidden gem to a tourist attraction. Hauge felt Beiter's tower was inching Athol dangerously close to city life by disrupting the landscape and trying to make the country more convenient. 
"We move up into the country because we don't like city life, and city life is usually marketed by convenience," Hague said Thursday night. "A lot of people are moving up from out of state to get into the county, but it's almost like a photo-op. They want all the conveniences of city life and then the photo-op that they're living in the county."
Whipping out his old school flip phone, Hague pointed out that he doesn't need high-speed internet at home and that many in the community enjoy the disconnect from city life. He also questioned how a tower would impact the trees and what could happen to the community's quality of life if Beiter's structure turned into a major provider source.
"It's almost like this was a business decision to move here and exploit this opportunity at the cost of a presumed need that he thinks the people have out there," Hauge said. "In principle, I wish it would slow down. I don't want to change the county."
Beiter said he had discussed the project with other providers, but he said they felt the tower would not be financially validated due to the low number of potential subscribers. 
Kootenai County Hearing Examiner Joan Woodward will now take the applicant, staff, and public comments into consideration before making a recommendation about the project. The board of commissioners will finalize the approval or denial of Beiter's conditional use permit in a later meeting. 
Recent Headlines
---