Julianne 'Julie' Richardson, 90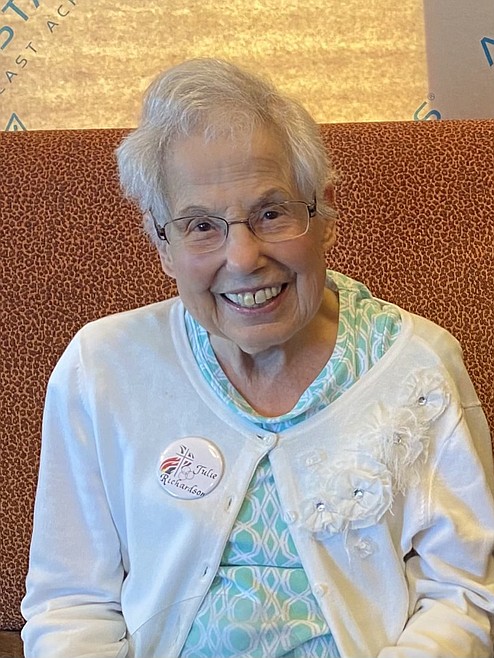 Julianne "Julie" Elisa Richardson, 90, passed away peacefully on Saturday, May 15, 2021, at Kootenai Medical Center in Coeur d'Alene, Idaho, surrounded by many of her loving family.
Julie was born Nov. 15, 1930, to Helen Walton and Mahlon Rhoades in Chicago. She was raised by her mother and William Kramer Sr. She spent her childhood in Chicago and Schiller Park, Ill. and graduated from Leyden High School in Franklin Park, Ill., in 1948.
She married Joseph Richardson on Aug. 13, 1949, and together they had four children. They moved "out West" in 1961 to Buffalo, Wyo., then a few years later to Cut Bank, Mont. In 1967 they moved to North Idaho, where her husband, Joe, was the hospital administrator in Silverton for many years. Over the years they also lived in Bonners Ferry, Sandpoint, and Coeur d'Alene, before moving to the Garden Plaza in Post Falls.
Julie was active in her church wherever they lived, working as a church secretary in Sandpoint and Coeur d'Alene, and she continued to volunteer wherever and whenever she was needed. She and Joe have been members of the Lutheran Church of the Master in Coeur d'Alene since 1995.

She was a lifetime Cubs fan and was beyond thrilled when she got to witness them win a World Series in 2016. She was a skilled seamstress and loved to crochet. She was also an avid reader and member of many book clubs. There is still a bookmark marking her place in her latest reading. She was active until the end, always making sure to get her steps in for the day. Julie loved her family and was loved by them. She was especially proud of her four great-grandchildren.
Julie was preceded in death by her daughter, Carol, and son, Tom. She leaves behind her husband, Joe; daughter, Kathy (Mark); son, John (Gretchen); four grandchildren: Tom (Dana), Paul (Desiree), Ashley (Nick), Maddie (Nassim); four great-grandchildren: Penny, Briley, Nellie and Nora. She also leaves behind her brothers, Bill (Betty), Joe (Phyllis), Mahlon (Melissa); and sisters, Margaret (Bob) and Cindy (Jim).
Her family would like to thank Pastor Bob Albing for his support. A private family service will be held at a later date. Contributions in Julie's name may be made to The Lutheran Church of the Master, 4800 N. Ramsey Road, Coeur d'Alene, ID 83815.
Yates Funeral Home is entrusted with final arrangements. Please visit Julie's online memorial and sign her guest book at www.yatesfuneralhomes.com.
Recent Headlines
---