Bright futures in sight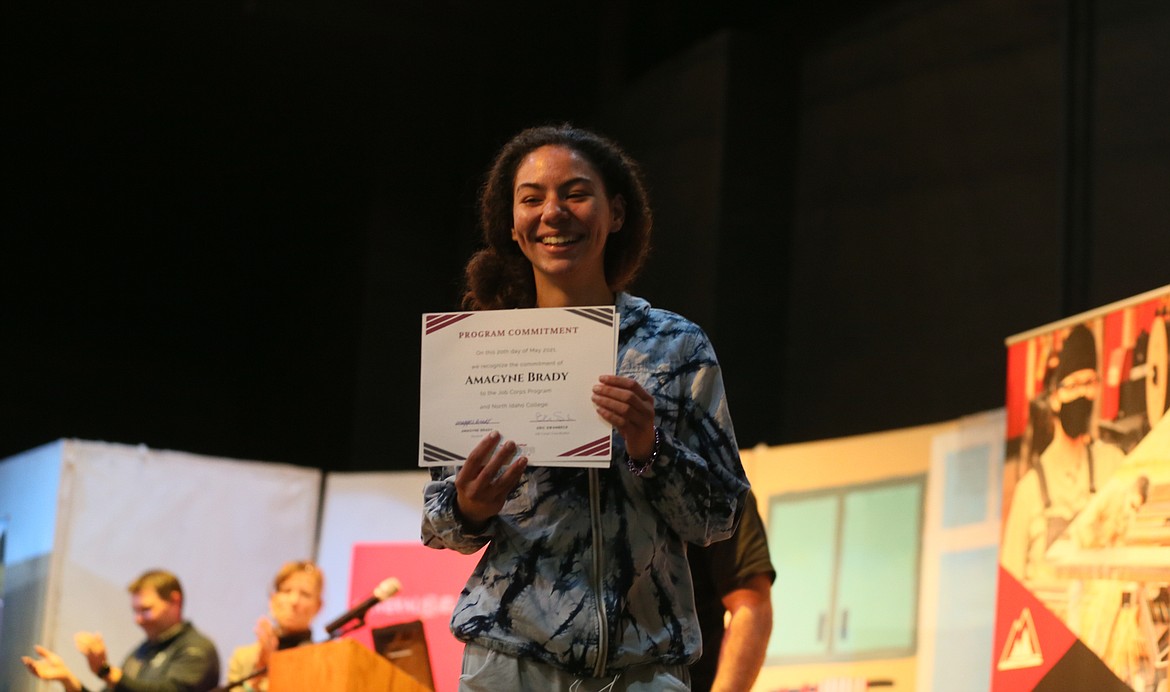 Mountain View Alternative High School senior Amagyne Brady flashes a smile and her North Idaho College Job Corps program commitment as she crosses the stage during a signing ceremony Thursday. Amagyne was among several seniors who were awarded $1,000 scholarships for the program.
DEVIN WEEKS/Press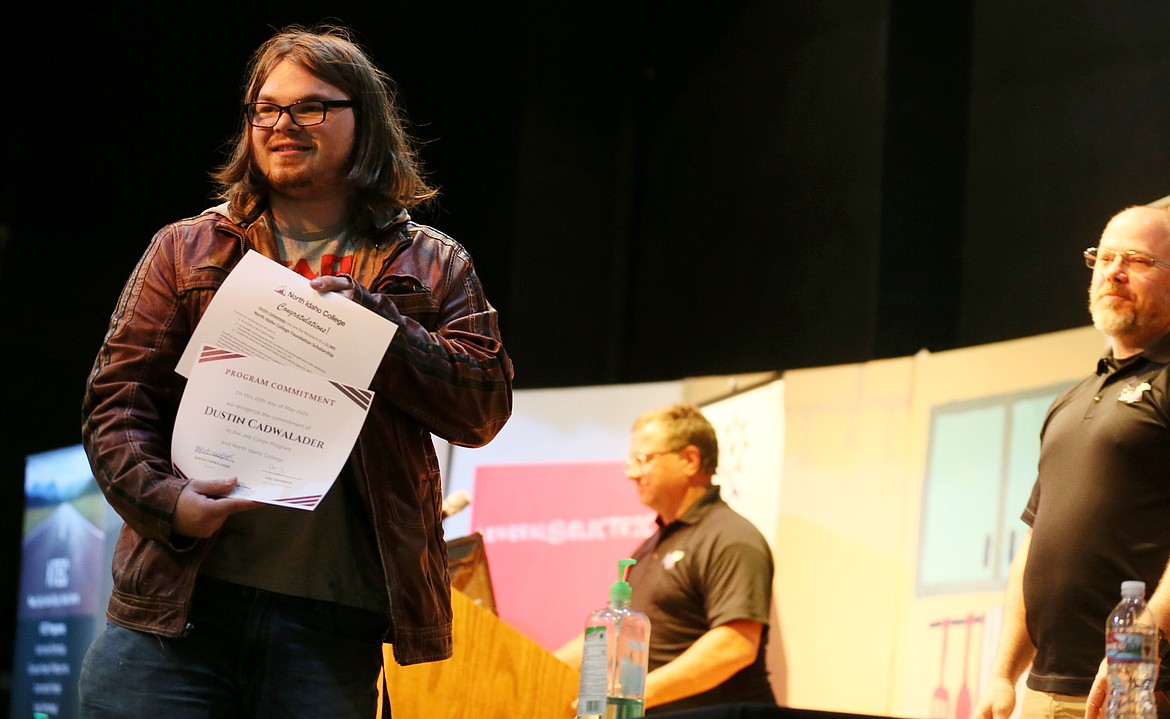 Mountain View Alternative High School senior Dustin Cadwalader looks out at the audience after committing to enroll in North Idaho College's Job Corps program during a signing ceremony Thursday. Dustin was one of the seniors who received a $1,000 scholarship.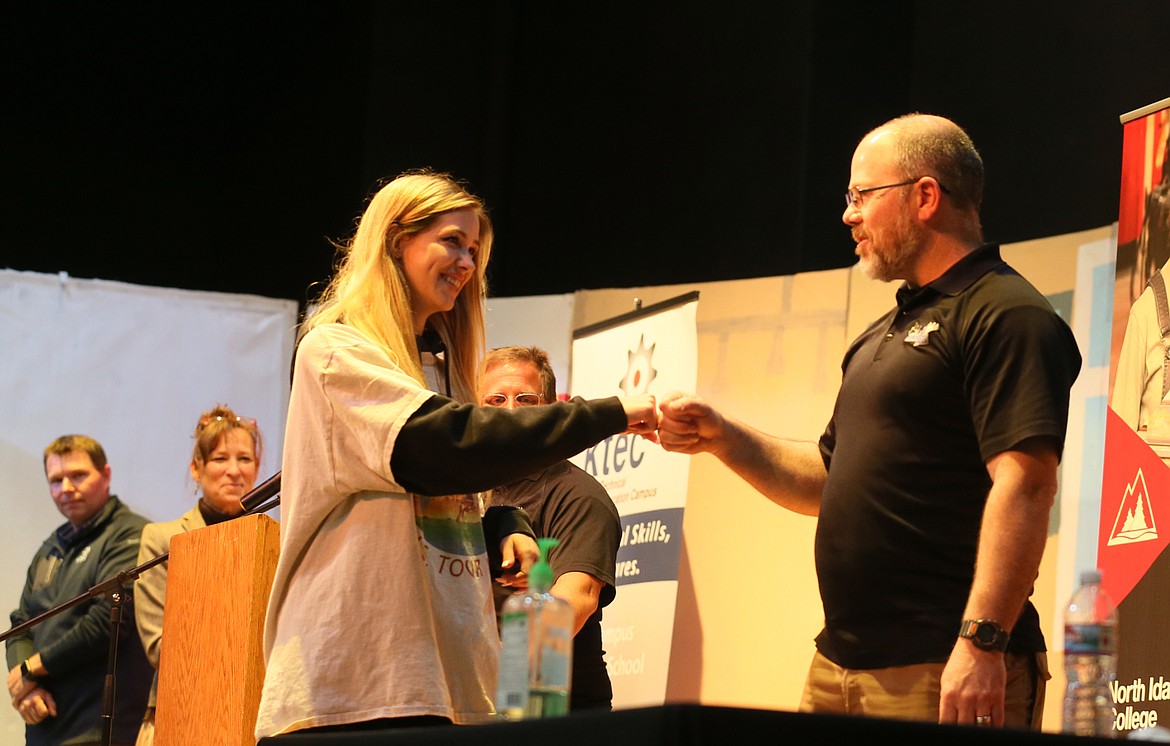 Senior Madison Brunke bumps fists with Mountain View Alternative High School Principal Paul Uzzi on Thursday during a signing ceremony in the school's gym. Seniors signed on to enroll in North Idaho College's Job Corps program while Kootenai Technical Education Campus celebrated a junior and welcomed three sophomores.
Previous
Next
by
DEVIN WEEKS
Staff Writer
|
May 21, 2021 1:07 AM
RATHDRUM — It was a shining day for the students of Mountain View Alternative High School as they signed up for bright futures Thursday during a ceremony in the school's gym.
Seven seniors received $1,000 scholarships each to enroll in North Idaho College's Job Corps program. Job Corps is a three- to 24-month comprehensive service that offers support to guide individuals toward purposeful lives. It focuses on education, career readiness and life skills to prepare young people for success.
"I never thought that I would get that actually, $1,000 is a lot to help toward school," senior Amagyne Brady, celebrating her birthday, said after the ceremony.
Amagyne initially wanted to pursue a social work higher education pathway, but the scheduling didn't work out for her, so she's back to the drawing board.
"I just want to find out what I'm good at. I have no idea!" she said with a smile. "I'm just going to start fresh."
The ceremony for the first time included a luncheon with members of the Rathdrum Area Chamber of Commerce in attendance.
"I really like the support," Amagyne said. "I feel like people coming here and showing us that they care, that's really special."
Senior Dustin Cadwalader said it was amazing having the chamber as guests.
"They didn't need to come here at all," he said. "They went out of their way to help the rest of us and show us appreciation for what we're trying to do."
Dustin was one of the scholarship awardees and was all smiles as he shared that he's going into welding.
"This is amazing. My plan's coming together," he said. "I've been planning on doing welding for four years now. I've always been interested in working with my hands and metal."
The students beamed as they were called to the stage and bumped knuckles with local education leaders, including Lakeland Superintendent Becky Meyer and NIC President Rick MacLennan.
Meyer, a former alternative high school principal and a current member of the Rathdrum Chamber, was pleased the chamber had the opportunity to attend the ceremony and celebrate Mountain View students.
"It's a great combination of forces coming together to show pride in what our school district has accomplished," she said. "The partnership with the community for our at-risk youth, this could make a difference in the whole future of their world to have this opportunity."
Colby Matilla, principal of Kootenai Technical Education Campus, was also on stage to celebrate his students, including junior Gabriel Randles, who will receive his automotive certification next year, and three sophomores who will enroll in the information technology and construction programs.
"I'm here today to honor four students that have decided to take a chance on us, and on a chance on themselves," Matilla said.
Young people ages 16 to 24 may qualify for Job Corps if they are low income, have an educational barrier to employment or have other eligibility requirements.
Job Corps case manager Sean Collins said he's excited to help students who need extra resources to find career success.
"That's what we're really interested in," he said. "We're excited to provide financial resources like scholarships and other resources that Job Corps offers, like career coaching, life skills classes. We cover 100% of all educational costs if they don't have any other financial aid options."
He meets with Job Corps students every week to help them get past any obstacles to their futures.
"I'm really excited to start working with these Mountain View students to do that," he said.
Job Corps info: www.nic.edu/jobcorps or 208-676-2014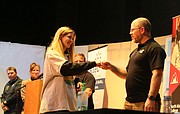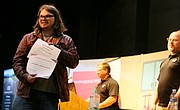 Recent Headlines
---