Cd'A, NIC partner up for summer RV parking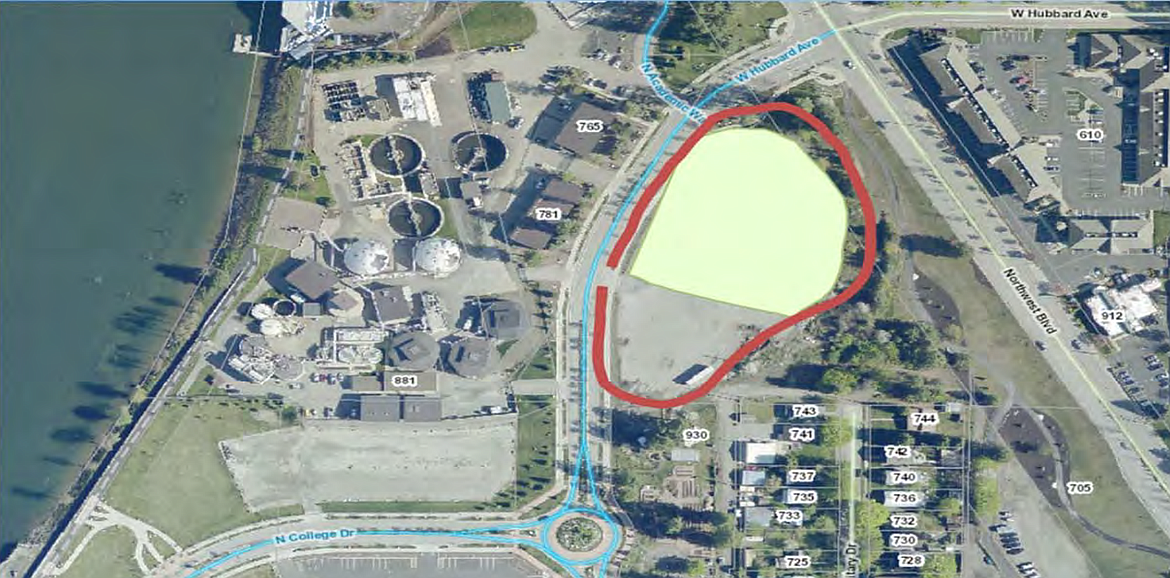 The shaded part of the diagram within the circled parking lot will be used to provide RVers free daytime parking this summer, thanks to an agreement with North Idaho College. (Courtesy city of Coeur d'Alene)
by
CRAIG NORTHRUP
Staff Writer
|
May 21, 2021 1:00 AM
COEUR d'ALENE — With summer festivities set to return this year, the city of Coeur d'Alene and North Idaho College are teaming up to give visitors with recreational vehicles a daytime place to park.
"The goal here is to get those large units that have trouble parking anywhere else in town into an open area," city administrator Troy Tymesen said.
Those large units — RVs and RVs pulling trailers — can now park for free at what has been known to neighbors and locals as the old log yard on West Hubbard Avenue. The opportunity begins Memorial Day weekend.
The city will sweep and stripe the log yard, fill the potholes and provide a garbage receptacle. Tymesen said the biggest bump in the road will be educating visitors on when they can park in the lot, or, more appropriately, when they can't park there.
"Probably our biggest challenge with this will be to make sure it's daytime parking only until 10 p.m.," he said. "Thankfully, we have a phenomenal police department, and they've agreed that if it doesn't go well and people aren't choosing to leave, we'll use their services."
The city will put up plenty of signage directing RVers to the daytime parking lot. City officials hope the North Idaho College-controlled lot — Lot A, as it's technically known, which sits across from the water treatment plant — will help reduce congestion from the larger vehicles roaming downtown Coeur d'Alene looking for a place to park.
"When they come to town, it's hard to navigate our town," Tymesen said. "We do have a great parking lot south of city hall. However, that was designed [for trailers of people] that left their boat in the lake and came over here to park and enjoy our navigable waters."
Officials say the lot will remain open until Labor Day.
North Idaho College, which reserves the right to use the lot for summer events like Ironman and Art On The Green, agreed to lease the lot to the city for $1 each summer.
Mayor Steve Widmyer, who said he expects Coeur d'Alene's streets to return to their normal busy traffic patterns this summer after the COVID-19 pandemic hampered the 2020 tourism season, said the partnership will help not only RVers but also a downtown area that has been grappling with summer parking congestion for years.
"It's a much-needed addition to downtown parking," Widmyer said. "It will help open up spots in all of our other lots."
"The Parking Commission believes this is a great mission," Tymesen said. "Thanks to North Idaho College and our team in Streets and Engineering, we believe we can pull this off."
Recent Headlines
---