STATE SOFTBALL PREVIEW: Post Falls heating up late in year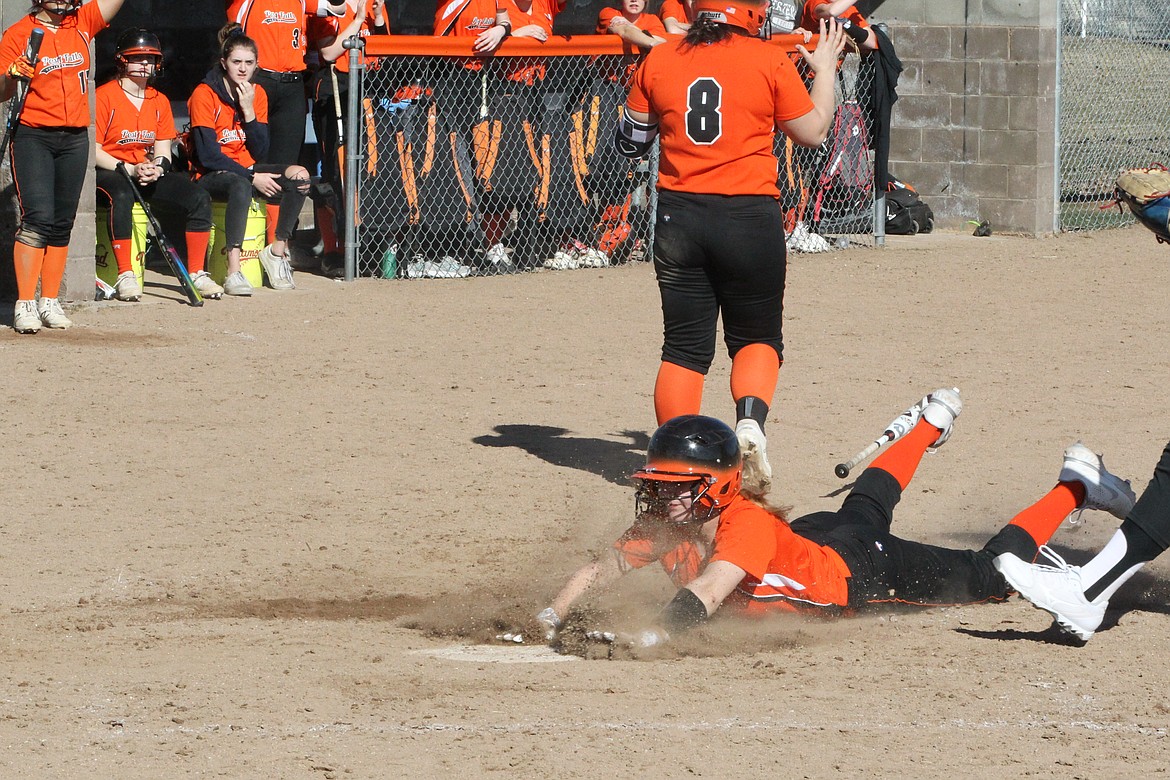 MARK NELKE/Press Post Falls junior Sophia Solberg scores a run against Coeur d'Alene during a March game in Post Falls.
By MARK NELKE
Sports editor
5A
Post Falls started out slowly this season, splitting its first eight games.
But the Trojans have won 10 of their last 12, including their first regional title since 2010, when they returned as state champions.
"We knew we had a lot of experience on the team," fourth-year Post Falls coach Holly Gleaves said. "We were returning all of our starters, but we also recognized that even though we were returning all those starters, they didn't get a lot of experience (because the 2020 season was canceled due to COVID-19). We just needed to get some game experience under our belt. We just wanted to get better every day. There's no question we have a talented bunch."
Post Falls (14-6) opens state vs. Mountain View (18-9) of Meridian on Friday at 8 a.m. PDT at Mountain View High in Meridian.
It's Post Falls' first state appearance since 2018, and current seniors Kaycie Barber and Kahlea Dumas were starters on that team as freshman. Another senior, Jaden Donohoe, was a reserve on that team.
Barber is hitting .528, Dumas .485. McKenna Moak, one of Post Falls' two pitchers, has a team-high 32 RBIs. Catcher Alyssa Krause has five of the team's 15 homers.
"Our pitching has gotten better, we've gotten smarter," Gleaves said. "Defensively we've gotten better, faster defensively. And I think our run production has gotten better. Over the last month or so we're putting more runs on the board."
Moak (5-4) and Sophie Nungesser (7-2) have thrown every inning for the Trojans this season — Moak 67 1/3, Nungesser 52. Nungesser has started 11 games, Moak nine.
"I think they complement each other," Gleaves said. "I would look at it as we have two No. 1s. We feel really blessed with that, and they're just juniors."
Gleaves said Barber, who smashed into the fence in the seventh inning of the regional title game at Lewiston last Tuesday and was taken to the hospital, was cleared later that night and, other than a little soreness, should be good to go at state.
Rocky Mountain (24-1) of Meridian is on the other half of the bracket.
4A
It's all for one out in Rathdrum.
The Lakeland Hawks have a bevy of bats, and up to four pitchers coach Colleen Bevacqua can use at state this weekend.
The Hawks (13-14) open Friday vs. Ridgevue (19-8) of Nampa at 10 a.m. PDT at Skyview Park in Nampa.
In recent games, Bevacqua has used a mix of seniors Kathryn Wardak, Hailey Gosch and left-hander Devry Bursch for a few innings at a time to keep opponents off-balance. Another option is junior Haylee Smit.
Bursch has 77 strikeouts in 62 innings.
Bevacqua said the key to the Hawks' season has been "that teamwork, and everybody pulling together. We can't do it unless we do it together. And our pitchers, being able to throw us outs … and then getting our bats hot. It has to be done together, otherwise it doesn't get done at all."
Smit is hitting .517, with five homers and 31 RBIs. Junior Cienna Walls also has five homers, and is batting .493. Harlee See is hitting .506.
"If our bats are hot, we definitely are going to compete well," Bevacqua said.
Lakeland is at state for the eighth time under Bevacqua, in her 17 seasons at her alma mater.
3A
The Timberlake Tigers head down to state with all the components to bring home the program's first state title.
Timberlake (21-3) opens vs. Gooding (21-5) on Friday at 8 a.m. PDT at Timberline High in Boise.
"Timberlake always has the hitting team, and this year I have a really good defensive team," said Casi Lupinacci, in her seventh season as coach at her alma mater. "And I've got pitchers that can hold their own in the circle. If we go down and play our game, and do the little things, we have a good shot."
The Tigers average 19.6 runs per game, though much of that comes from beating up on the Intermountain League.
Still, Timberlake is hitting .491 as a team, led by leadoff batter Emma Howard at .630. She is second on the team in home runs (8) and RBIs (46). Peyton Lindley leads in homers (10) and RBIs (54) and bats .560.
In the circle, freshman Acacia Pecor is 10-2 with 76 strikeouts in 64 innings. Senior Bernie Carhart is 10-1 with 69 strikeouts in 58 1/3 innings.
"When she started with us, she could pitch, but she didn't like to. She didn't define herself as a pitcher, she was a third baseman that could throw," Lupinacci said of Carhart. "As she got older, she started to accept her role, understand what works for her.
"Acacia, she's just a freshman, but she throws hard, she's got a lot of movement. I don't think we've every had two kids who understand their roles — and plus, we've got Casey (Whaley, another freshman) who can come in and throw some strikes."
2A
What did you do with your day last Wednesday?
St. Maries coach Todd Bitterman grabbed a buddy and made it a quick, 21-hour, nearly 1,200-mile road trip to Malad City, in eastern Idaho near the Utah border.
He wanted an in-person look at Malad (21-0), which was to become the first-round opponent of St. Maries (21-2) at the state 2A tournament Friday at 8 a.m. PDT at West Park in Nampa.
"Their ringleader is their pitcher, leadoff hitter, she makes the world go round," Bitterman said.
That would be Riley Dorius who, according to MaxPreps, hits .636 with seven home runs.
Malad brings a 36-game winning streak into state.
Glad you went?
"Oh, heck yeah," Bitterman said. "We didn't walk away from the game thinking, oh my god, what are we facing? I like where we're at."
That's because St. Maries has a dominant pitcher of its own in sophomore Taci Watkins, who is 16-2 with a 1.61 ERA, and 230 strikeouts in 100 innings.
Taci's mom, the former Brianne Badgett, pitched on St. Maries' first fastpitch team as a sophomore in 1995.
"She's impressive," Bitterman said of Watkins. "I've had pitchers that threw the ball, but she pitches, she hits spots. Truly dominant, and that's kind of the buzz saw that we've run into at other state appearances."
Watkins also hits .593. Jenna Holder hits .455.
St. Maries is at state for the first time since 2018, and eighth time in 14 seasons under Bitterman.
Recent Headlines
---