Route of the Hiawatha opens May 28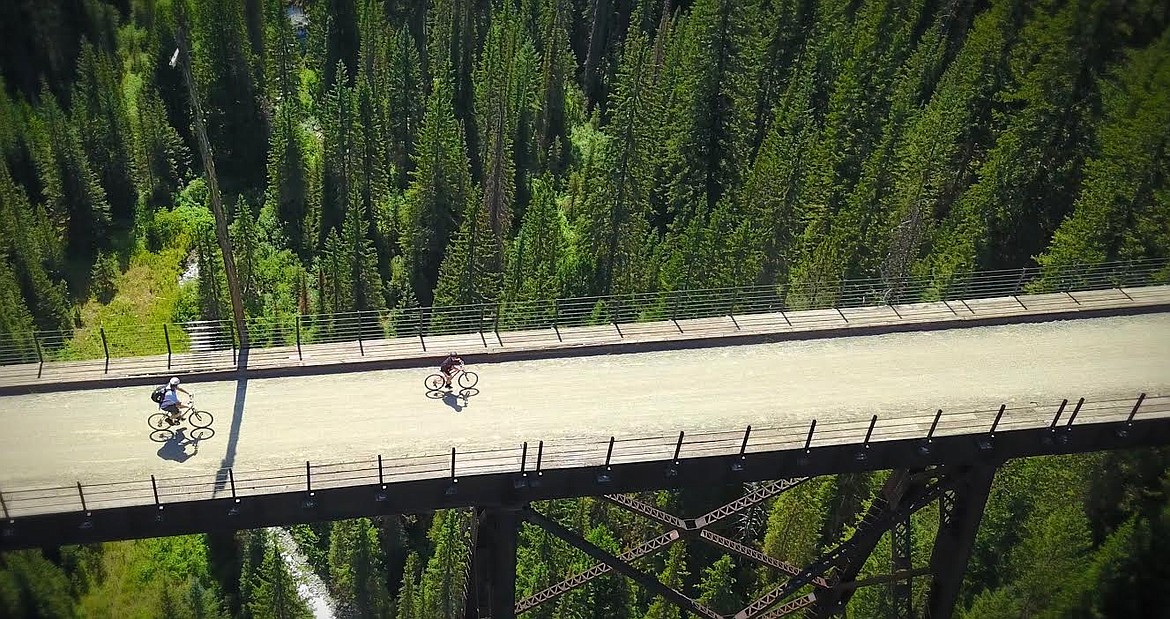 Photo courtesy Tony Harrison Cyclists ride across one of the trestles on the Route of the Hiawatha.
MULLAN — Lookout Pass Ski and Recreation Area is opening the Route of the Hiawatha scenic bike trail May 28. It will be open 8:30 a.m. to 5 p.m. daily through Sept. 19.
Considered the crown jewel of the nation's rails-to-trails initiative, the Route of the Hiawatha winds through the Bitterroot Mountains in the St. Joe Ranger District of the Idaho Panhandle National Forest along an abandoned section of the Milwaukee Railroad. Its gentle 1.6% to 2%, all-downhill trail straddles the Idaho-Montana state line for 15 miles, delving 10 dark tunnels and crossing seven sky-high steel train trestles.
The popular destination also sports shuttle bus service so guests don't have to ride back up — although some enjoy that experience — and 50 interpretive trailside signs that enhance the family friendly experience, telling the story of the railroad, the people who worked here, the forest, and the area's rich history.
"In its time the Route of the Hiawatha was considered one of the most scenic stretches of railroad in the country," Lookout Pass Marketing Director Matt Sawyer said. "It's also by far the most popular ski area bike trail in the country, attracting more than 70,000 riders last summer."
Lookout Pass will open for the summer two weeks later — June 12 — and offer lift-served downhill mountain biking, scenic chairlift rides up and down the mountain, lift-served hiking trails, a mountain summit nine-hole disc golf course, a bungee jump, and huckleberry picking later in the season.
The resort will be open Fridays, Saturdays, and Sundays through Sept. 19 with the exception of July 9-11, when only scenic lift rides and bungee jumping will be offered as the mountain hosts the three-day Mountain Archery Festival, 3-D archery shoot.
Lookout Pass offers rental bikes for adults and kids riding the Route of the Hiawatha, as well as bike trailers for youngsters and trikes and recumbent bikes for seniors who haven't been on a bike in years and would welcome a bit more stability on their ride.
Special events this summer include three full-moon night rides on the Route of the Hiawatha June 24, July 24, and Aug. 22. And the Hiawatha Back to Nature Trail Run, a half marathon at around 25K, with a 15K and 4-mile trail run all slated for the morning of June 13.
The Mountain Archery Festival July 9-11 at Lookout Pass is a family focused event that allows archers of all abilities to shoot fun and challenging targets on five different courses.
Info: RideTheHiawatha.com and SkiLookout.com
Recent Headlines
---