Crates of kindness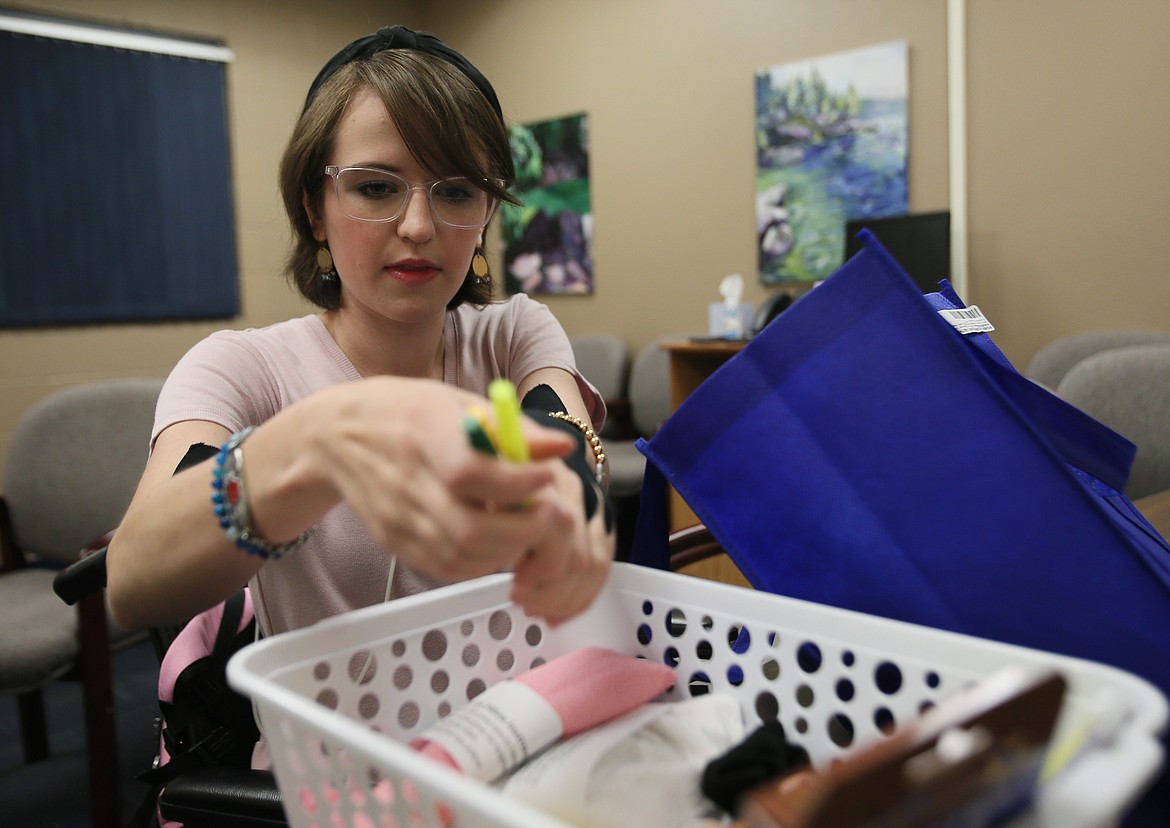 Coeur d'Alene High senior Adrienne Roads on May 13 discusses items she includes in Kindness Crates, care packages she makes for kids like her experiencing chronic and long-term illnesses. "I've always had a big heart for people with disabilities and sicknesses," she said. "I never thought that I was going to be one of them."
DEVIN WEEKS/Press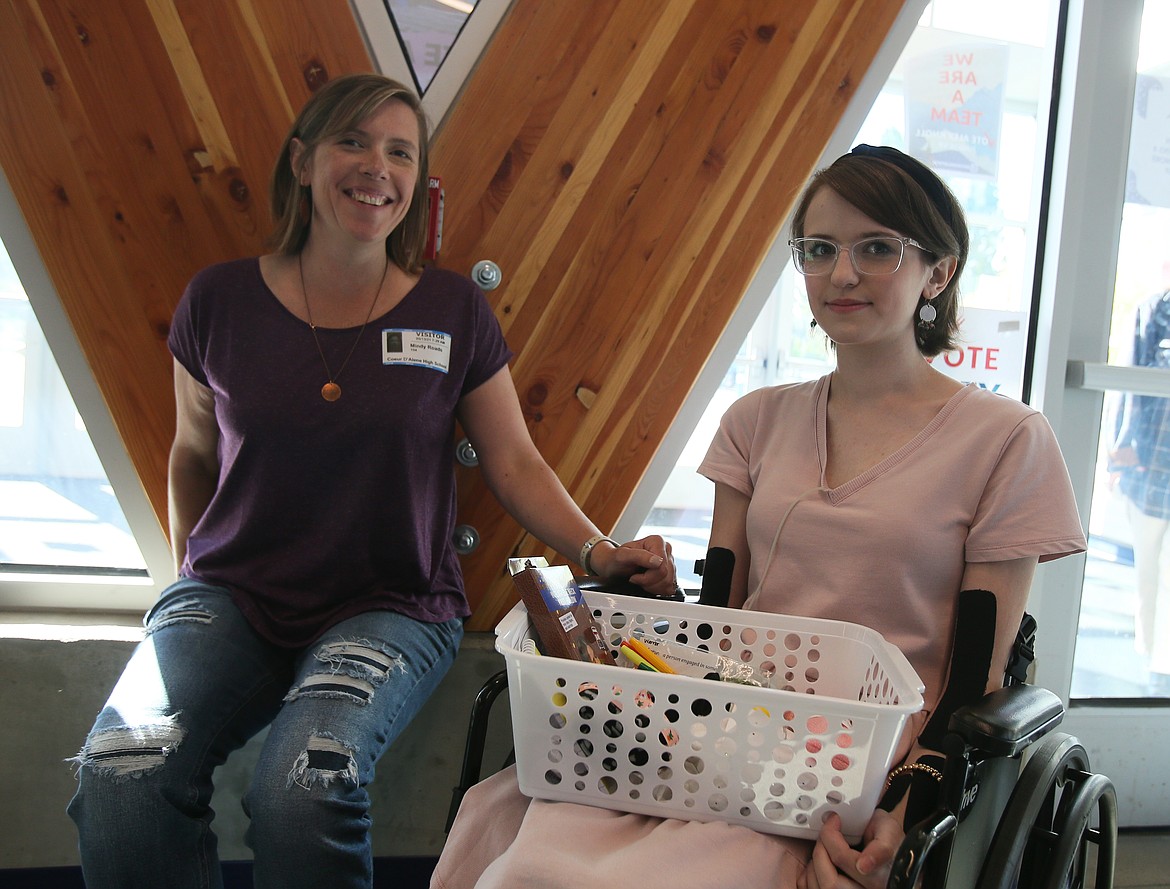 Mom Mindy Roads, left, and daughter Adrienne Roads are pictured May 13 in front of the "Viking V" in Coeur d'Alene High School. Adrienne, who has a series of health conditions, has launched Kindness Crates, a program to bring joy and comfort to other youths with chronic and long-term ailments.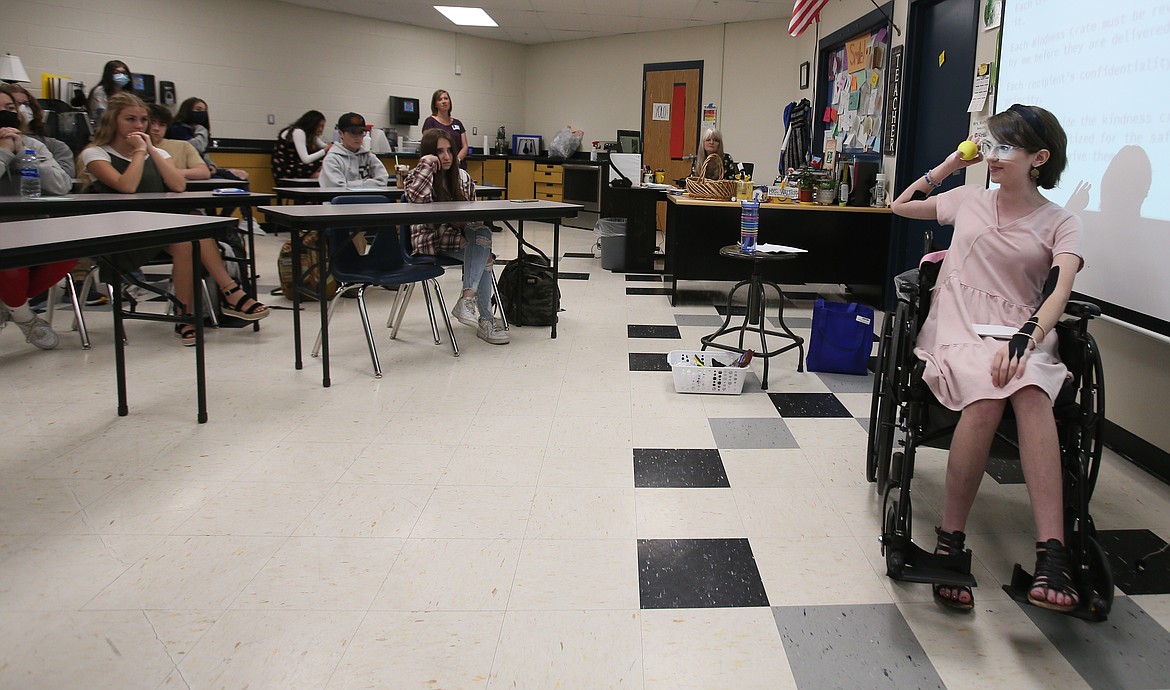 Adrienne Roads discusses the importance of her squishy ball in her health care journey as she presents her senior project on Kindness Crates to Natalie Walters' leadership class on May 13.
Previous
Next
by
DEVIN WEEKS
Staff Writer
|
May 20, 2021 1:08 AM
REFER:
CEO of Tesh, Inc., retiring/C1
COEUR d'ALENE — It's easy to let a storm cloud hang over your head when you feel like life has dealt you an unfair hand.
It's not so easy to overcome a never-ending barrage of life's trials to lift up others going through similar hardships.
But 18-year-old Adrienne Roads chooses to ward off the storm cloud and embrace the light.
For herself and for others.
"At the end of the day, your life's just going to be more miserable if you focus on all the bad stuff," she said. "Finding the tiny bit of sunshine in the clouds is what I do."
The Coeur d'Alene High School senior has a million and one reasons to complain. Her life has been peppered with health issues since she developed a nut allergy at age 3.
"I was always just kind of the wimpy weird kid, but I was OK until I was 12," she said.
She developed an array of anaphylactic reactions until doctors found out she has mast cell activation syndrome, a condition that causes repeated episodes of the anaphylaxis symptoms, triggered by things like the scent of someone's shampoo.
"My body just likes to be allergic to everything," Roads said.
Rare health issues only continued for this young advocate, who has spent most of her senior year in the hospital.
This school year alone, she has had four hospital admissions, two ambulance rides, 17 ER visits, one surgery, four nasal feeding tube placements, four anaphylactic episodes requiring epinephrine, a two-week out-of-state medical trip and countless medical procedures, tests, IVs, infusions and doctor visits.
"I lost my ability to walk," she said. "I've gone through all this stuff and also trying to come to school as much as I possibly can because I want to graduate. It's really, really important to me because I don't want my illness to steal that from me as well."
Her health took a nosedive last fall. Doctors found she has an extremely rare disease called systemic mastocytosis.
"Basically I have an overgrowth of a certain type of white blood cells in my body," she said. "It's similar to cancer. It's not cancer, but it can be fatal."
Before she got sick, she was a dancer. Since she was a little girl, she always grew her hair long and cut it to donate to cancer patients.
"I've always had a big heart for people with disabilities and sicknesses," she said. "I never thought that I was going to be one of them."
She has bad days.
She has angry, frustrated, sad days.
But she chooses not to complain, and she conquers those difficult days by bringing joy to others.
For her senior project, she created Kindness Crates — thoughtful care packages for 'tweens and teens also going through life-altering disabilities and illnesses.
"The point of them is just to bring some comfort and happiness to kids going through hard things," Roads explained.
Each crate always has a note for the recipient handwritten by Roads, "because I want them to know that they're not alone in their sickness."
"Chronic illness can be super, super lonely," she said. "I've actually lost friends because they don't know what to do with somebody who's disabled or sick."
Kindness Crates are filled with items that can comfort or entertain youths who spend long stretches in waiting rooms and hospital beds, things like heating pads, tissues, journals, socks, coloring books and port pillows.
Roads was inspired when she discovered a hospital program where people can donate crafts and different activities and items for young patients.
"I was like, 'This is the coolest thing ever,'" she said. "I want to help kids that have chronic illness too because there's a lot of really scary things that we have to go through while we're trying to do high school and all that."
On May 13, she presented her program to Natalie Walters' leadership class to educate her peers about kids with health conditions and how little things can mean so much.
"I'm just super proud," said her mom, Mindy. "She's taken her illness, something that is devastating, but is taking it to do good for other people.
"She's had a lot of roadblocks in her life that she hasn't even talked about. She's made a choice to not let this be fully devastating to her," Mindy said. "At the end of the day, she chooses to rise above it."
Inspired by Roads' courage, Walters asked if she needed anything for herself.
"I saw her and I went, 'What can we do for you? What is the one thing you would want?'" Walters said.
Not expecting the kindness to turn to her, Roads admitted she'd love an adjustable hospital bed.
"I have a lot of chronic pain and don't sleep very well," Roads said. "I love the feeling of hospital beds; it helps me sleep."
Walters and those around Roads are working to find this selfless teen a comfy adjustable bed, mapping out how to go about donations and fundraising.
Roads is taking suggestions for kids in the area who could benefit from a Kindness Crate. Each one is inspected by Roads and includes special touches and prompts for the recipients to pay forward the kindness in their own way.
Roads keeps her sense of humor and shares that bit of sunlight she so well finds in even the darkest times.
"I take more medicine than my grandparents, which is really funny," she said with a laugh.
She's pretty stoked about being on yearbook staff and having a new sparkly blue wheelchair, too.
Roads is documenting her health journey on her Instagram account, adri_faith, where she uploads photos and experiences.
Those interested in Kindness Crates or helping find a hospital bed can email Roads at kindnesscrates@gmail.com.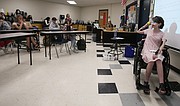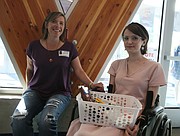 Recent Headlines
---