In this fight together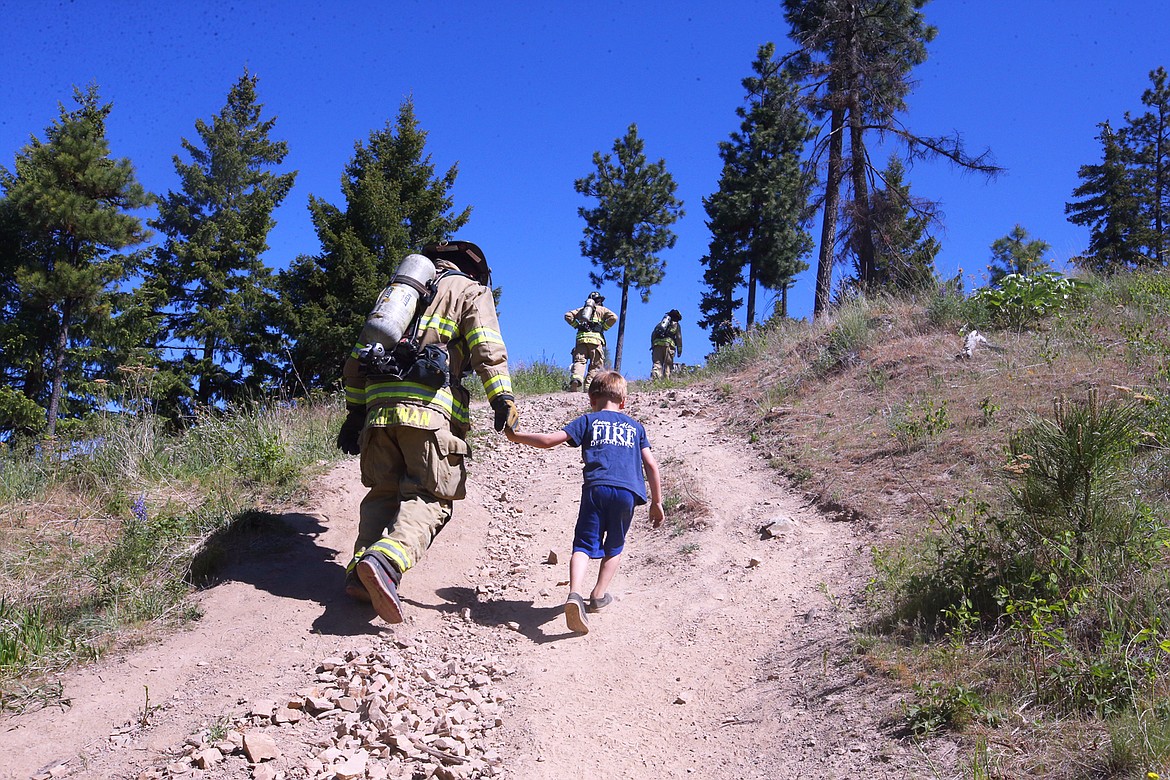 Kelan McKiernan and son Maddex hike up Canfield Mountain together on Saturday during a fundraiser for the Leukemia & Lymphoma Society.
BILL BULEY/Press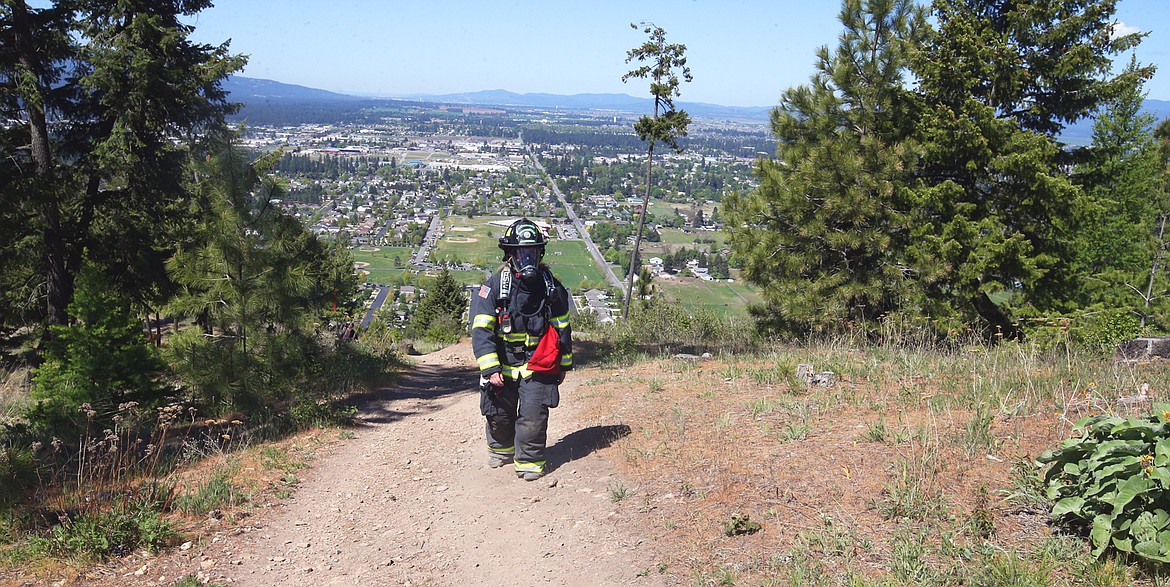 Shay Carlock of Northern Lakes Fire hikes Canfield Mountain on Saturday.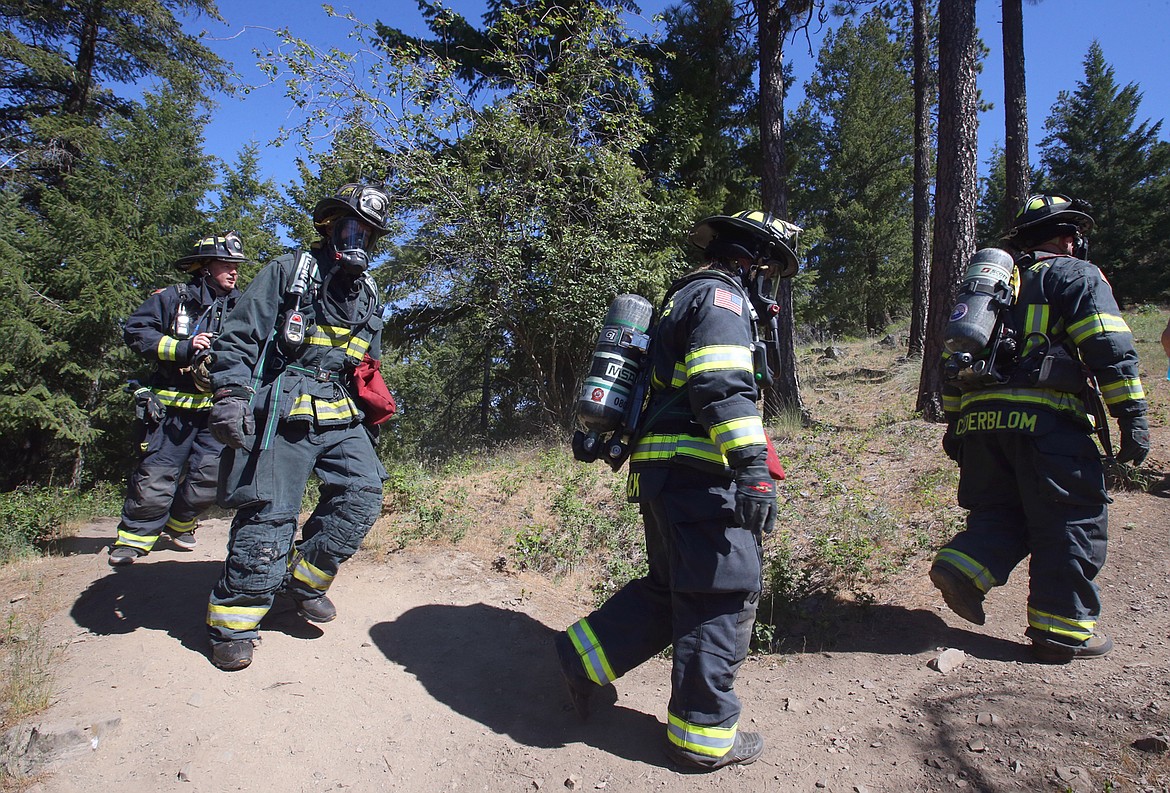 North Idaho firefighters take a turn on Canfield Mountain as they virtually join the 30th annual Leukemia & Lymphoma Society Firefighter Stairclimb on Saturday.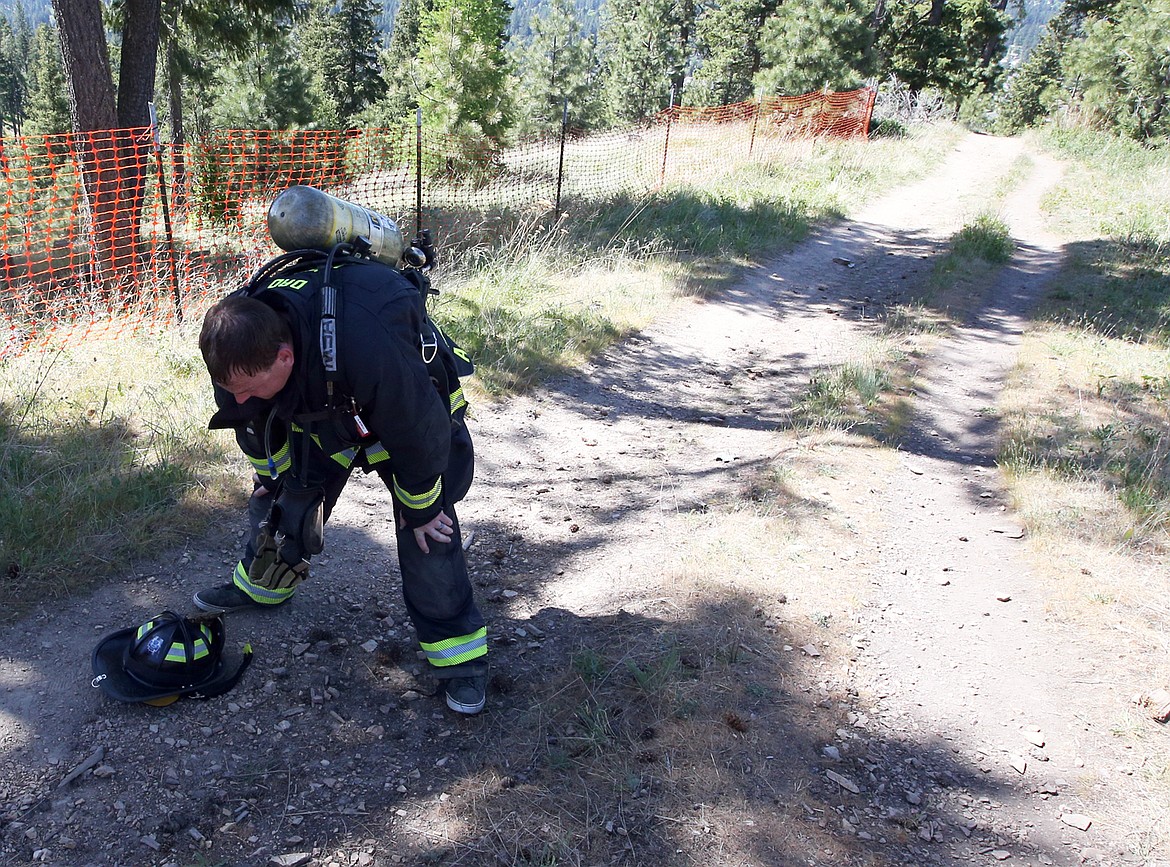 Mica Kidd Island firefighter Austin Bedwell catches his breath as he continues his climb of Canfield Mountain on Saturday.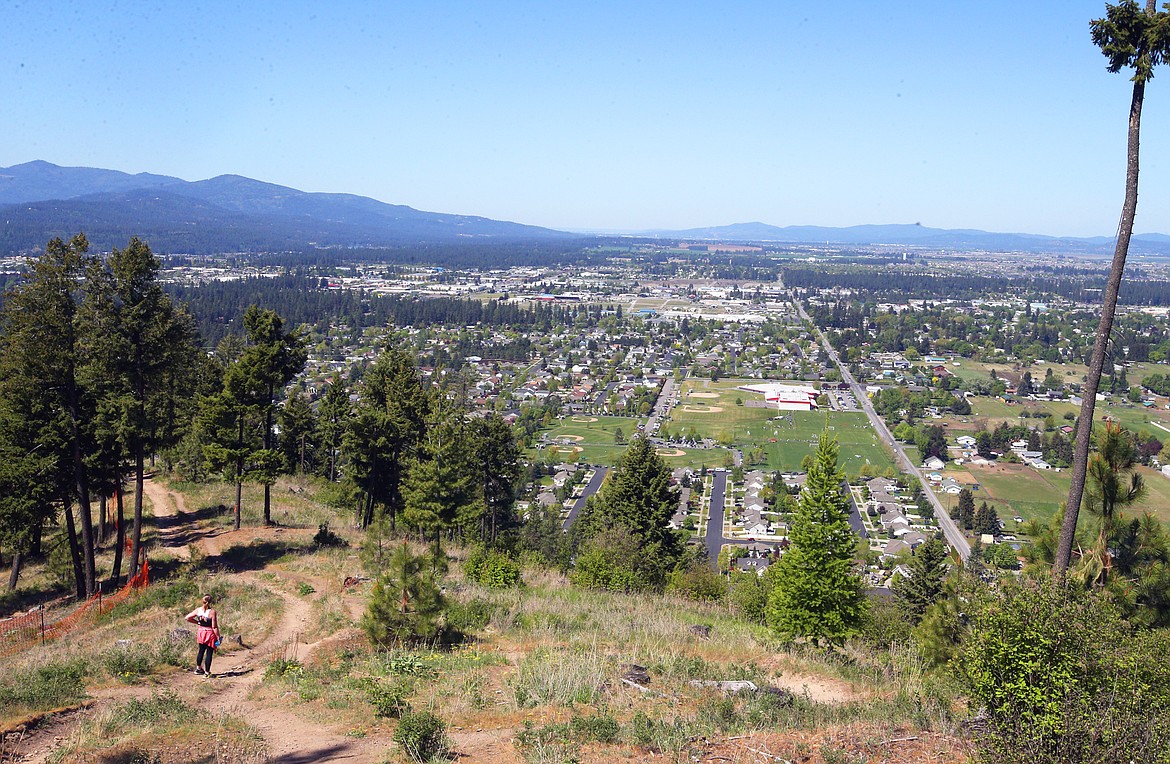 Sue Welch stops hiking up Canfield Mountain and instead enjoys the view on Saturday.
Previous
Next
COEUR d'ALENE — As Kelan McKiernan and son Maddex hiked up a steep, dirt path on Canfield Mountain Saturday, they held hands.
They were in this fight together.

Dad, a Coeur d'Alene firefighter, faced stomach cancer 19 years ago and beat it. Maddex is in a three-year battle with retinoblastoma, an eye cancer.
"We lost a big battle a couple months ago, he lost his right eye," Kelan McKiernan said. "But the other eye is holding strong. The cancer is not too bad.
"I'm here for him," he added of his son, wearing sunglasses and a Coeur d'Alene Fire Department shirt, and carrying a big stick.
The two were among nine firefighters wearing full gear and carrying air packs as they hiked more than a mile up the mountain, an elevation gain of some 900 feet, on a sunny, 70-degree day.
It was part of the 30th annual Leukemia & Lymphoma Society Firefighter Stairclimb, which would normally be at the Columbia Tower in Seattle. There, firefighters traditionally race up 1,356 steps and 69 flights, wearing full firefighting gear (about 70 pounds) in support of the Leukemia & Lymphoma Society and its fight against blood cancers.
The event in 2019 raised more than $2.9 million for blood cancer research and treatment.
For the second year, due to COVID-19, the climb went virtual and local firefighters raised money by climbing Canfield Mountain instead, on a route about equal in distance and elevation gain to that of the Columbia Tower.
It included firefighters from Coeur d'Alene, Kootenai County Fire & Rescue, Northern Lakes Fire District, Spokane Valley Fire Department, and Timberlake Fire District.
About a quarter of the way up the hill, Mica Kidd Island firefighter Austin Bedwell took a short break. He was in good spirits, but the heat was taking a toll.
"I'm already feeling tired and hot, but proud to be here," he said.
About a half-mile later, Bedwell stopped at the crest of a hill and took some deep breaths. He said as it got tougher, he picked a spot, a short distance away and made it there. Then, he picked another spot as he continued the climb.
It worked.
"Tired, exhausted, very hot but the motivation in me won't let me quit. I'm going to make it to the top. I may be slow, but I'll die before I quit," he said, smiling.
Shay Carlock of Northern Lakes Fire took slow, deliberate steps in firefighter boots as she held a steady pace up the mountain. She was working hard, but dismissed any attention for her efforts.
"It's nothing compared to what the people actually fighting actually go through," she said, adding that she was walking in honor of her mom's best friend's grandson, who has leukemia.
Scott Niebuhr, a Spokane Valley firefighter, stopped and took a knee as he recovered from a steep section. The climb's camaraderie kept him moving forward.
"This is really tough but I'm doing my best to hang in there and get to the top," he said.
Sue Welch, not in fire gear, was hiking in memory of her husband, Jeff Welch, a firefighter who died of mantle cell lymphoma nearly two years ago.
Welch, retired from Illinois, was chief of Northern Lakes for a time. When he was diagnosed, Sue Welch said the LLS was a huge support for her.
"It's a wonderful organization," she said.
Sue Welch, one of the last of the group, stopped for a short time and admired the sweeping view of Coeur d'Alene and Dalton Gardens. Looking ahead, the trail disappeared into the trees.
"I felt great an hour ago. Now, I'm like old," she said, laughing. "But I'm proud of myself."
Kelan and Maddex McKiernan, meanwhile, were united.
"We gotta keep moving," Kelan said.
He looked at other firefighters hiking nearby and said, "These guys are the real heroes, right here. Cancer doesn't fight itself with out funding.
"Stuff like this makes all the difference in the world, because without guys doing this very thing, cancer doesn't get cured," McKiernan added.
Maddex, trailing just a bit now, hustled to catch up.
"C'mon spud, double time," his dad said.
"OK," Maddex answered.
He caught up to his father and they again held hands and continued climbing.
Recent Headlines
---