Palaniuk leads Bassmaster event heading into final day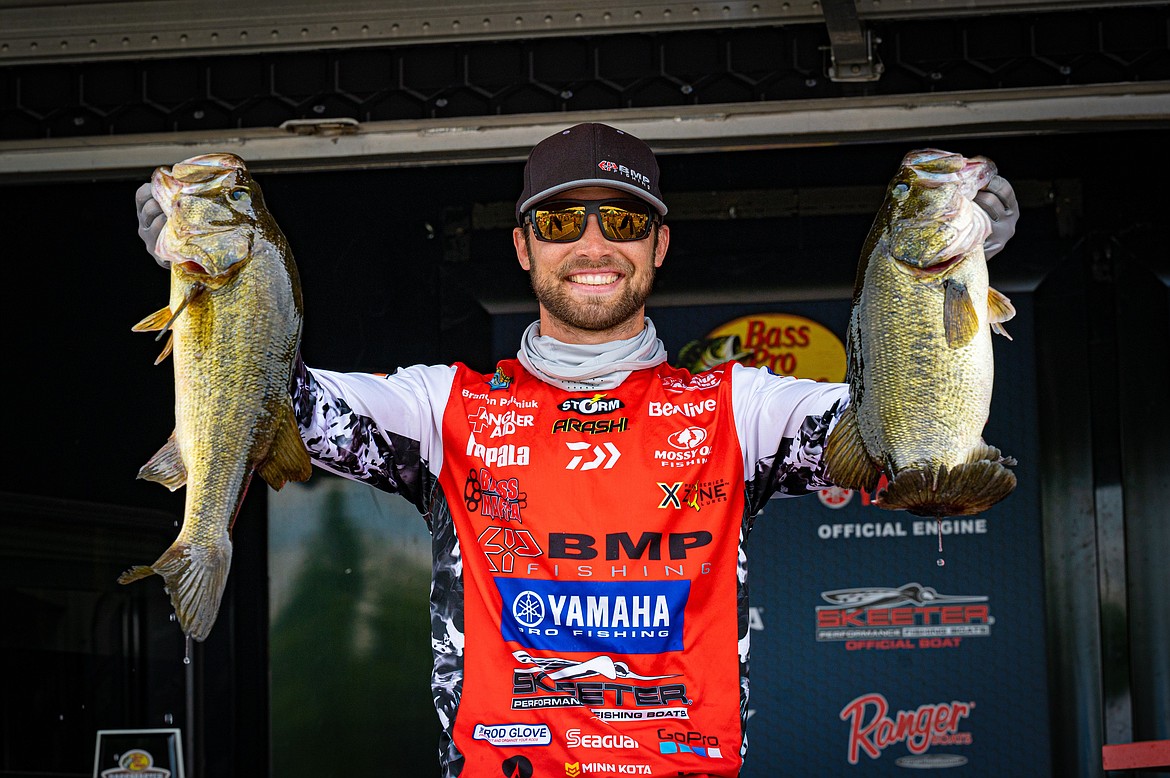 Photo by BRENDEN KANIES/B.A.S.S. Brandon Palaniuk of Rathdrum is leading after Day 2 of the 2021 Basspro.com Bassmaster Northern Open at James River with a two-day total of 36 pounds, 1 ounce.
From Bassmaster news services
RICHMOND, Va. — Saving the best for last, Bassmaster Elite Series pro and Rathdrum native Brandon Palaniuk sacked up a late-day limit of 22 pounds, 6 ounces to rise 49 spots and lead Day 2 of the Basspro.com Bassmaster Northern Open at James River on Friday.
Palaniuk, who formerly wrestled at Lakeland High and North Idaho College, claimed the event's heaviest bag, which bolstered his Day 1 catch of 13-11 to tally 36-1. Heading into Championship Saturday, Palaniuk leads Jeff Queen of Catawba, N.C., by 13 ounces.
Following a slow start, Palaniuk made a key decision to relocate to a spot he identified on Day 1. The results were unquestionable.
"With an hour to go, I had three fish; then I pulled up on a spot and filled my limit and culled three times," Palaniuk said. "I caught a 5-11 and a 5 1/2 and then I caught one that was pushing 5 in that last hour. It was just incredible."
Noting that he's fishing a very specific situation in Chickahominy Creek, Palaniuk was understandably guarded with his details. He did, however, state that he accomplished most of his work on a small area where precision was as important as bait selection.
"It's not big; it's a one-cast deal," Palaniuk said of his replicable scenario. "It's hard cover, but there's more to it."
Traveling to Richmond directly from last week's Bassmaster Elite at Neely Henry Lake, Palaniuk had approximately one full day of James River practice. Given his brief period of preparation, he decided to commit to waters he's fished during past visits.
"I've never fished anywhere else," he said. "I only had a total of eight hours, coming from Neely Henry, I had to go with what's familiar to me."
Timing seems to be the key component to Palaniuk's success. As he explained, the bass are positioning with obvious feeding intent, so repetitive casting to a specifically defined area is essential for keeping his bait in the strike zone.
"If you hit the timing right, you can catch (a lot of weight)," Palaniuk said. "What I saw today, there's 25 to 30 pounds there. Those fish are there to eat, for sure. I think there are new fish coming to me."
Feeding windows are common to tidal fisheries and that definitely contributed to Palaniuk's big catch. However, his afternoon flurry hinged on a more complex strategy.
"I made a slight adjustment and I think that, along with timing, were the two keys," he said. "I figured out the angle I needed to get the right bites."
Palaniuk said he used a mix of reaction baits and slower presentations. Both techniques produced big bites.
"I hope I fish tomorrow because I don't know what could happen," he said. "I've made the Top 10 here before quite a few times, but I've never been able to pull off the win."
Saturday's takeoff is scheduled for 6 a.m. ET from Osborne Park & Boat Landing. The weigh-in will be held at the Bass Pro Shops in Ashland, Va., at 3 p.m.
Recent Headlines
---