Knock the Vote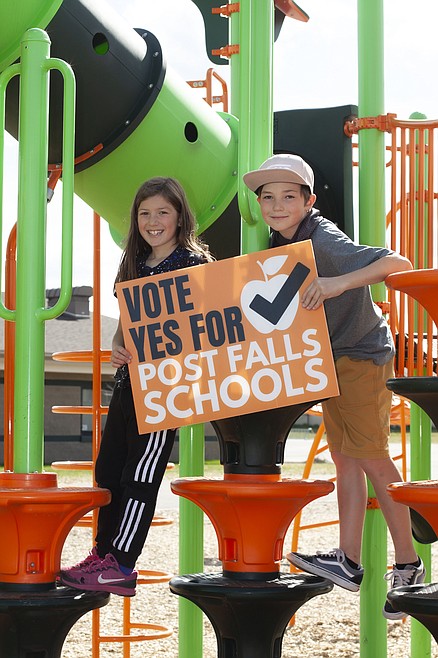 Emma and brother Noah Storlie, students in the Post Falls School District, are reminding their community to vote yes for the Post Falls supplemental levy on Tuesday.
Courtesy photo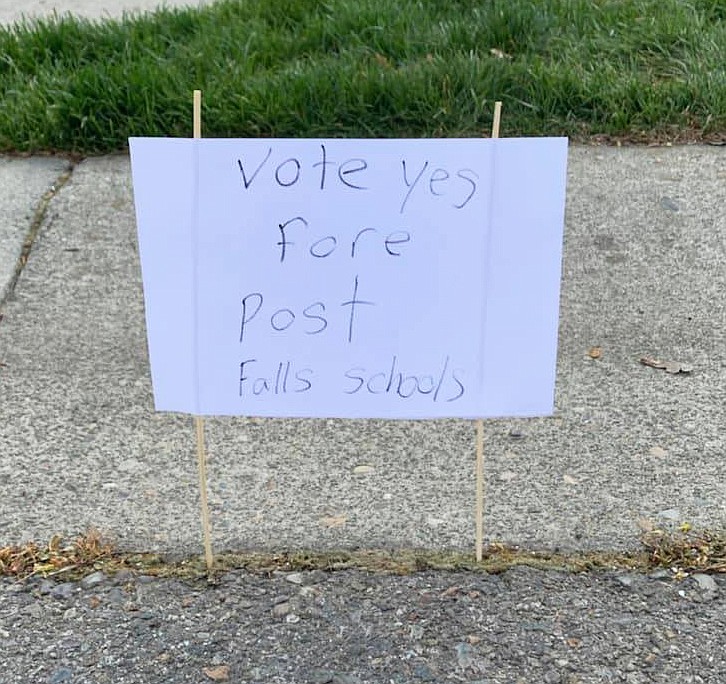 This handmade sign is in a Post Falls School District supporter's yard in the Montrose subdivision. The district's supplemental levy election is Tuesday.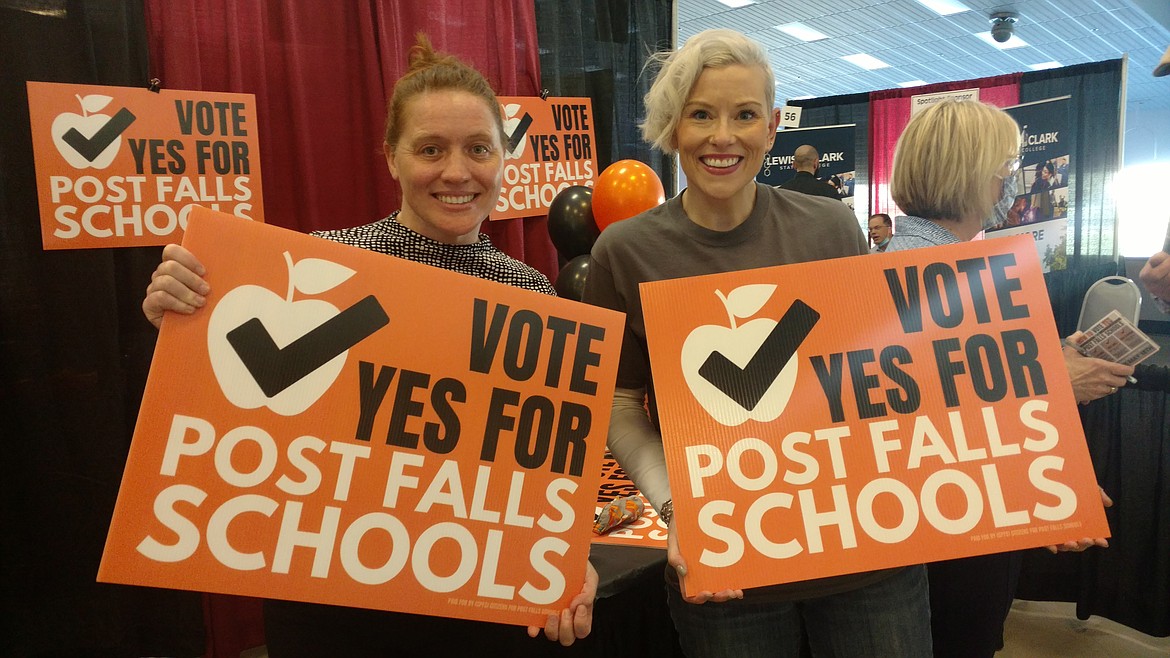 Teresa Borrenpohl, left, and Karen Lauritzen are two coordinators for Citizens for Post Falls Schools, a grassroots nonprofit that will send volunteers out this weekend to remind residents to vote for the school levy on Tuesday.
Previous
Next
by
DEVIN WEEKS
Staff Writer
|
May 15, 2021 1:07 AM
POST FALLS — Citizens for Post Falls Schools will be out in droves ahead of Tuesday's levy election during the "Knock the Vote" campaign.
About 30 volunteers will make the rounds with the goal of hitting 500 houses in Syringa Street neighborhoods today and Montrose neighborhoods on Sunday.
"If more people want to join they're welcome to," said Citizens for Post Falls Schools co-organizer Teresa Borrenpohl.
Citizens for Post Falls Schools is a grassroots nonprofit that sprang up in the wake of the $4.95 million-per-year, two-year replacement supplemental levy request that failed by just 33 votes March 9.
The group formed to advocate for Post Falls schools through local levies and bonds. It is separate and financially independent from public and taxpayer dollars.
Have you seen all the "Vote YES for Post Falls Schools" signs popping up around town? That's Citizens for Post Falls Schools' handiwork.
"Education is the foundation to a vibrant and thriving community," said Borrenpohl, who supports the levy even though she has no children in the district.
"Quality education leads to decreased crime rates, increased civic engagement and a strong economy," she said. "A vote to continue the education levy is a vote for the future of Post Falls."
Another coordinator for the movement is Karen Lauritzen, a fourth-grade teacher at Treaty Rock Elementary who has a sixth-grader in the district. She has taught in Post Falls since 2012.
She said what she wants people to understand is how fiscally responsible the district is with the public's dollars.
"The money we get from the state just isn't enough," she said. "As everyone knows, Idaho is 51st in per-pupil spending. What that means is the money we get from the state just doesn't cover what parents expect as a full education for their students."
This levy covers about 7.5% of the district's overall budget.
"That 7.5% goes so far!" Borrenpohl said.
Levy funds pay for things parents expect their children to have access to, Lauritzen said, such as school nurses, technology, updated textbooks, "our school resource officers that come and make students feel safe at school and collaborate with kids."
"Our levy dollars pay for all of our extracurricular activities and school sports," she said. "For most parents, those are a given. Those are the things that make a school a school. They make for a well-rounded education."
A portion of those dollars helps pay for the Kootenai Technical Education Campus, which is funded by the Post Falls, Coeur d'Alene and Lakeland school districts.
"Post Falls students excel in the trades; 95% of our career technical education students graduate with an industry-recognized certification," Borrenpohl said. "They are ready, with a skill, to get to work immediately following high school."
While some parents can afford private schooling or choose to send their students to charter schools, "public schools take everybody," Lauritzen said. "Public schools serve every child."
"Public schools welcome everyone, and they always will," she said. "We educate every kid who walks in our door.
"These kids are going to be your nurses some day," she said. "They're going to be your doctors some day."
District officials and board members have confirmed that the supplemental levy, if passed, will not raise property taxes. Because of so many people moving into the area and expanding the tax base, school-related tax fees have actually gone down in the past few years.
Tax bills will vary based on home value and location. But as an example, in 2019, a homeowner with a taxable home value of $230,000 paid $302.04 in levy taxes. The next year, a homeowner with a home at a taxable value of $243,360 paid $248.66 in levy taxes. Visit www.pfsd.com for other details and information.
Lauritzen said she wants to make it clear that homeowners are not the only ones shouldering the cost. Even people in apartments contribute to these taxes.
"The person who owns the apartment building, they pay and pass the cost off in rent," she said. "It's a part of their rent. A lot of people don't realize that."
For those who don't make it out to Knock the Vote, they're invited to "Do the Wave" for Post Falls Schools. From 7:30 to 8:30 a.m. and 2:30 to 3:45 p.m. on Election Day, volunteers are encouraged to wave signs and remind their neighbors to vote yes for the Post Falls levy. Visit www.voteyespostfalls.com to sign up.
"I'm just so glad people are involved and invested in our kids and our schools. It warms my heart," Lauritzen said. "They can make a difference."
Lauritzen said Citizens for Post Falls Schools won't go away after Tuesday.
"Our group is not just for this levy cycle," she said. "We're in here for the long haul for Post Falls."
Knock the Vote will be in full swing from 9:30 a.m. to noon today and 1 to 3:30 p.m. Sunday.
Polls will be open from 8 a.m. to 8 p.m.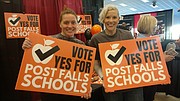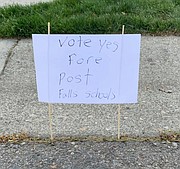 Recent Headlines
---