THE FRONT ROW WITH JASON ELLIOTT: Give the kids a shot, we'll see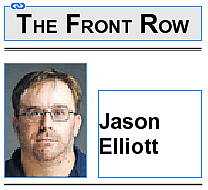 You can add something to a sport and sometimes, it's a good thing.
Adding the runner on second base to start extra innings to try to get a winner sooner than later, I'm a fan for the most part.
Adding a shot clock to high school basketball, I'm not sold on.
IN CASE you missed it earlier this week, the National Federation of State High School Associations adopted the idea of having a 35-second shot clock starting with the 2022-23 season.
Officials in Idaho are willing to discuss the idea if it gains enough momentum in the coming months.
And depending on which coach or parent you follow on social media, it's long overdue.
It's understandable. Most people don't want to watch a game played a slow pace, where the game finishes with neither team reaching 50 points.
Sometimes, that's the fault of the defense. Other times, it could just be a bad night shooting for both teams.
Adding a shot clock might be a good idea. Then again, when was the last time you watched a high school game and thought that a shot clock could help that game?
The good teams, they don't have any problems finding a shot in a timely manner on offense and those kids, that put in the time during the offseason working on their game, they don't have any issue getting shots off during a game.
During my senior year of high school, Mullan opted to hold the ball for the majority of the fourth quarter in a close game at Wallace. Sure, it was pretty boring to watch, but it was also up to the defense to do something about it.
Force a mistake, foul. Something, right?
Adding a shot clock could also result in watching a lot more really bad shots, and more lopsided games since you can't necessarily slow things down anymore.
Don't get me wrong, if Idaho opts to add the shot clock, I'll learn to love it.
Eventually.
AS THE Seattle Mariners continue to look for a spark in the first 50 games of the season, the team called up Jarred Kelenic and Logan Gilbert to start in Thursday's game against Cleveland.
The result, the Mariners nearly were no-hit for the second straight time at T-Mobile Park in Seattle, finally notching a hit in the eighth inning on Thursday.
Sure, it's early — for Kelenic and Gilbert — as well as the Mariners, but hopefully things start moving the right way again soon.
It can't get much worse, right?
Jason Elliott is a sports writer for The Press. He can be reached by telephone at (208) 664-8176, Ext. 2020 or via email at jelliott@cdapress.com. Follow him on Twitter @JECdAPress.
Recent Headlines
---