Ruthie Johnson lived an American Dream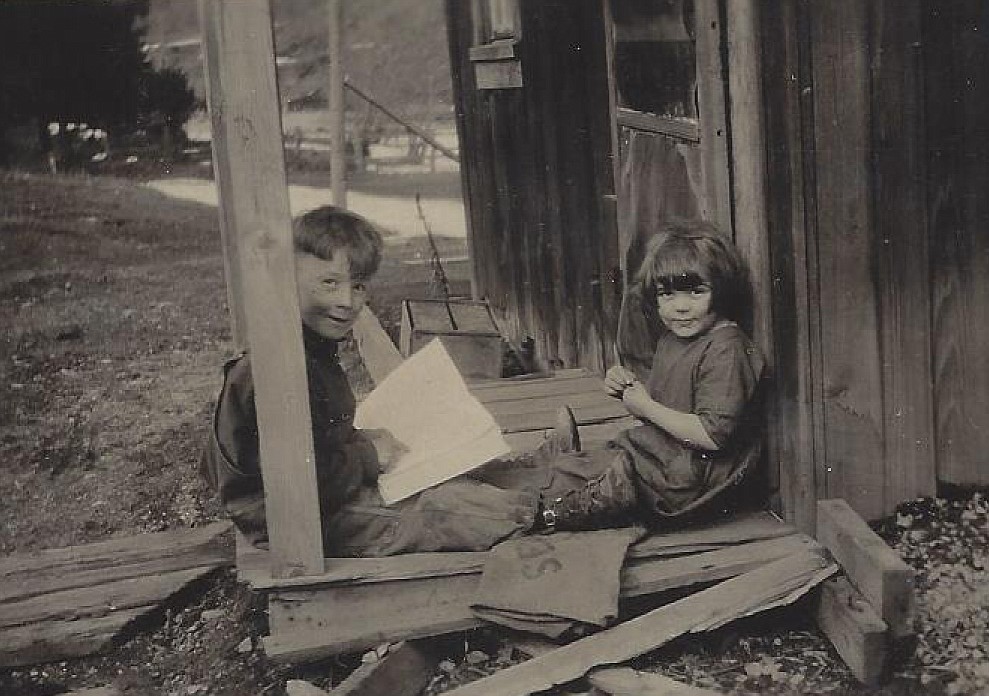 Ruthie Johnson is pictured here as a child with her brother Delmer on the porch of their Silver Valley home. Ruthie grew up to become a Republican powerhouse who rubbed elbows with President Ronald Reagan. Ruthie died Wednesday at the age of 96.
Courtesy photo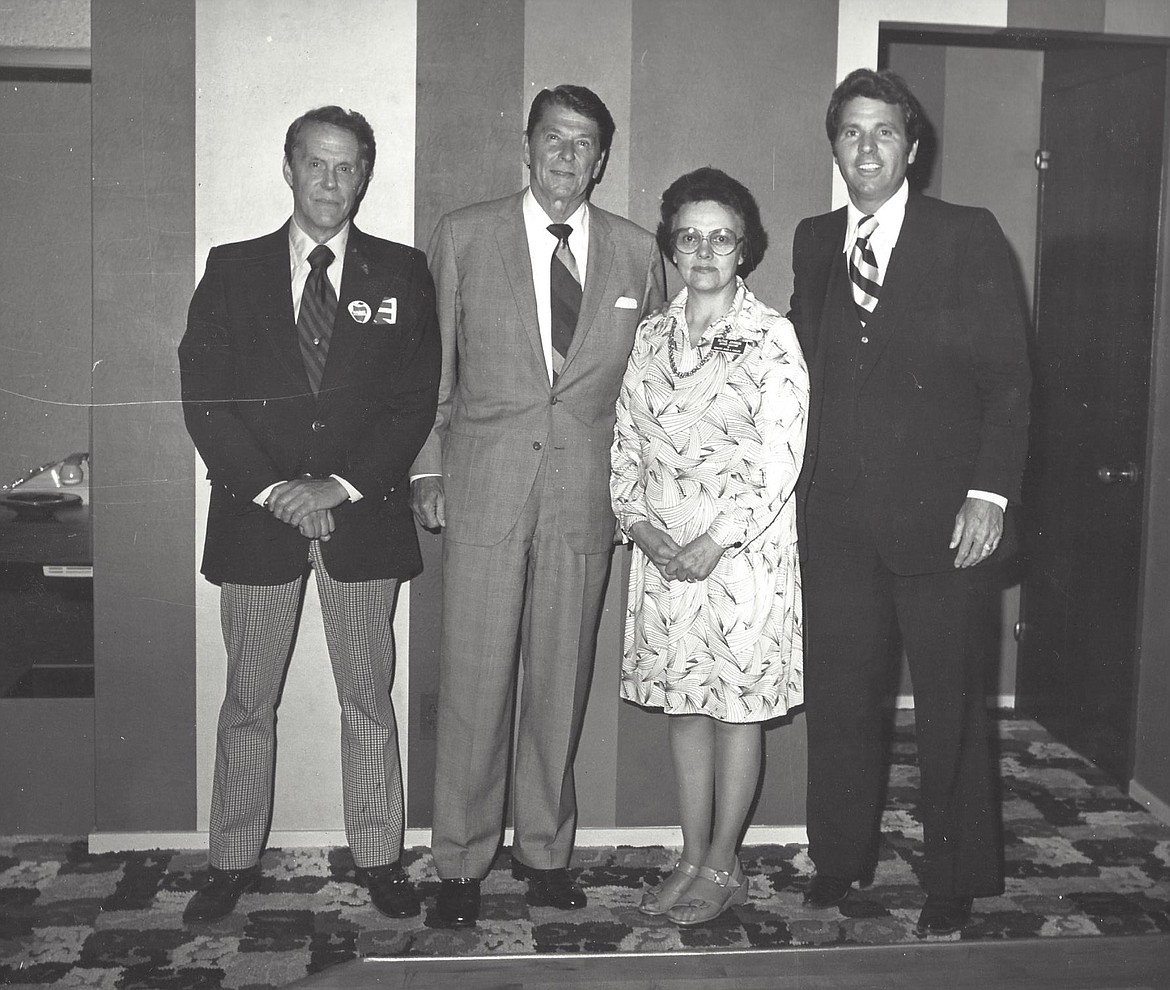 Ruthie Johnson, the "Grand Dame" of North Idaho Republicans, overcame great poverty at a young age to grow up and become friends with prominent Republican leaders and presidents. She died Wednesday. Pictured about 1986, from left: Ruthie's husband Wayne Johnson, President Ronald Reagan, Ruthie and U.S. Sen. Steve Symms.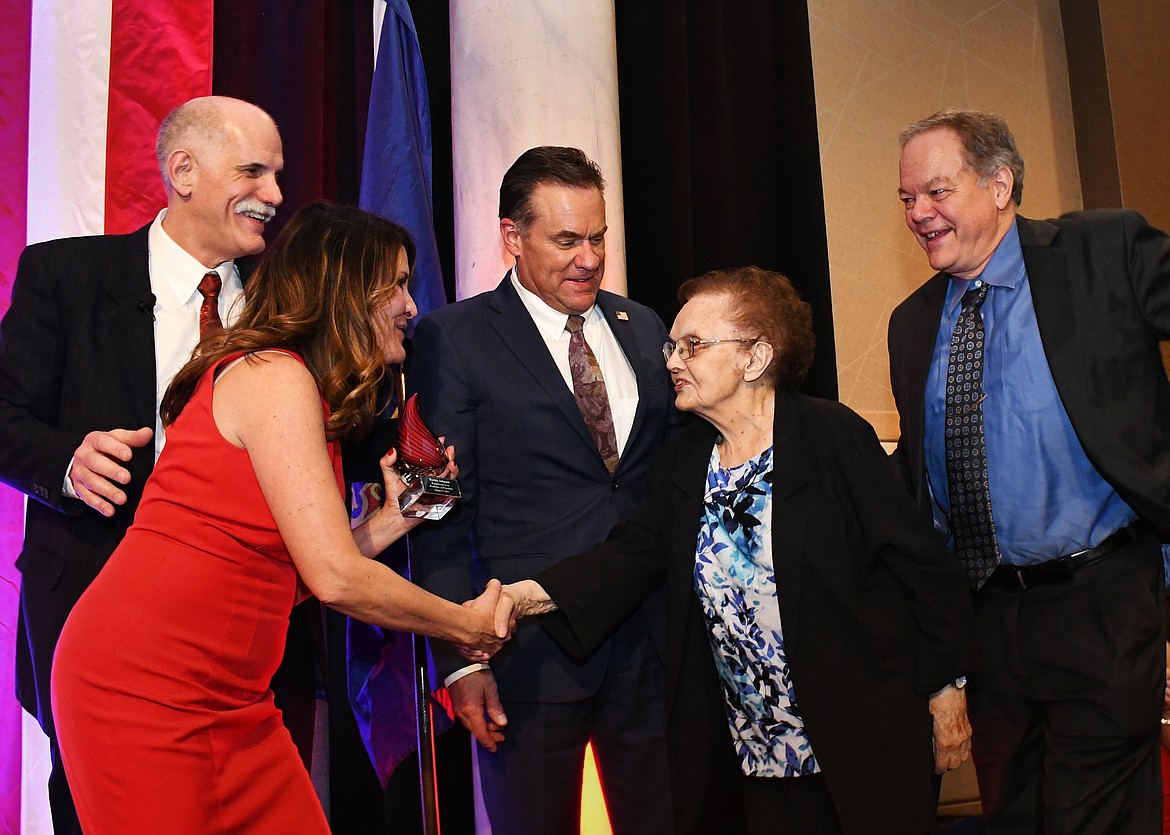 Ruthie Johnson received the Ruthie Johnson Defender of Freedom award at the Kootenai County Republican Central Committee's 2021 Lincoln Day Dinner. The award encapsulates her life's work in politics and will be annually awarded to those who most demonstrate her cause for individual freedoms. From left: KCRCC Chairman Brent Regan, Lt. Gov. Janice McGeachin, U.S. Rep. Russ Fulcher, Ruthie and her son, Dr. Duke Johnson.
Previous
Next
by
DEVIN WEEKS
Staff Writer
|
May 14, 2021 1:09 AM
Ruthie Johnson, fondly known as the "Grand Dame" of North Idaho Republicans, died Wednesday at Hospice of North Idaho. She was 96.
A diehard GOP supporter and woman who stood for what she believed in, Johnson was known for making waves, making headlines and, most importantly, making friends across the political aisle.
"What people saw in her was that it was OK to have convictions, but it was OK to differ from Ruthie," her son, Dr. Duke Johnson of Rathdrum, said Thursday. "She loved you anyway. She could agree to disagree."
Ruthie came from extremely humble beginnings, working on a family dairy in the Silver Valley and thrust into poverty when her father died when she was only 10.
"Her first job was collecting money at the Mullan school because they didn't have money for lunch. The school said, 'If you collect money we'll give you and your brother lunch,'" Duke said. "As a grade-schooler she worked."
Growing up, money was so scarce her family could only afford one pair of shoes a year, Duke said.
"She'd outgrow her shoes but she'd never mention it to her parents because they couldn't afford them," Duke said. "She had foot problems her whole life, clear until she passed away."
Duke's voice choked and he paused for a moment before he shared something his mom said that will stay with him forever, something very telling about the person she was.
"She said, 'You know, we never, ever thought we were poor; we just thought we had less than everyone else did. But we were never poor,'" he said. "That line is something that's not in our vernacular anymore, and that was a trademark of the Greatest Generation. That was the trademark that built America."
Ruthie was born into a Democratic family, but it was the Republican Party that spoke to her.
"She got interested in politics," Duke said. "She wanted to help other people rise up."
Ruthie became a devout and dedicated Republican leader. She formed the largest Republican Women group in the area early in her work, served as a precinct committee chairperson for more than half a century, worked as a delegate at several Republican National Conventions, served 24 years as U.S. Sen. Jim McClure's district assistant for northern Idaho, and rubbed elbows with prominent Republican leaders, including Ronald Reagan.
"She met and had dinner with Reagan. She loved Reagan," Duke said. "Everyone who's of any significance in the Republican Party in the last 30, 40 years has met Ruthie, nationally."
Ruthie is preceded in death by her husband, Wayne, with whom she shared a decades-long loving marriage and had three children, two of whom are doctors, and several grandchildren and great-grandchildren.
"She and my dad were just carbon copies of each other," Duke said. "That's why they were married 75 years."
Duke praised his mother's unsinkable spirit and ability to overcome countless obstacles to have a life story embedded in the American Dream.
"It's only in America would someone be able to come from abject poverty to having dinner with presidents," he said. "She was a rare breed."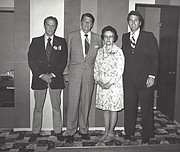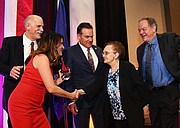 Recent Headlines
---