PREP SOFTBALL: Grantham powers Timberlake to state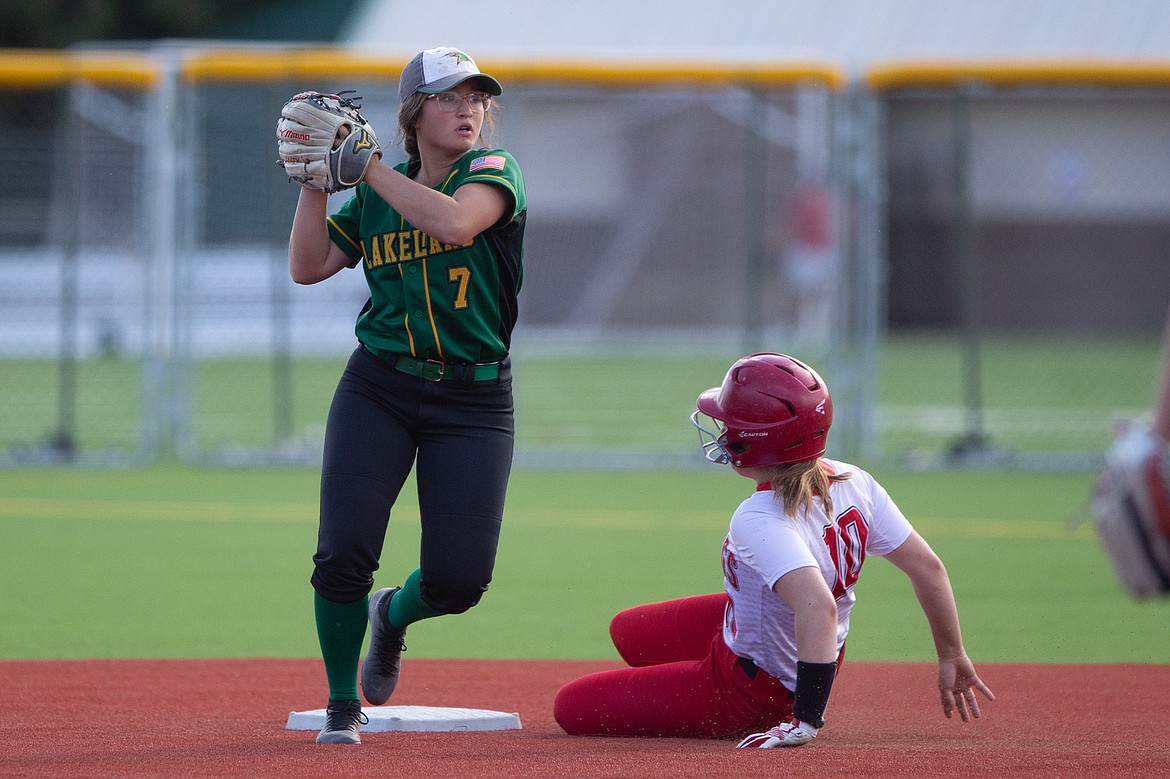 JASON DUCHOW PHOTOGRAPHY Lakeland's Hailey Gosch prepares to make a throw to first base after recording an out at second on Sandpoint's Shelby Lanie during Thursday's game at War Memorial Field.
SPIRIT LAKE — Sophomore Ashley Grantham belted two home runs and drove in nine runs as the top-seeded Timberlake Tigers beat the second-seeded Bonners Ferry Badgers 37-2 in the championship game of the 3A District 1 tournament Thursday at Timberlake High.
Grantham, a transfer from Oregon, finished 4 for 6 and scored four runs for the Tigers (21-3). The left-handed batter hit a grand slam in the second inning and a two-run shot in the fourth. It was her first two homers of the season.
"She came to some open gyms (over the winter)," Timberlake coach Casi Lupinacci said. "In the cage, she can flat-out rake; we've been waiting for her to break out in a game."
Freshmen Acacia Pecor and Casey Whaley combined for a no-hitter for the Tigers. Pecor struck out six and walked two in four innings. Whaley fanned two in a 1-2-3 fifth.
Bonners Ferry (8-12) scored twice in the top of the first, before Timberlake answered with 15 runs.
Emma Howard went 4 for 5 with a homer, five RBIs and four runs scored for the Tigers. Lacey Peterson was 3 for 4 with six RBIs and four runs, and Lily Carhart was 4 for 5 with three RBIs and five runs scored as Timberlake totaled 23 hits.
"We were squaring up the ball really well," Lupinacci said.
Bonners Ferry will play host to Kellogg (9-7) today at 4 p.m. in the second-place game, for a berth in a Saturday play-in game. Kellogg beat Priest River (1-20) 30-8 in a loser-out game Thursday.
Bonners Ferry 200 00 — 2 0 3
Timberlake (15)87 7x — 37 23 1
J. Curtis, Paisley Schulte (2) and Charley Pruitt; Acacia Pecor, Casey Whaley (5) and Lily Carhart.
HITS: BF — none. TL — Howard 4, L. Carhart 4, B. Carhart 2, Lindley, Jessen, Grantham 4, Pecor 3, Rojas, Peterson 3. 2B — B. Carhart, L. Carhart 2, Peterson, Rojas. HR — Grantham 2, Howard.
Lake City 3
Lewiston 1 (8 inn.)
LEWISTON — The visiting Timberwolves scored the go-ahead run in the eighth inning on an error, and Hanah Stoddard added an RBI single as second-seeded Lake City beat top-seeded Lewiston 3-1 in a loser-out, second-place game at the 5A Region 1 tournament at Airport Park.
Lake City (17-6) advances to a state play-in game Saturday at 1 p.m. at Prairie High in Cottonwood vs. Skyview of Nampa.
Lewiston, which captured its first league softball title in school history, finished 20-7.
Phoebe Schultze struck out 15, walked three and scattered three hits for Lake City — one of those a solo homer by Taryn Barney in the fourth that tied the game at 1.
In the seventh, Lewiston loaded the bases with two out, but Schultze retired Barney on a popup to the pitcher.
"Phoebe was absolutely unbelievable today," Lake City coach Jesse Lenz said. "She threw extremely well and had great command of the strike zone. We had huge contributions from the bottom half of our lineup, specifically Taylor Hill and Hanah Stoddard. We bunted extremely well as a team, and the seniors had the never-say-die mentally today. Extremely pleased with the team win, and I hope the momentum will roll into Saturday."
Taylor HIll, Lake City's No. 9 hitter, had two of the T-Wolves' five hits.
Lake City 001 000 02 — 3 5 5
Lewiston 000 100 00 — 1 3 1
Phoebe Schultze and Hope Bodak; Samantha Mader and Taryn Barney.
HITS: LC — A. Hill, Stoddard, Tolzmann, T. Hill 2. Lew — Weeks, T. Barney, Douglass. HR — T. Barney.
Lakeland 13
Sandpoint 4
SANDPOINT — Haylee Smit had three hits and drove in three runs and the Hawks scored the first nine runs of the game and beat the Bulldogs at War Memorial Field to force a winner-take-all game Saturday in Rathdrum for the 4A Region 1 title and the region's lone berth to state.
Sandpoint won Game 1 8-5 on Tuesday at Lakeland. Lakeland rebounded to win Game 2 at Sandpoint on Thursday, and in the process earned the right to host Saturday's deciding game, scheduled for noon.
Smit hit RBI doubles in the second and seventh innings for Lakeland (12-14).
Kathryn Wardak hit a two-run double in the second for the Hawks. Harley See went 3 for 4 with an RBI and three runs scored, Olivia Staudinger was 2 for 4 and scored twice, and Walls and Wardak each knocked in two runs.
"We came out and got our bats going; that's what we struggled with the other day," Lakeland coach Colleen Bevacqua said.
Lakeland used three pitchers on Thursday — Hailey Gosch pitched two scoreless innings, Devry Bursch struck out five in four innings, and Wardak finished it with a scoreless seventh, striking out two.
Bevacqua said Sandpoint coach Elizabeth Hawkins-Williams has kept Lakeland off balance in past meetings by switching pitchers throughout the game.
"I'm not going to lie; I've kinda taken a page out of her book little bit, because she does that so well," Bevacqua said. "And I'm like, well maybe I need to get a little bit braver, because I have so many pitchers, and that seemed to work out well."
Sandpoint (9-17) committed four errors, including a couple crucial ones early as Lakeland built its lead.
"We're going to have to make a lot of changes on Saturday if we want to win because consistency has been a continual issue for us throughout the season," Hawkins-Williams said, "and so we're going to make some changes defensively because we just can't have players that go out there, make a mistake and are down the rest of the game."
Lakeland 144 001 3 — 13 15 0
Sandpoint 001 003 0 — 4 8 2
Hailey Gosch, Devry Bursch (3), Kathryn Wardak (7) and Payton Sterling; Jaden Dickinson, Madi Garman (2), Via Barlow (7) and Lily Gammon.
HITS: LL — See 3, H. Gosch 2, Bursch, Smit 3, Sterling, Staudinger 2, Walls 2, Wardak. Spt — Cessna, Gammon 4, Barlow, Cash, Tuinstra. 2B — See, Smit 2, Wardak, Walls, Gammon, Tuinstra. 3B — Gammon.
Recent Headlines
---