THE CHEAP SEATS with STEVE CAMERON: Baseball? Big deal. The Seahawks' schedule is out!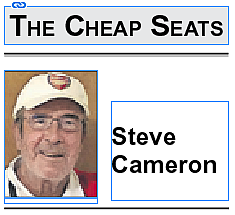 Steve Cameron Cheap Seats bug.
Yee-hah!
The NFL has released the schedule for the coming season.
Which means…
We are obliged to go over the Seahawks' 17-game journey, start to finish, and peer ruthlessly into whatever we suspect awaits these heroes of the Northwest.
As a bona fide columnist, I have no choice.
It would be written into my contract, if I actually had one.
I mean, you would think that — given that we're now heading into the warm and enjoyable part of baseball season — the big deal of the day would be the debut for a couple of exciting Mariners rookies.
Yes, you'd expect we'd have some thoughts about Jarred Kelenic and Logan Gilbert.
We have do that later, however, because…
The Seahawks' schedule has been unfurled for the first time.
And nothing, absolutely nothing, trumps Seahawks news.
That's a given, even if it isn't really news — as in, wins and losses.
No, at the moment, these are now just games on paper and the internet.
But Seahawks fans, in other words most of the sports-junkie population in this part of the country, know that these mysterious games on the new, 17-game schedule WILL turn into wins or losses.
SO THE question, as always, becomes…
How many of each?
What we know is that Seattle opens on the road at Indianapolis on Sept. 12, and also finishes away from home — Jan. 9 at Arizona.
There is an immediate temptation to suggest that the NFC West champion might be decided by that duel in the Phoenix suburbs.
No, I'm not necessarily saying it will be head-to-head for the West title — only that most oddsmakers are tending to throw a blanket over the Hawks, Cardinals, Rams and 49ers, meaning that a game between any two of those teams almost counts double.
Now then…
Most memories of the 2020 season in the Northwest tend to be gloomy.
No fans were allowed in Lumen Field because of COVID-19, the Seahawks bowed out of the playoffs with a limp home-field performance against the Rams — and then Russell Wilson began grousing about his offensive line, his lack of inclusion in team decisions, and his apparent willingness to abandon Pete Carroll and Co. for good.
It's hard to remember, right now at least, that the Seahawks actually went 12-4 in the regular season and won the NFC West slugfest.
But, yeah, they did.
Plus…
On paper, anyhow (where more games are lost than won), Seattle seems to have improved.
If you squint when looking at the cornerback depth chart, and believe that adding one guard (Gabe Jackson) will improve an offensive line that often put Wilson's life in jeopardy, then the Hawks DO look better.
I don't think it's giving away any palace secrets to say that Seattle must be better, in fact, if the deep playoff run that Carroll envisioned a year is going to materialize this time around.
DOES THE schedule actually mean anything?
You know, in terms of favorable or otherwise?
OK, we can all agree it's a pretty tough slog, but that's what you get when you win a division.
The Seahawks play five prime-time games (tied for the most in the NFL), and two of them are intramural scraps — against the Rams and new QB Matthew Stafford on Oct. 3, and then with the 49ers and a mystery quarterback on Dec. 5.
Both those division games are at home.
This is all good news, since the Seahawks are 33-8-1 in prime time under Carroll – the best record in the league with all of America watching.
Last year, it was 4-1, allowing Seattle to snatch the West title (which was somewhat blunted when the Rams slapped them around at Lumen in the playoffs).
This season, the Seahawks actually have drawn three October prime-time games in a row — against the Rams, Steelers and Saints, with Pittsburgh the only road game in that stretch.
Look, ANY schedule looks fine if you know the team is going to play well and be a major player, perhaps right up to the Super Bowl.
If you have glaring holes and need last-second miracles way too often, then ANY schedule will be rough.
Bottom line…
Do you believe the Seahawks have gotten just that little bit better?
If so, then this schedule looks just terrific.
Email: scameron@cdapress.com
Steve Cameron's "Cheap Seats" columns appear in The Press on Mondays, Wednesdays and Fridays. "Moments, Memories and Madness," his reminiscences from several decades as a sports journalist, runs each Sunday.
Steve also writes Zags Tracker, a commentary on Gonzaga basketball which is published once monthly during the offseason.
Recent Headlines
---