THE FRONT ROW with MARK NELKE: Home is especially sweet on the golf course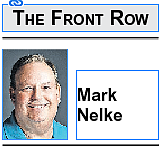 Imagine preparing for your first season as head coach, where on top of your normal duties with your team, you're also preparing to host a state high school golf tournament in your classification.
And then, once you've got a handle on lining up all the volunteers you need to put on said tournament — a global pandemic comes along and shuts down your season not long after it starts.
Fortunately, golf received a mulligan — as did all the other spring sports in Idaho.
The sites that were scheduled to host last year's state events were offered the chance to do so again this year.
"They talked to us at the end of the season last year and asked if we wanted them back, and we were open to it," second-year Coeur d'Alene golf coach Chase Bennett said.
The state 5A tournament returns to Avondale Golf Club in Hayden Lake next Monday and Tuesday for the first time since 2015. The 4As are at The Links in Post Falls, the 3As at Twin Lakes Village just outside Rathdrum, and the 2As are at Circling Raven.
"All my work (preparing to host a state tournament) I did six months prior to this was all done, so it wasn't too difficult this year to start planning for this," said Bennett, whose boys and girls teams both qualified for state this year by winning regional titles on Monday.
"You need over 30 volunteers for state on Monday and Tuesday — that's a lot for people to commit their entire day. We're definitely in need of scorers."
In 2018, the last time state golf was up north, the 5As were at Lewiston Country Club, the 4As at StoneRidge in Blanchard, the 3As at Twin Lakes Village and the 2As were at Circling Raven.
BENNETT, A 2001 Wallace High grad, replaced longtime head coach Bryan Duncan at Coeur d'Alene.
He was a volunteer assistant for three years under Duncan before taking over the program.
"He's been around the game a lot," Bennett said of Duncan. "He knows how to prepare kids for tournament day. And one thing that I brought in, even when I was volunteer assistant, was the course management piece — doing your homework ahead of time, things that will help your players shoot low."
Avondale is Coeur d'Alene High's home course.
"Golf, more than any sport, it's probably the biggest advantage to play at home," Bennett said. "Tennis courts are all the same size, basketball courts are all the same length. Knowing the course, i think there is an advantage."
WHEN THE boys results from 5A regionals were originally posted Monday on the wall outside the Avondale pro shop, Lewiston was listed as the second-place finisher, one shot ahead of Post Falls, which would have earned the Bengals a trip to state.
But, moments later, the score for one of the Post Falls players was changed from a 100 to a 96, and the Trojans' new total put them three shots ahead of the Bengals, sending Post Falls to state.
"(The player) came up to me and said 'Hey coach, I don't think that's what I shot," Post Falls coach Jess Wingett said. "Turns out it was a math error. The front nine was added incorrectly."
Wingett explained in these tournaments, players are only required to enter the score for each hole — volunteers or other tournament workers then add up the hole-by-hole scores to get the total score. Then the players go over their scores at the end of the round before signing their scorecard.
When you hear of someone on a professional tour getting penalized after turning in their scorecard, it's usually either because they wrote down that the scored a 3 on a hole when they actually scored 4 — in that case, they are disqualified for signing an incorrect scorecard. Or if they carded a 3 on a hole and wrote down 4 and signed for it, they would just have to accept the higher score.
Neither happened in this case Monday at Avondale.
"The total score doesn't matter — the hole-by-hole score is what matters," Wingett said. "All his hole-by hole scores were correct. I feel bad for the Lewiston boys, they went through a bigger roller coaster of emotions."
BONNERS FERRY won the 3A District 1 girls golf tourney Monday at Twin Lakes Village, as the Bayer sisters shot the two lowest rounds of the tournament to lead the Badgers to a 44-stroke victory over Kellogg.
What that also did was end quite an impressive streak by the Kellogg girls, who had won 16 straight district titles from 2004-19 (last year's district tourneys, of course, never happened because of COVID-19).
Kellogg's boys kept their streak going on Monday, winning their 11th straight district titles.
And in 2A, St. Maries boys won their sixth straight district title on Monday at Circling Raven.
Mark Nelke is sports editor of The Press. He can be reached at 664-8176, Ext. 2019, or via email at mnelke@cdapress.com. Follow him on Twitter @CdAPressSports.
Recent Headlines
---