5A REGION 1 BASEBALL: Resilient Vikings on to state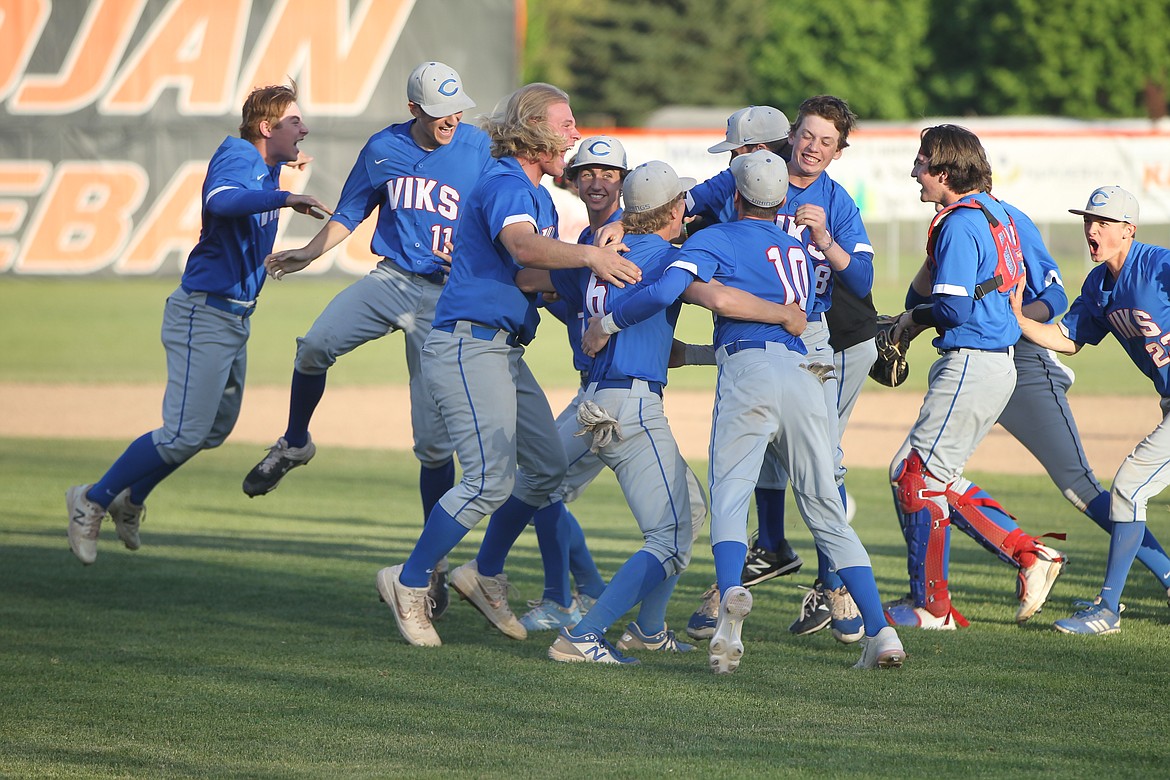 MARK NELKE/Press Coeur d'Alene players celebrate after beating Post Falls 5-4 in 10 innings to win the 5A Region 1 baseball championship Tuesday at Post Falls High.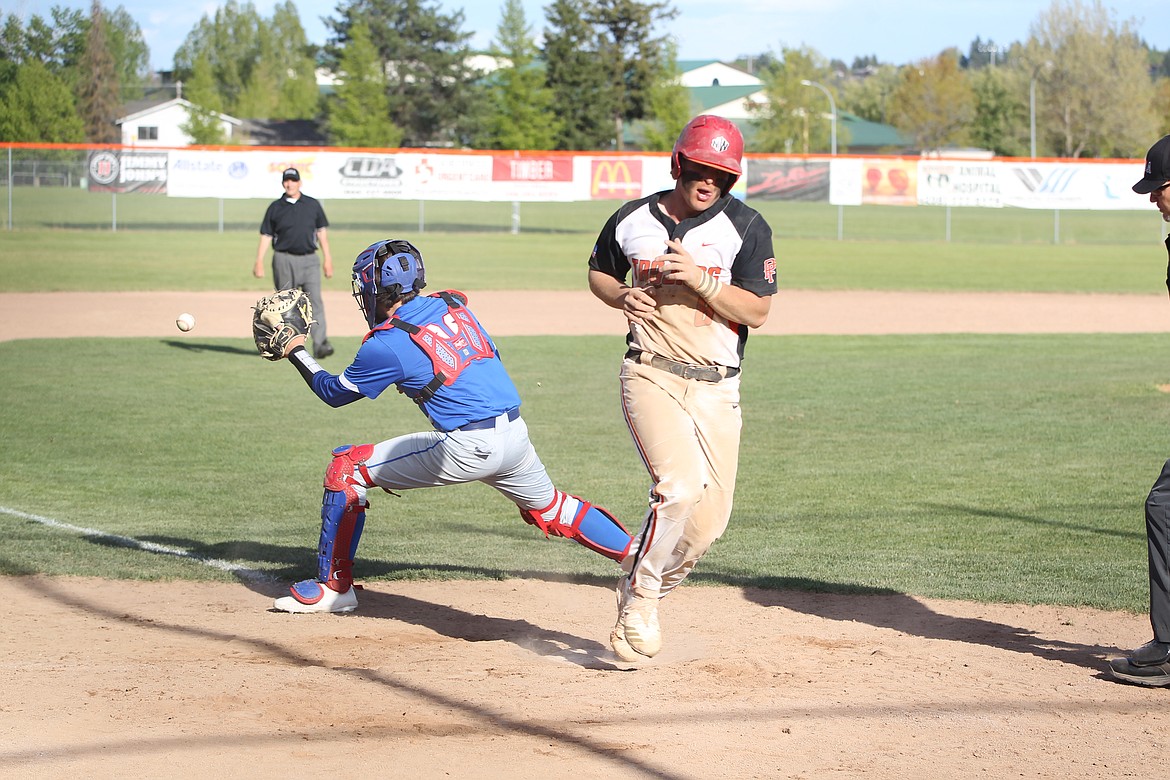 MARK NELKE/Press Kaden Cripps of Post Falls scores to tie the game at 4-4 in the fifth inning, as Coeur d'Alene catcher Wade Mallory awaits the throw.
Previous
Next
POST FALLS — After the jubilation and the picture taking, and as his Coeur d'Alene High teammates triumphantly returned to their dugout, Alex Karns returned to the infield and picked up a half-dozen or so gloves left behind from the Vikings' celebration a few minutes earlier.
Why not?
Karns, a senior, did about everything else for Coeur d'Alene — keeping them in the game on the mound, then driving in the go-ahead run in the 10th inning as the third-seeded Vikings beat the top-seeded Post Falls Trojans 5-4 in the championship game of the 5A Region 1 baseball tournament Tuesday at Post Falls High.
"Right now, I'm just filled with emotion," Karns said. "I was on the varsity team as a freshman, and we lost it. My sophomore year we were 21-1 going into districts, and we ended up not even making it to state. Now, we just came through together as a team, and it's so big, we're so excited to go down to state."
Coeur d'Alene (14-7) won its first regional title since 2014, and advanced to state for the first time since 2017. The Vikings will open against the District 3 runner-up next Thursday at 3 p.m. PDT at the College of Idaho's Wolfe Field in Caldwell.
Post Falls (19-6-1) will play host to fourth-seeded Lake City on Thursday at 4 p.m. in a loser-out, second-place game. Lake City eliminated second-seeded Lewiston 9-4 on Tuesday.
Coeur d'Alene 5, Post Falls 4, 10 inn.: Afterward, Erik Karns was part proud coach, part proud dad.
First, the proud dad.
"As his dad, I couldn't be more proud," Erik said. "It's very hard to be a coach's kid. He responded today, and was lights out on the mound, and had a tough day at the plate. But to come up big in that final inning was huge for him, and for us. Obviously, I'm very proud of him as a son."
Then, the proud coach of a team had lost all four league meetings to Post Falls — although three of them were one-run games.
"The resiliency of this group … we've been building," Erik Karns said. "We're young, we make our mistakes, we've got a lot to show up before we get down (to state) next week, but for our kids to stay in that game, and believe they can win, and to make the big plays that they did, and not get down when things went wrong, it's a huge step in our maturity process."
Post Falls, playing its second 10-inning game in two days, was bidding for its first regional title in baseball since 2005, when the Trojans were in 4A.
But Post Falls botched chances to win in the seventh, eighth and ninth innings — getting thrown out stealing in the seventh, getting picked off in the eighth and failing to score with the bases loaded and one out in the ninth.
"We should have ended it in the seventh," Post Falls coach Mick Zeller said. "Could have ended it in the eighth, should have ended it in the ninth. I always keep a running tab, things I write down, good things and bad things that we talk about at the end of the game. My bad list was three times as long as my good list."
Alex Karns struck out eight in six innings, limiting the damage early and blanking Post Falls in his final two innings.
In the 10th, Evan Mallory reached on an error on a bouncer to second for Coeur d'Alene. Bryce Stockton dropped down a bunt just in front of the plate, but the throw down the second bounced before getting to the bag, and couldn't be handled. After a strikeout and a foul out, Karns, with the count 0-2, smacked a high curveball into short right center and Mallory scored easily from second.
"We didn't see ourselves as a 3 seed; we just saw one game at a time, one pitch at a time," said Karns, whose team won 5-3 at Lewiston on Monday. "I knew my job for today was to pound the zone, and do my job on the mound. I'm just so happy we got the win today."
"The truth of the matter is, we did not think that we couldn't compete with any team in this league," Erik Karns said. "Post Falls had beaten us four times, three of them were one-run games, we were in every one of those games. We knew we would compete with Post Falls, we knew we would face their best pitcher; we had our guy on the mound today too. And for us to win a game like that, that's fantastic for our club."
Ethan Miller came over from third base to pitch in relief in the fourth for Post Falls, and pitched 6 ⅓ innings, allowing only the unearned run in the seventh.
In the Trojans' fifth, Kaden Cripps doubled, stole third and, when the throw from the catcher sailed into left field, scored to tie the game at 4.
That was it for scoring until the 10th.
In the seventh, the Trojans had a runner thrown out trying to steal third for the final out. In the eighth, another runner was picked off first.
In the ninth, Miller led off with a single, and kept going to third after Tyson Rutherford dropped down a sacrifice bunt, and the Vikings were unable to throw him out. Coeur d'Alene intentionally walked the next two hitters to load the bases. Cole Rutherford lined a ball up the middle, just to the left of second base, and Vikings shortstop Cooper Larson made a diving catch and nearly doubled up the runner diving back into second. The next batter struck out looking.
"Their first four runs — every guy got on with a walk, or hit by pitch," Zeller said. "And in the 10th, error, error, 0-2, gives the kid a hittable pitch. We need a sac fly, can't get it. Try to get a bunt down, can't do it. Just comes down to execution. They executed better than we did in those situations. In a championship game, you can't let teams hang around. You have to put your foot on their throat, and you have to end it, when you have a chance to end it."
Post Falls beat Lake City 7-6 in 10 innings on Monday in the first round.
Coeur d'Alene 111 100 000 1 — 5 7 4
Post Falls 120 010 000 0 — 4 8 4
Alex Karns, Troy Shepard (7) and Wade Mallory; CD Sharples, Ethan Miller (4) and Zach Clark.
HITS: Cd'A — Larson, Schneider 2, Al. Karns, An. Karns, Elstad 2. PF — Zeller, C. Rutherford 2, Cripps, Miller 2, Winters, Sessions. 2B — Karns, Cripps, Zeller. 3B — Schneider.
Lake City 9, Lewiston 4: At Lewiston, Joe DuCoeur delivered a two-run single in the first inning and the fourth-seeded Timberwolves held off the second-seeded Bengals in a loser-out game at Church Field.
Lake City (5-15) will play at Post Falls in the regional second-place game on Thursday at 4 p.m. Coeur d'Alene beat Post Falls 5-4 in 10 innings in the championship game at Post Falls in other regional play on Tuesday.
Eric Brumbaugh hit a two-run single in the third inning to give Lake City an 8-0 lead. Camdyn Martindale struck out six in five innings for Lake City.
"It was nice; I didn't know what to expect, after playing 10 innings and losing a heartbreaker," Lake City coach Paul Manzardo said. "The kids never quit. We've been close all year, and have come up on the short end of a lot of these games. It was nice to finally close out a game like this.
"We really don't have anything to lose. We're going to keep battling until they tell us we can't play anymore."
Lewiston finishes 13-11.
Lake City 503 100 0 — 9 9 0
Lewiston 001 003 0 — 4 9 1
Camdyn Martindale, AJ Currie (6), Cooper Reese (6) and Joe DuCoeur; Zach Lombard, Carsen Kolb (2), Brice Bensching (4), Elliott Taylor (6) and Austin Kolb. W — Martindale. L — Lombard.
HITS: LC — Conces, Brumbaugh 2, Manzardo, Taylor, LaPonsey, Pettit, DuCoeur, Garza. Lew — Hepburn 2, Taylor, Ricard 2, A. Kolb, Massey, Shoults, McKenzie. 2B — Manzardo, McKenzie, Hepburn, Ricard, Massey.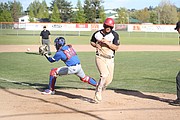 Recent Headlines
---