One big happy family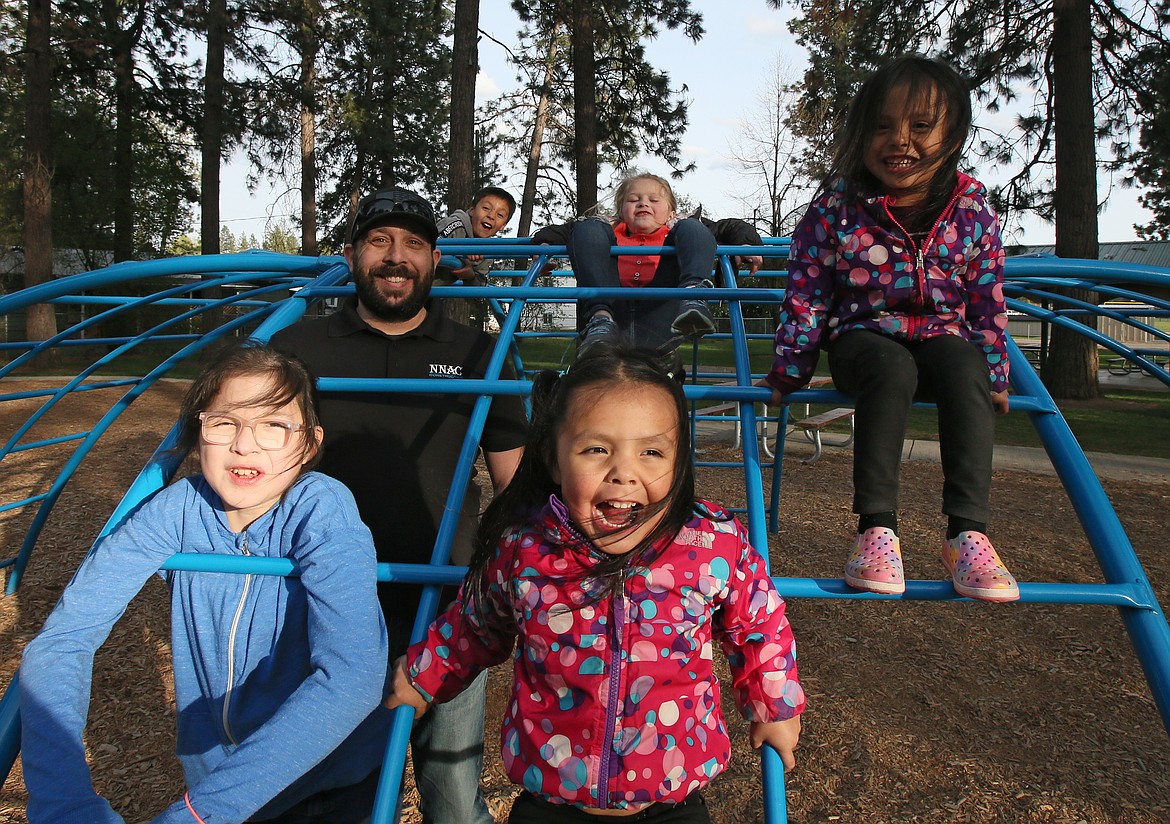 Press Christmas for All provided a washer, dryer and deep freezer for Post Falls single dad Josh Walker and his large family. From left, back row: Jeremiah and Sawyer. Middle row, from left: Walker and Miya. Front row, from left: Dakota and Aaliyah.
DEVIN WEEKS/Press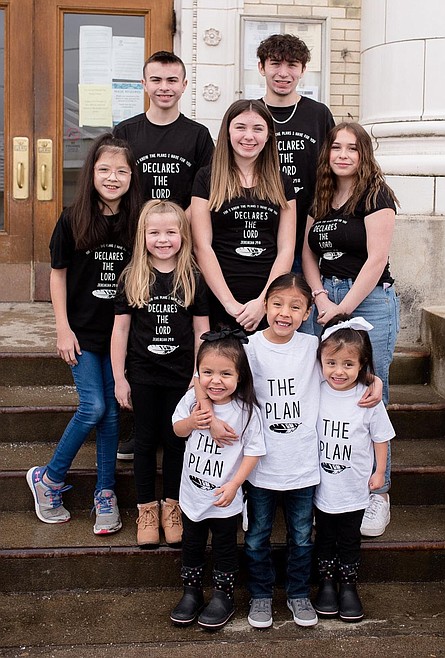 The Walker kids on the day of the adoption of Jeremiah, Miya and Aaliyah on Feb. 24. Back row, from left: Carter and Cade. Second row: Dakota, Sawyer, Kylee and Halle. Front row: Aaliyah, Jeremiah and Miya.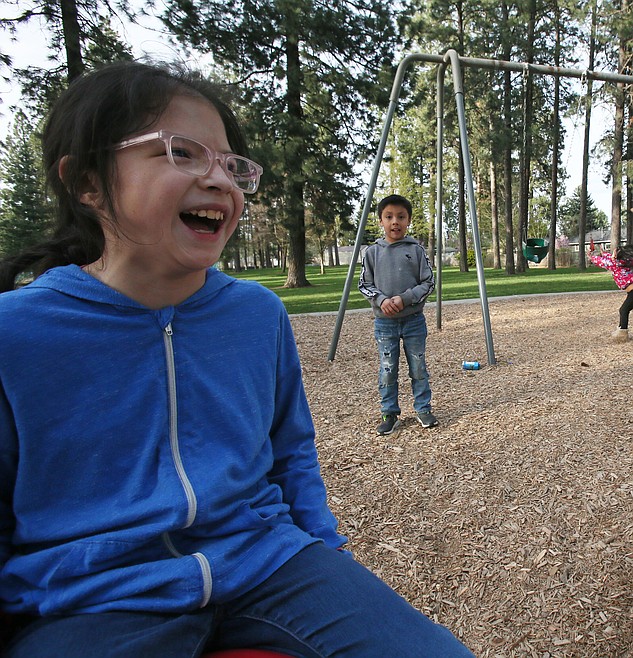 Dakota Walker, left, 10, laughs as she plays in a park in Post Falls on Tuesday. Her adoptive little siblings, Jeremiah, 7, and Aaliyah 3, are in the background.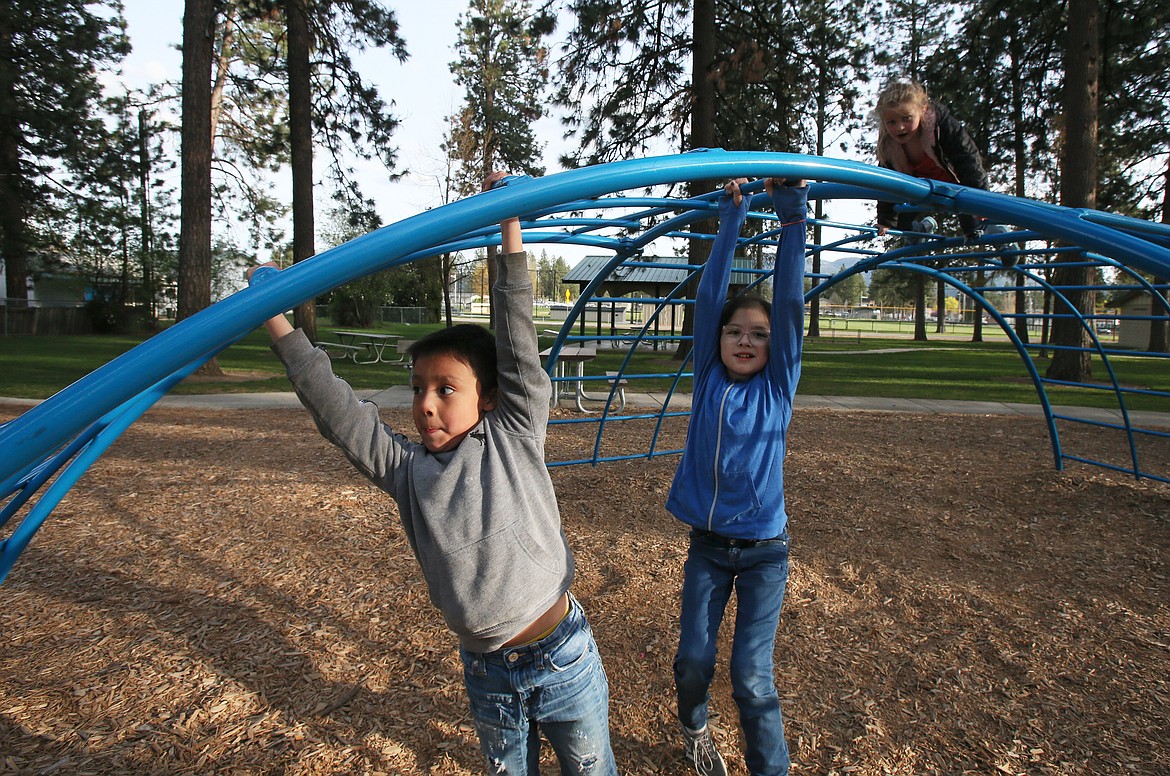 Jeremiah, 7, and Dakota Walker, 10, play in a Post Falls park on Tuesday. The kiddos are part of a large family that received a new washer, dryer and deep freezer from Press Christmas for All.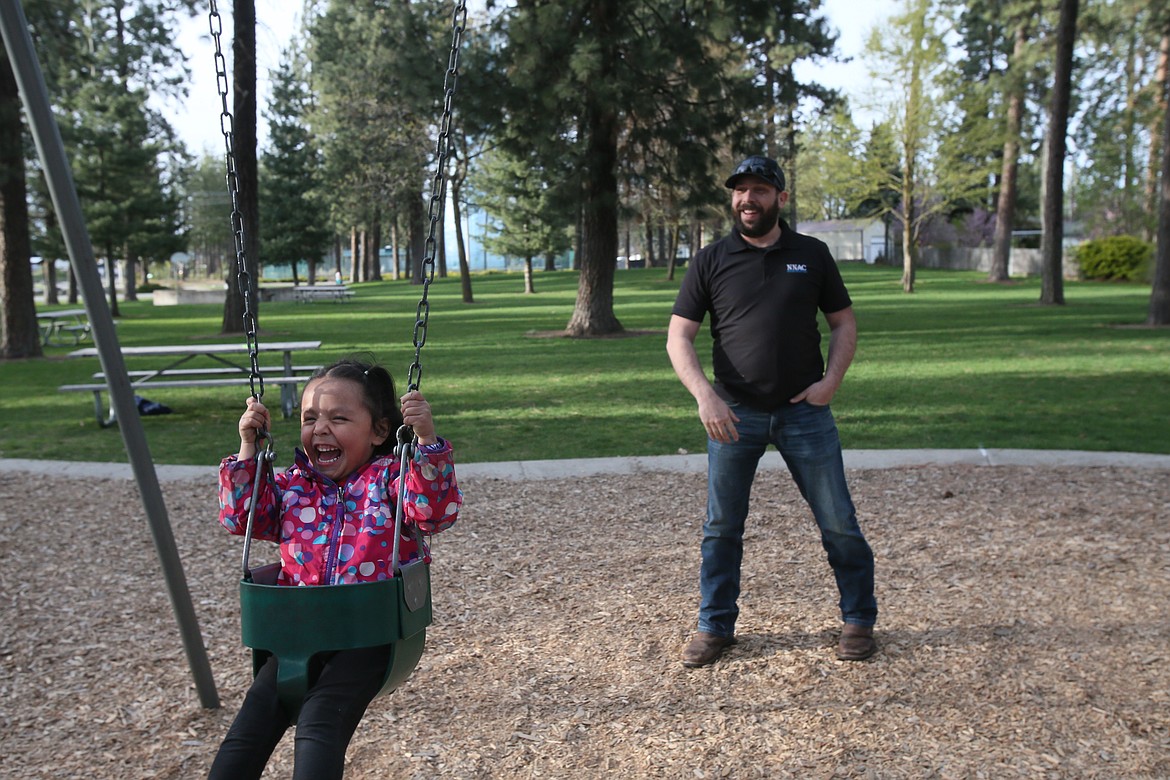 Single dad Josh Walker gives his adopted little girl Aaliyah, 3, a reason to giggle as he pushes her in a swing in a Post Falls park on Tuesday.
Previous
Next
by
DEVIN WEEKS
Staff Writer
|
May 10, 2021 1:08 AM
POST FALLS — They were only babies.
Two children younger than 5 were abandoned by their biological mom in a Walgreens parking lot with the adoptive parents of their biological cousin.
"Aaliyah was still in an infant carrier with formula and diapers," Josh Walker said Tuesday. "Jeremiah was 4."
Their sibling, Miya, was in the care of her biological grandparents, until the grandparents, intoxicated and high on meth, got pulled over with the toddler in the car.
"She was 2 years old, unrestrained and had meth in her system," Walker said. "It was a bad deal. She has cigarette burn scars on her legs. She was only 2."
A Bible verse, Jeremiah 29:11, begins, "For I know the plans I have for you, declares the Lord."
For the Walker family, Jeremiah, Miya and Aaliyah are that plan.
Their story began in high school, when Josh and his now ex-wife Rebecca met. They were married for 12 years and had four children: Cade, 19; Halle, 17; and 13-year-old twins Carter and Kylee.
They weren't done yet.
"Were young still after the twins, in our early 20s, and decided to foster," Josh said. "We fostered for a couple years. That's when Dakota came into our lives."
The Walkers adopted Dakota when she was 2, growing the family to five children.
"We had no plans of adopting any more kids. We were just fostering," Josh said. "We ended up adopting Dakota, and that was it."
They closed their foster license, "then life happened," Josh said.
He and Rebecca had an amicable divorce and are still best friends and co-parents.
One day, the sister of Dakota's biological mom contacted Rebecca requesting she introduce her children to Dakota and her adoptive family. She suggested they meet at Walgreens.
"Rebecca thought, 'OK, that's weird,'" Josh said. "So we meet at Walgreens, the mom unloaded the kids, and then took the carseats out. She was with a friend. And they split. She dumped Jeremiah and Aaliyah."
After renewing his foster license and Miya joining her siblings after the intoxicated grandparent incident, the little ones were adopted and became a part of the Walker family.
Josh, now a single dad, has three to nine children under his roof at any given time, including another child Rebecca had with a different partner after the divorce.
"Life is busy," he said. "But it's structured. As long as I stick to the schedule, everything is good."
Laundry is a constant for this blue collar dad, so when his washing machine broke the week before Christmas, referring partners at North Idaho CASA immediately alerted Press Christmas for All.
"You have no idea how perfect of timing that was," Josh said. "It quit working, and I was thinking, 'Now I got to figure out how to get a washer, and buy Christmas presents.'"
Press Christmas for All presented this busy dad with what he needed to take care of his children without shorting them a Christmas.
"Two days later I get a text saying, 'Hey, Christmas for All is giving you a new washer and dryer and a deep freezer.' You can't beat that timing," Josh said."The freezer is awesome because I Costco shop."
The kids are happy and healthy and enjoy camping, hiking and playing in the park. The three newest additions, adopted officially Feb. 24, call Josh "Dad" or "Daddy," and now he has the means to plan meals and provide clean clothes for everyone under his roof.
"Their lives changed 100%," Josh said. "I can't imagine what or where they'd be at right now."
Recent Headlines
---