MOMENTS, MEMORIES and MADNESS with STEVE CAMERON: 'The Say Hey Kid' excelled on the basepaths — and everywhere else
Willie Mays.
The oldest living Hall of Famer turned 90 on Thursday, and his birthday sparked a flurry of tributes and remembrances.
The best of the bunch was a story authored by Tim Kurkjian, ESPN's lead baseball writer and longtime storyteller on matters connected to the national pastime.
Kurkjian sought out an impressive number of baseball luminaries — players, managers, broadcasters — and let them once again make the case that Willie Mays was the best they ever saw.
And what's more, that this baseball genius — Reggie Jackson compared him Mikhail Baryshnikov — played with fun and flair unmatched in any era.
As for Mays' talent, Kurkjian let Hall of Fame catcher Johnny Bench (a pretty solid source) wrap it up.
"He was magical," Bench said. "He was perfect."
In my eyes, Mays was the best ballplayer who ever stepped on a ballfield.
Most knowledgeable old-timers insist that the only competition for best-ever baseball player would have come from Babe Ruth.
I guess that's because the Babe was also one of the game's great pitchers, in addition to being the first — and maybe still the best — flat-out basher.
THE BEST players in my lifetime were Mays, Bench, Hank Aaron, Yaz, Mike Schmidt, Tony Gwynn, Albert Pujols, Junior, Ichiro, Barry Bonds – and now Mike Trout.
You can add players to that list according to their specific skills (Willie McCovey for power, Pete Rose to get on base, Roberto Clemente for the perfect throwing arm, Ozzie for his infield magic) or even a few who had a special gift for winning (Reggie, Derek Jeter, George Brett).
It's a fluid, debatable group — with pitchers excluded here to save space — and every baseball fan has the right, almost an obligation, to argue the case for stars he or she believes to be among the immortals.
But here's the thing…
Whoever you name, Willie Mays had a better all-around game.
More ways to beat you, and certainly more ways to entertain the fans.
I was lucky to grow up near San Francisco when Willie was in his prime.
Kurkjian quoted former Giants broadcaster Lon Simmons about those years in the Bay Area.
"Willie was so good, the fans expected a miracle from him every day," Simmons said.
"So, he gave them a miracle every other day."
MY OWN memories of Mays center mostly on his baserunning, which isn't something you normally associate with players — even great players — in this day and age.
In fact, coaching these days seems to focus on avoiding blunders on the bases, rather than actually using baserunning as a weapon.
For instance…
I stopped counting how many times Mays seemed to stumble as he rounded third while attempting to score from second on a single.
Having apparently lost a few steps, Willie appeared to be in trouble — which meant that the throw from the outfield would go all the way to the plate.
Amazingly, Mays ALWAYS recovered those steps, but drawing a throw allowed the batter to jog into second base.
Then there were those pitches in the dirt, the ones that catchers block to hold runners in place.
Except…
Willie had such instincts that the instant he saw that a pitch was going to bounce, he was gone – and catchers couldn't throw him out, even with textbook recoveries.
We'd see it happen even when Mays was on third.
I'll bet I saw him score a half-dozen times when a pitch was perfectly blocked, and only bounced a couple of feet.
What was almost beyond belief is that I don't remember Mays ever thrown out on one of his daring dashes.
It was remarkable.
IT'S HARD to pick out one, or two, or however many exact Mays moments you might want to frame.
Everyone has seen that catch off Vic Wertz in the 1954 World Series.
Home runs?
Yes, he hit 660 and that total could have been MUCH higher if Willie hadn't played every day at Candlestick Park, or if he hadn't missed two prime years doing military service.
If I had to pick just one memory, however, it wouldn't have involved long balls or a miracle catch.
No, I'm thinking of a midseason game against the Phillies, one of those nights that you normally could forget in a week.
Except…
There was a play sometime in the middle innings, and it started with Willie on first base.
Orlando Cepeda cracked a single to left.
Mays was immediately flying around second, but the left fielder fielded the hit cleanly.
Willie saw that pick-up, appeared to stop for a desperate retreat to second, and slipped.
He was caught in no-man's land, and the left fielder saw it.
MEANWHILE, the young outfielder knew he had Mays dead back at second base.
So, he pivoted to throw, and the instant his arm reached shoulder level – committing him to make the throw – Mays simply hopped up and jogged over to third.
Now why would I have such a vivid recollection of THAT play, when Willie did such things routinely?
Well, because Phillies manager Gene Mauch was so incensed at his player's naiveite that, according to the next morning's report in the San Francisco Chronicle, Mauch hauled the left fielder into his office.
Mauch gave the guy a notebook and told him to write a single sentence a hundred times.
The sentence?
"I will never throw behind a runner, if the runner is Willie Mays."
That sums up the Mays excitement perfectly for me.
So…
Happy birthday, Willie.
"Say Hey!"
Email: scameron@cdapress.com
Steve Cameron's "Cheap Seats" columns appear in The Press on Mondays, Wednesdays and Fridays. "Moments, Memories and Madness," his reminiscences from several decades as a sports journalist, runs each Sunday.
Steve also writes Zags Tracker, a commentary on Gonzaga basketball which is published monthly during the offseason.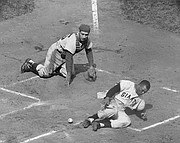 Recent Headlines
---