Milestone Announcements
MILESTONE BIRTHDAY
Colleen 'Coke' Hough
92nd Birthday
Colleen "Coke" Hough was born May 8, 1929, in Snohomish, Wash., to Tena and Alex Wood. She is the third of six daughters in the family.
She was raised in Snohomish, and moved to Coeur d'Alene, where she graduated in the class of 1948, and has lived here for more than 65 years.
She attended Brigham Young University in Provo, Utah, before meeting Robert "Bob" Hough, who was working in Provo, as a radio broadcast journalist. They married in Coeur d'Alene on Aug. 12, 1950.
She enjoys going for walks, swimming, and spending time with family and friends.
Due to COVID-19 precautions, the family is not able to hold a birthday celebration this year. Her children, Terry, Bruce, John, Scott and Wendy, wish her a very Happy 92nd Birthday!
EDUCATION
Heather Elizabeth Bricca will be graduating May 16, 2021, with a Bachelor of Science in meteorology with a minor in digital media.
While at Valparaiso University in Valparaiso, Ind., she was active in her Sorority Alpha Gamma Delta and held the Executive Director role for Valparaiso University's VUTV television station. She was also part of VUSIT (Valparaiso University Storm Intercept Team), AMS/NWA (local chapter of American Meteorological Society), and on the Valparaiso University Robotics Football Team.
Heather is seeking employment with the National Weather Service or a job in broadcast. She is a graduate of Coeur d'Alene High School, 2015; and North Idaho College 2017.
We are very proud of what she has accomplished and where she is going next.
Proud parents Pete and Chariss Bricca, brother Trevor and twin sister Samantha.
• • •
Submit your milestones to hmain@cdapress.com or in person at the Coeur d'Alene Press, 215 Second St., Coeur d'Alene, ID 83814.
Listings include: Wedding anniversaries for couples married 25 years and every fifth year thereafter (2 photos accepted); engagement announcements (1 photo accepted); wedding announcements (1 photo accepted); births (1 photo accepted); milestone birthdays at age 70 and every fifth year thereafter or every year after age 90 (1 photo accepted); generations (1 photo accepted); academic honors and higher education accomplishments (1 photo accepted) and military announcements (1 photo accepted). Deadline is 3 p.m. Tuesdays.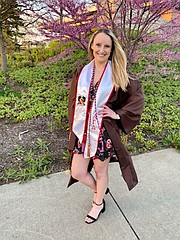 Recent Headlines
---