Hayden Chamber of Commerce hosts 'A Thousand Letters Home' Author Teresa Irish
On May 27, 2021, at 7am, Teresa Irish, author of "A Thousand Letters Home," will present the inspirational and life-affirming story of "The Journey of the Letters," at the Hayden Chamber's Business & Breakfast meeting at the Best Western/CdA Inn on Appleway.
Following the 2006 death of her father, Aarol W. "Bud" Irish, of Saginaw, MI, Teresa opened the Army trunk that had resided in the family home her entire life. There, nestled in row after row, were her dad's nearly 1,000 letters from WWII. Visited only by him over the course of six decades, the letters were postmarked from Nov. 1942 to Dec. 1945. The fragile and yellowed pages were written to Bud's parents back in Hemlock, MI, and to the sweetheart who would later become his wife. From lonesome, moonlit nights listening to the Hit Parade, to the foxholes and front lines in Germany where Bud would receive the Silver Star, the Purple Heart and two Bronze Battle Stars, to correspondence with the heartbroken mothers whose sons died by his side, this is a moving and historic story of life and loss, hope and perseverance, unwavering faith, and true love. "A Thousand Letters Home" is comprised of 320 of these poignant letters and 104 corresponding photographs.
The firsthand account through the eyes, heart and words of one soldier mirrors the journeys of many who served in WWII. From training camps across the USA, to Ports of Embarkation where they boarded ships and crossed the ocean to fight on foreign soil, millions of young Americans were abruptly pulled from civilian life and thrust into the unfamiliar world of a military at war. At every opportunity, Bud poured his thoughts and feelings into his letters, all amidst reassuring words to loved ones a world away. Unable or perhaps reluctant to recount what they had experienced, many veterans chose to spare their loved ones the detailed atrocities of war – these would be their own personal burdens to bear for the remainder of their lives. Bud foreshadowed this in a letter to his parents written from Europe on February 4, 1945, "…Heaven knows they [soldiers] don't want anything more on earth than to get it over and go back to their loved ones…We don't want anything extra when we get home, but just want to find everything as we left it and forget everything that's happened or we've seen over here…"
Five-and-a-half years after finding her father's letters, Irish brought "A Thousand Letters Home" to print. The book was named Reviewer's Choice by Midwest Book Review Small Press Bookwatch, and was recognized by Writer's Digest Self Published Book Awards. In addition to selecting ATLH for their recommended reading list, The Military Writers Society of America called it "a fascinating book…a treasure trove," and concluded "highly recommend." Ms. Irish has been the featured speaker/author at over 300 venues, and has appeared on ABC News, NPR, Veterans Radio, Frontlines of Freedom, Military Author Radio, History Author Show, and the nationally syndicated National Defense. The story of "The Journey of the Letters" has been reported in newspapers throughout the country.
Irish's program reaches across generations with a little something for everyone. Her skillful, engaging storytelling blends humor and history to leave audiences laughing, crying, reminiscing and inspired. A heartfelt tribute to America's history, freedoms and family values, Irish's program reminds us of the importance of human connections and perspective in today's world.
Born in Saginaw, MI, Irish is a graduate of Michigan State University. She has worked in higher education administration, the staffing industry, and as a vice-president for a national home healthcare and hospice company. A proud military daughter and spouse, Irish retired in 2012 to devote her time to sharing "A Thousand Letters Home" and the accompanying presentation of "The Journey of the Letters." Irish lives in Coeur d'Alene, ID and is married to COL Bradley Foster, a 28-year veteran of the United States Army Reserve.
Hardcover and softcover books will be available for sale and signing following the program.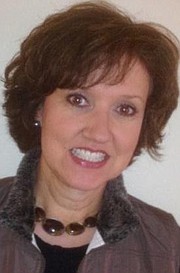 Recent Headlines
---