Flying high, and low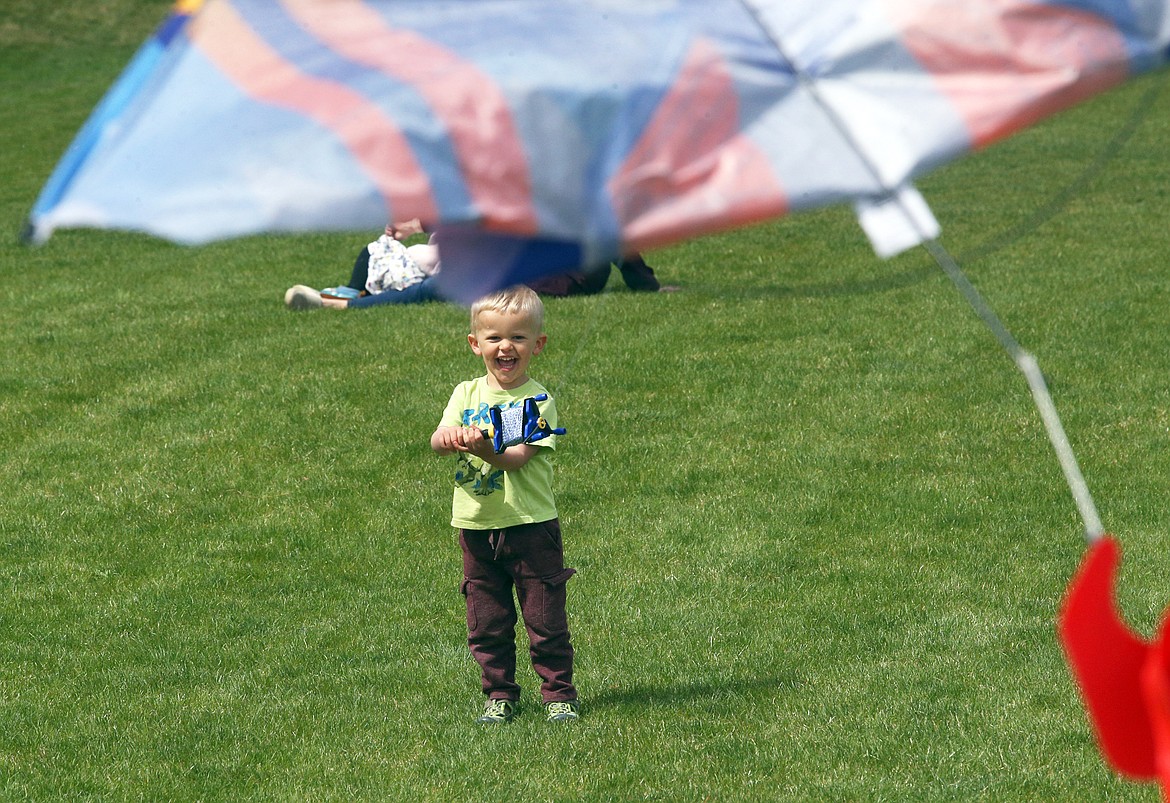 Jacob Dollahite smiles beneath a colorful kite at the 2021 Hayden Kite Festival. This year's festival is noon to 2:30 p.m. May 6 at Broadmoore Park.
BILL BULEY/Press File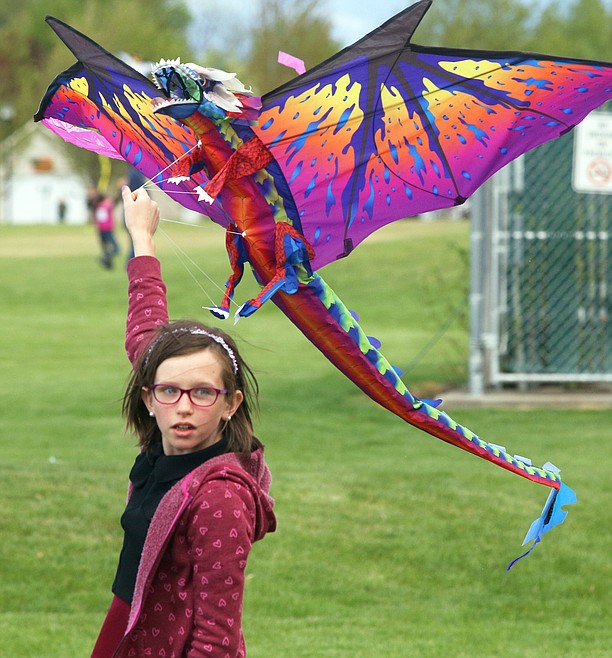 Rhea Buntin took home the Judges' Pick award at the Hayden Kite Festival on Saturday.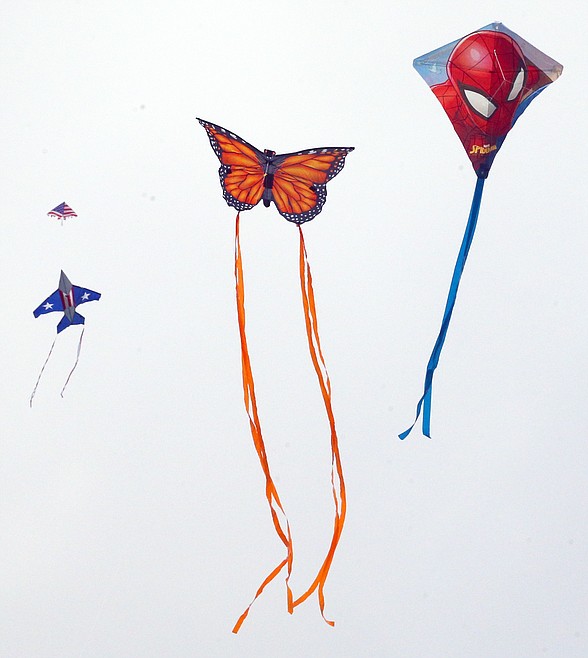 Kites fly high at the Hayden Kite Festival at Broadmoore Park on Saturday.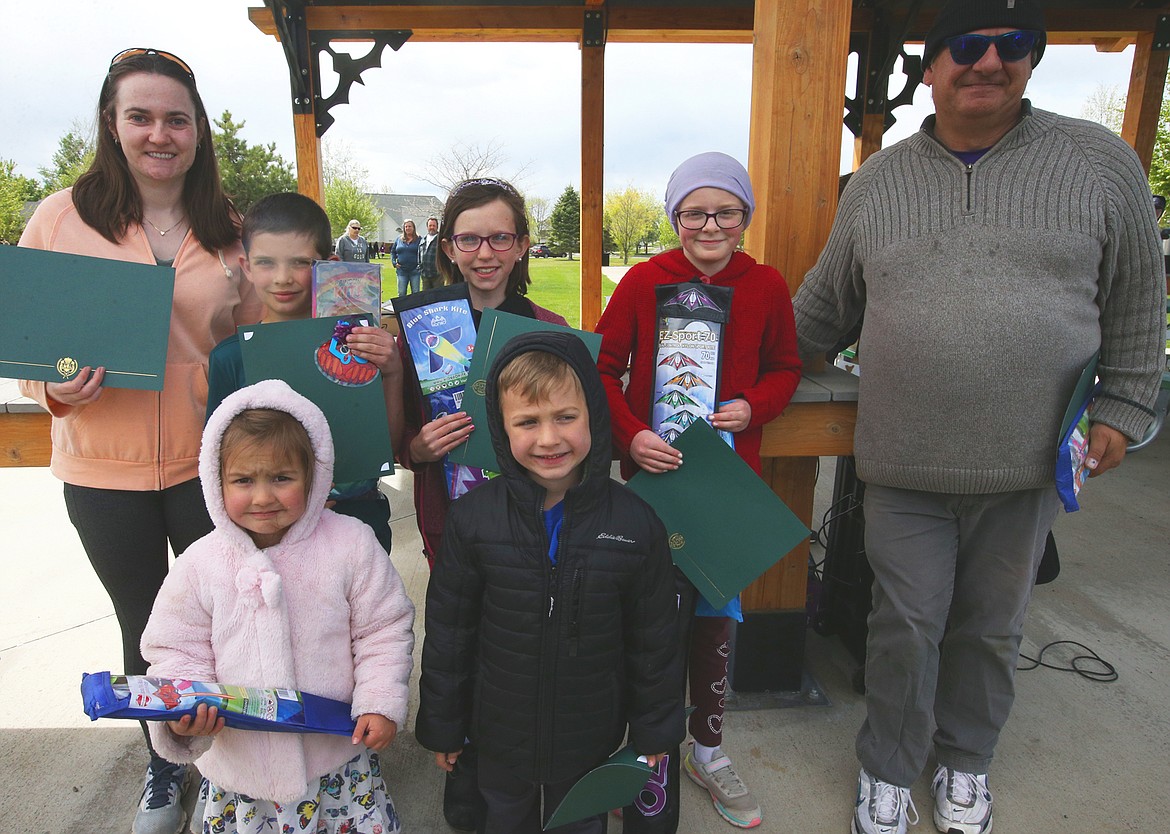 Category winners at the Hayden Kite Festival on Saturday display their prizes of certificates and kites. Back row from left, Rebecca Perry, Isaac Pelphrey, Rhea Buntin and Claire Arpke. Front row are Emma and Mason Weinberger.
Previous
Next
by
BILL BULEY
Staff Writer
|
May 9, 2021 1:30 AM
HAYDEN — When Claire Arpke's name called as the winner of Best in Show at Saturday's Hayden Kite Festival, she was asked what kind of kite she had.
The 10-year-old looked a little puzzled.
"I don't really know what it's called," she said, then adding, "a big purple stunt kite."
"You did it very well, so thank you. Great job," said Susanna Spencer, emcee and branch manager of STCU's Rathdrum branch.
Later, Claire said she was surprised to take home what is considered the top honor.
"Kind of unreal," she said. "I literally picked this thing up a month ago, about, and I've only flown it twice," the 10-year-old said. "It's just like the third time flying it, well, best in show, so …"
"It was like gusty sort of, on and off, and I crashed a few times," Claire added.
How many?
She thought for a few seconds and then said, "three."
More than 200 parents and kids came out for the annual Hayden Kite Festival at Broadmoore Park. Nearly 80 kites — in all shapes and sizes, from butterflies to dragons to flags and superheroes — flew high and low on a blustery, 53-degree Saturday afternoon.
Little kids ran across the green grass, hands tightly clenching handles with string attached to kites. Some grinned happily as theirs soared, while others were disappointed when their kites refused to take flight and hurtled back to earth.
Spencer joked about hazards of judging a kite contest.
"I walked around with my head covered," she said, laughing. "Next year it's a crash helmet. This year, it was just my clipboard.
Which brings up that the Crash and Burn award went to 5-year-old Marcus and 4-year-old Emma Weinberger, son and daughter of Greg and Brianne Weinberger.
"I'm so happy," Emma said as the family walked away.
She added, through her mom's translation, that her kite was not a plane, but a unicorn.
"So fun," Brianne Weinberger said when asked how she liked the festival. "We were so sad last year when it got canceled. So we were looking forward for over a year for this to come back so we could get the kites up and go flying."
The free event put on by the city of Hayden was canceled last year due to the coronavirus. And it was canceled again two weeks ago due to rain. But Saturday's weather Spencer noted, was ideal, with clouds, a few sun breaks, and winds of about 15 mph.
"It was a perfect day for kites," Spencer said.
Winners in several categories received prizes of kites and gift certificates.
Rhea Buntin took home the Judge's Pick award.
"I had no idea," she said.
Rhea said she participated in the kite festival once before.
"But I was little. My kite crashed," she said.
How did her kite handle Saturday?
"Crashed like four times today," she said with a shrug. "Not that many."
Other awards:
High Flyer went to Mark Brassington of Coeur d'Alene. "That was an American flag," Spencer said.
Smallest Kite, a category added since there were no homemade kites, went to Isaac Pelphrey, 8, of Hayden.
"He kept that thing in the air and it was only about as big as a baseball, so great job," Spencer said.
Longest Tail went to Rebecca Perry of Coeur d'Alene
Spencer said next year they may add one more award category: "Parents who chase kites for kids the most to get them up in the air."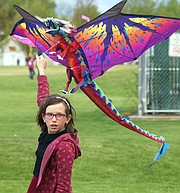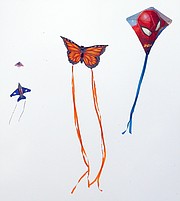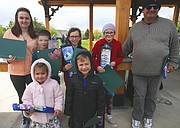 Recent Headlines
---