Growth grumblings rise in Rathdrum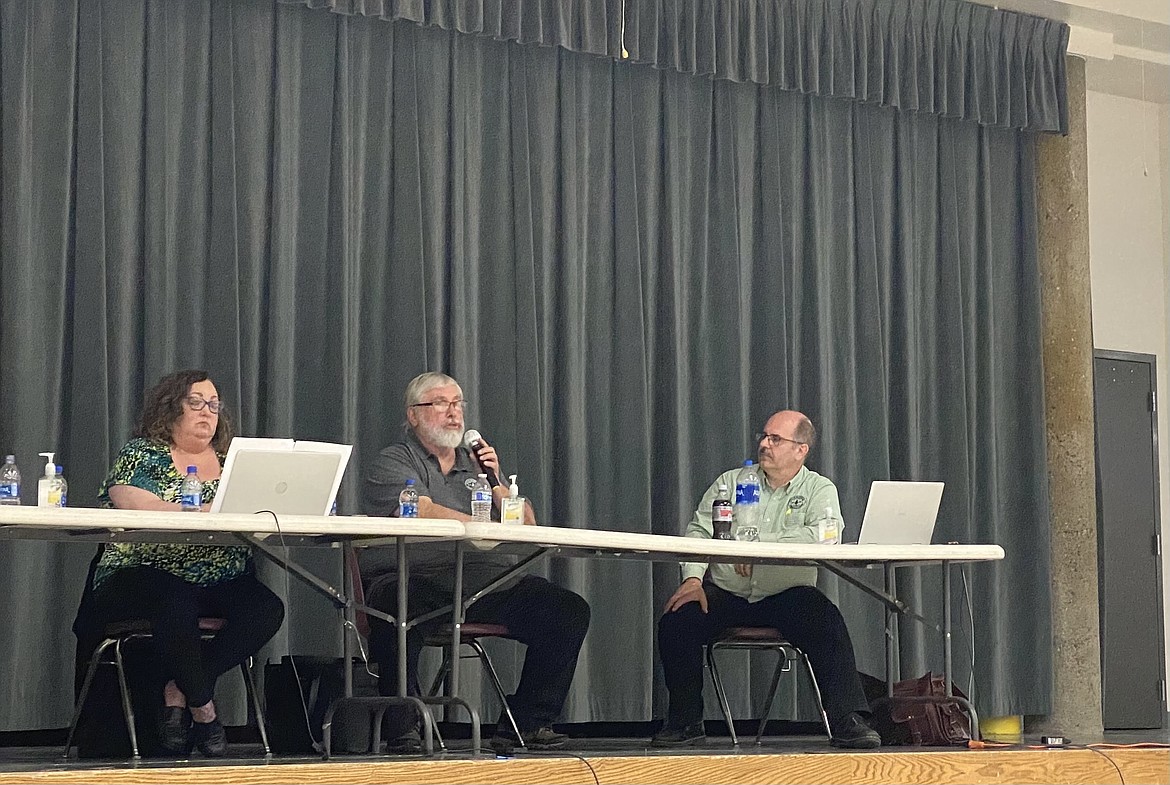 Rathdrum officials held a town hall meeting Thursday to discuss resident questions regarding growth and the upcoming comprehensive plan update. From left: city planner Cary Seiss, Mayor Vic Holmes, city administrator Leon Duce. (MADISON HARDY/Press)
by
MADISON HARDY
Staff Writer
|
May 8, 2021 1:00 AM
Thursday's town hall about future growth in Rathdrum left many attendees feeling their questions were unheard. 
The city addressed topics that reflected residents' fears that growth is changing their small town. But some said the forum was not the open discussion they anticipated. No public comment was allowed during the meeting. Citizens had to submit questions in writing.
City administrator Leon Duce said developing the comprehensive plan is a complex process that will require more meetings — all of which allow for public comment. 
"If there are changes to the comprehensive plan that can be made based on the public hearing, then those will be brought and drafted into the comprehensive plan before it gets finally approved," Duce said. "That process will happen hopefully sometime during this summer." 
There is no definitive date set to finalize the plan, Duce said. 
Rathdrum officials have been working on the comprehensive plan since last January, but because of COVID-19, the city put the project on hold until public discussions could resume.
Local governments are required by state statute to develop a new plan every five years to project how the area will expand in decades to come. The document reviews factors like land use, housing, public services, natural resources, and economic development.
Questions regarding annexation and expansion into the Rathdrum Prairie were on the top of residents' minds Thursday night. One asked why the city continues to annex property when several hundred acres of land has been acquired since the 1990s. 
"We continue to annex property at this point because of the goals that citizens have expressed of being a self-sustaining community," Duce said. "City Council members (have said) for years that we would like to have a place where we can live, work, play, and shop. Right now, businesses like retail feel that we did not have the dollars available to keep our businesses open, and that is why growth is needed."
A recurring discussion in Rathdrum and Post Falls is the push for a moratorium on growth-related developments. A recent filing for a ballot initiative asked to limit building permits on an annual basis to slow growth and allow city infrastructure time to meet demands. 
Cary Seiss, Rathdrum city planner, said the city could not legally prevent or mandate who can — or cannot — move to the area. Noting recent articles in national publications, the housing markets throughout Kootenai County and in Rathdrum are hot, Seiss said. 
She said the planning process is important.
"We need that housing so that we can get those jobs, attract those businesses," she said.
Seiss' response was met with a grumble from the crowd. Duce said state law limits moratoriums to times of "imminent peril" and would not be a feasible solution to city growth.
Recent Headlines
---