Lela 'Lee' A. Stark, 97
On April 19, 2021, after 97 wonderful years, Lee went to spend eternity with her Lord Jesus.
Lee was born on Dec. 22, 1923, in Logansport, La., to Highley Joseph and Carrie Alma (Bryan) Garsee. She was the youngest of seven children; Jimmy, Norman, Monroe, Dovie, Alice and Martin.
Lee married Roy Stark on Dec. 9, 1943 in Bossier City, La. She then lived in Encino, Calif., with Roy's family while he was in the service. After the war they moved to Farragut, Idaho, where their son, Larry, was born. Later they moved to Coeur d'Alene where their daughter, Teresa, was born.
Lee was a beautiful, loving, classy woman, who never lost her spunky spirit. She enjoyed reading, gardening, playing cards with friends and traveling.
Lee gave her heart to Jesus and never shied away from sharing about Him. Second only to her love for Jesus was her love for her family. Every holiday and every birthday was celebrated together, enjoying one another's company, sharing stories and laughter and good food.
Lee is survived by her son, Larry (Dianne) Stark and daughter, Teresa (Allan) Willette; four grandchildren: Jennifer, Rob, Chelsea and Aaromi; six great-grandchildren: Kirsti, Zoey, Nolan, Kiefer, Pixie and Gideon; and three great-great granddaughters: Avery, Everlee and Emersyn.
She left her family good memories and a wonderful heritage. We will all miss her for now and say we love you, to which she would say ...
I love you more.
We wish to express our thanks to her many caregivers.
The Family is planning a private celebration of her life.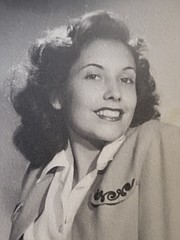 Recent Headlines
---