'We have got to rise up'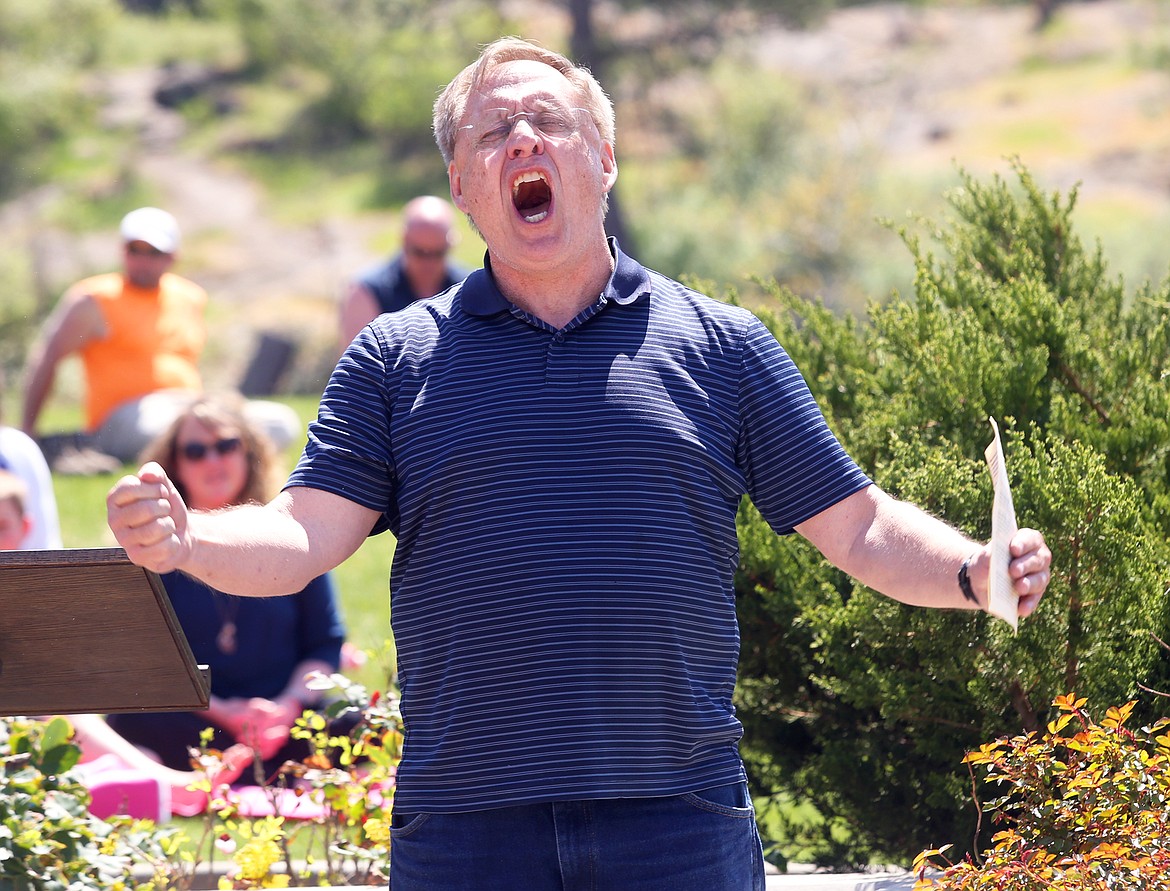 Pastor Brock Hoyer of Journey of Hope shouts during his prayers at the National Day of Prayer gathering in Coeur d'Alene on Thursday.
BILL BULEY/Press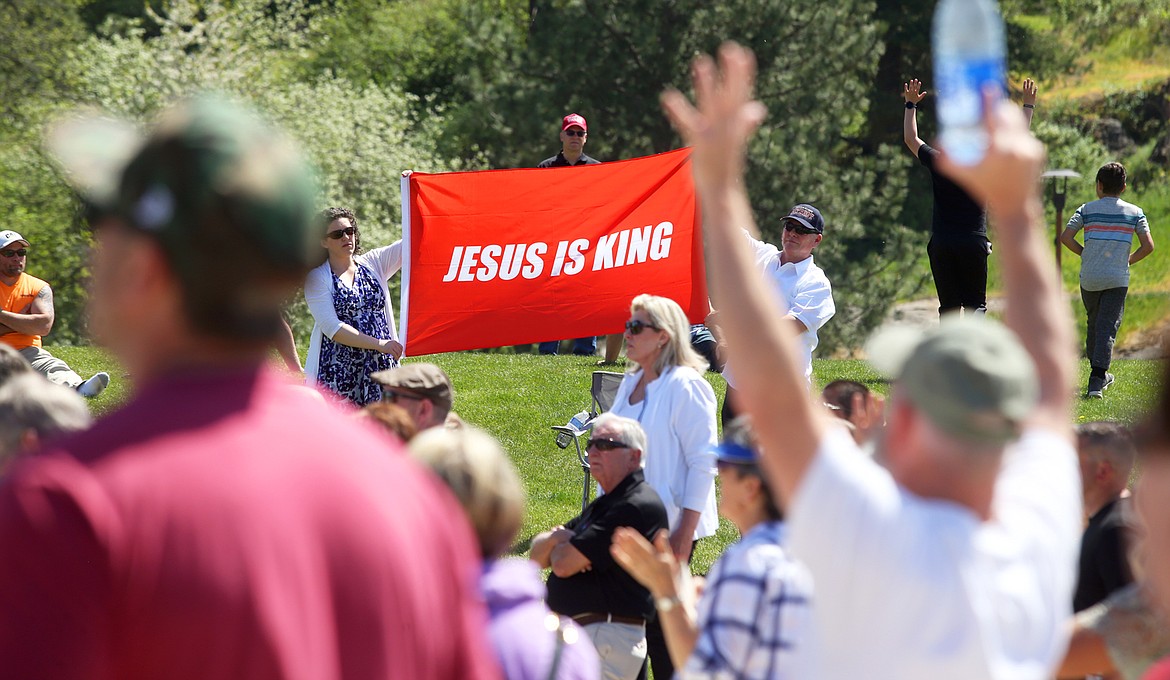 People hold a banner at the National Day of Prayer gathering in Coeur d'Alene on Thursday.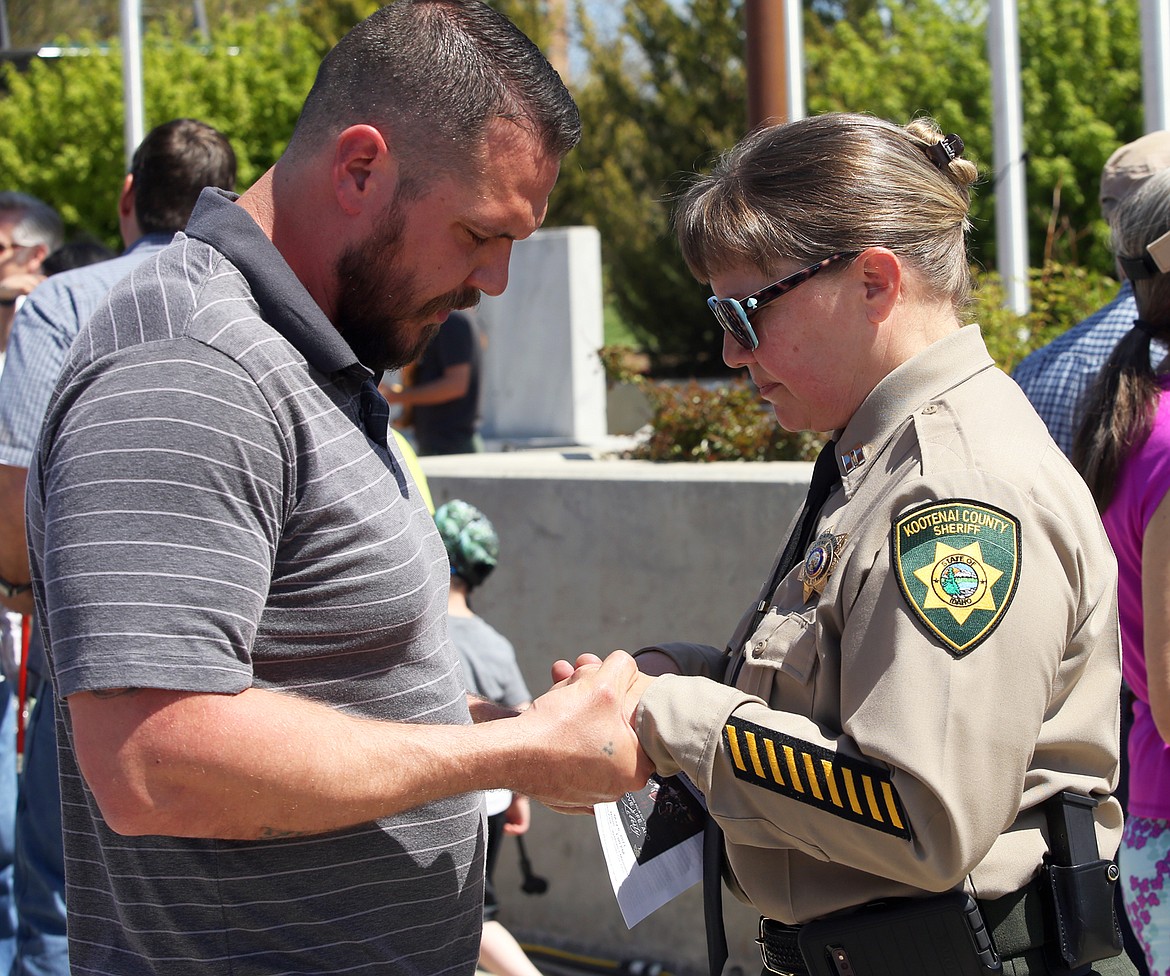 Pastor Steven Hemming of Family Worship Center prays with Kootenai County Sheriff's Capt. Kim Edmonson following the National Day of Prayer in Coeur d'Alene on Thursday.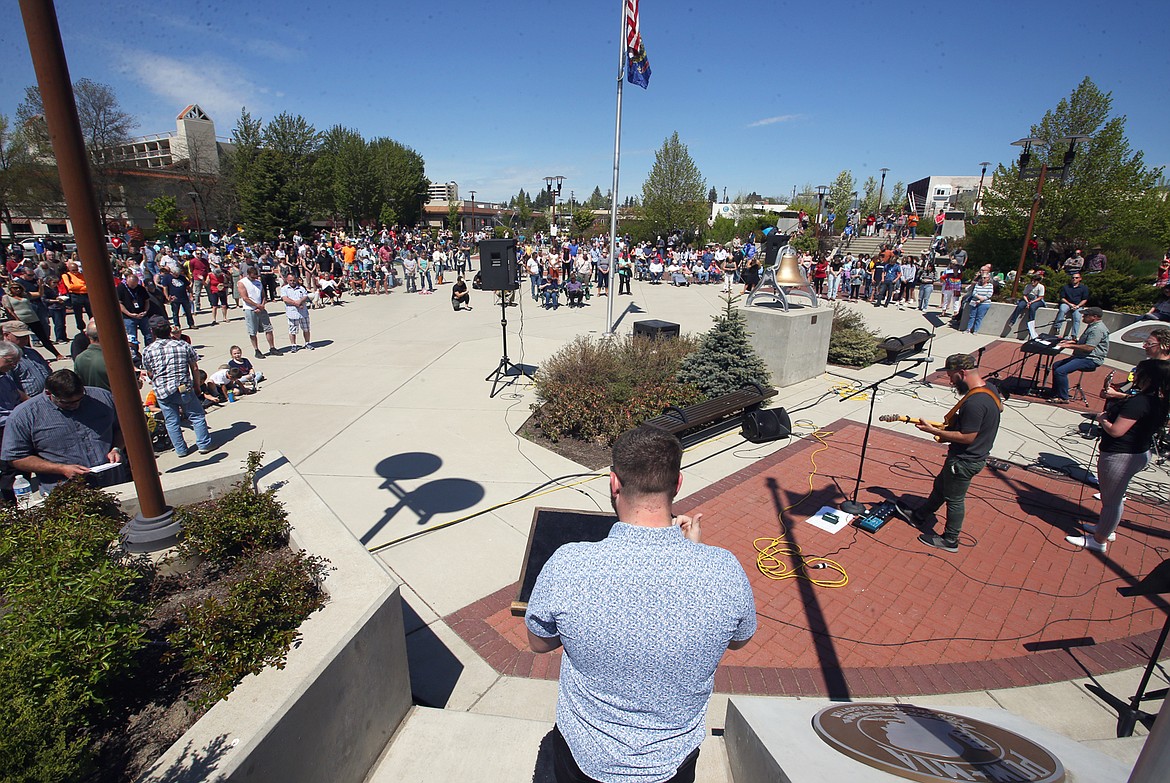 Pastor Geoffrey Winkler of New Life Church addresses the crowd during the National Day of Prayer gathering in Coeur d'Alene on Thursday.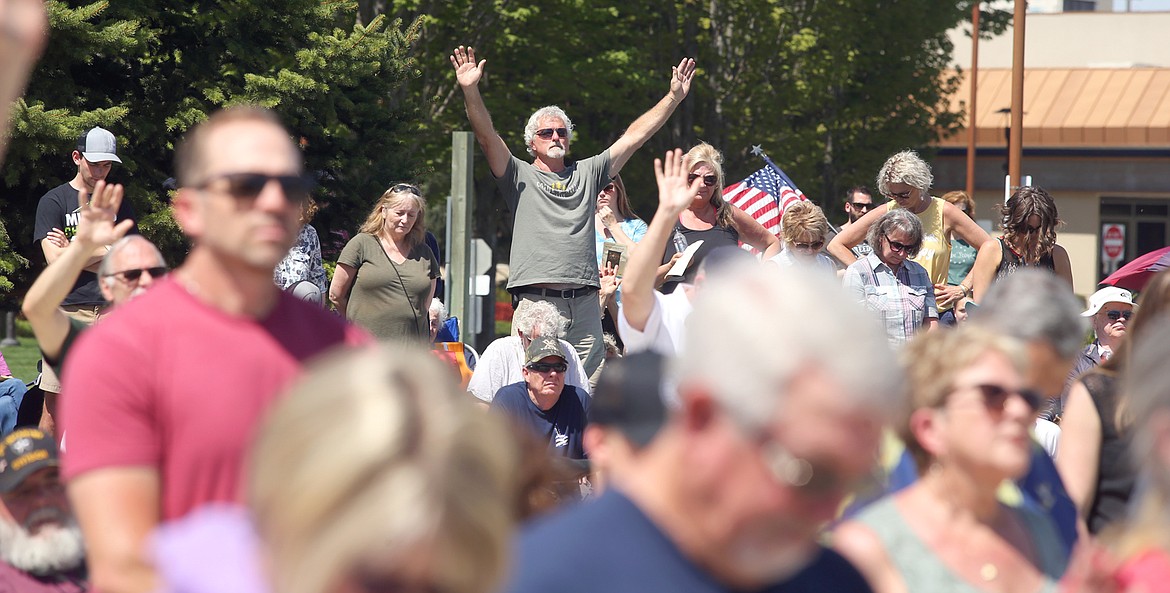 Roger Roosendaal raises his arms during his prayers at the National Day of Prayer gathering in Coeur d'Alene on Thursday.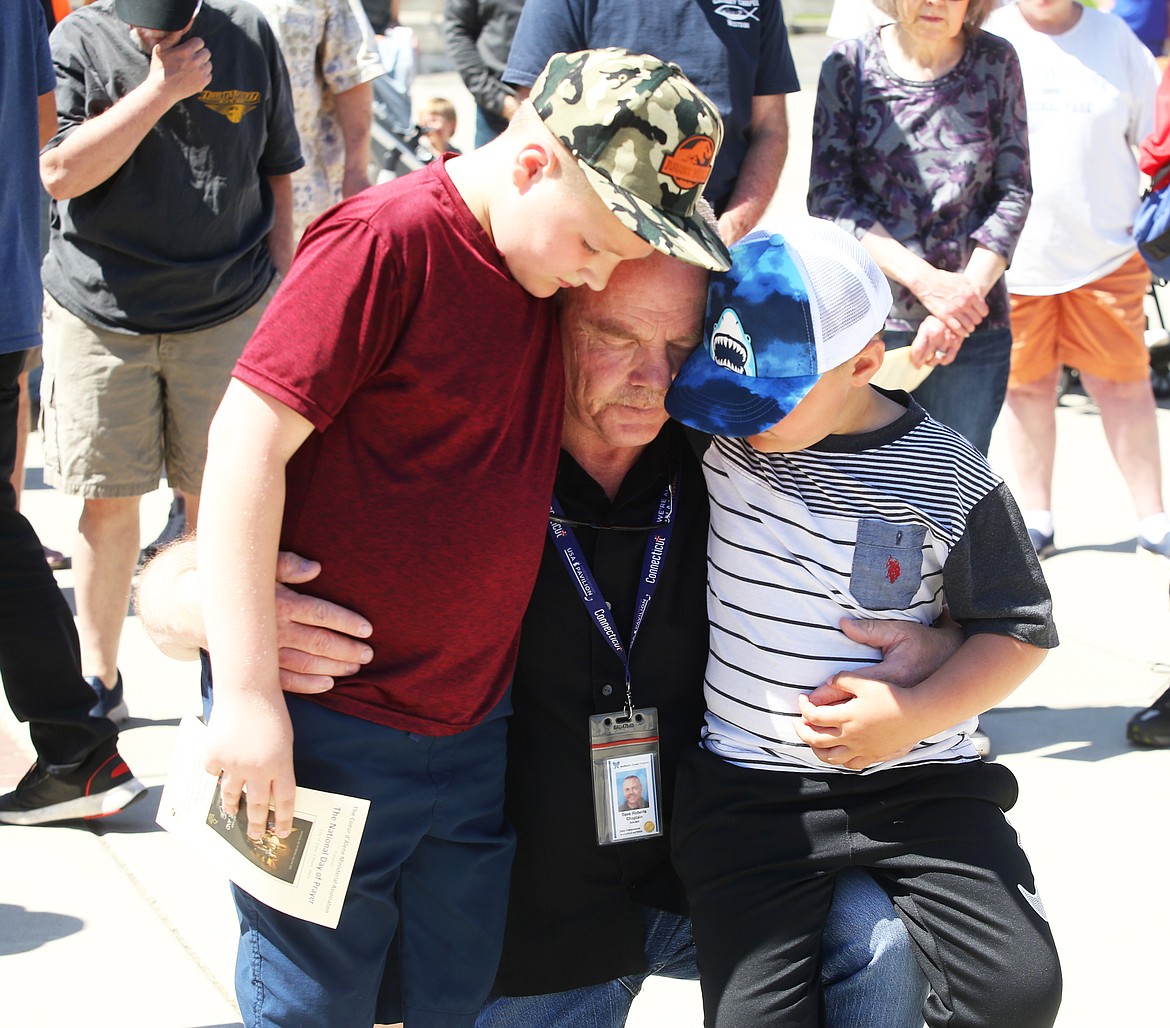 Dave Roberts holds his grandsons Nicolas and Dominic at the National Day of Prayer gathering in Coeur d'Alene on Thursday.
Previous
Next
by
BILL BULEY
Staff Writer
|
May 7, 2021 1:06 AM
COEUR d'ALENE — The National Day of Prayer gathering at McEuen Park was a bit on the quiet side, a little subdued Thursday afternoon — until it was Pastor Brock Hoyer's turn to pray.
Then, all hell almost broke loose.
The pastor of Journey of Hope in Post Falls did not hold back as he prayed for local pastors. He roared. He shouted. He clenched his fist. He powerfully punched out each word.
When he finished, a renewed spirit seemed to wash over the crowd as people rose, and cheered. Other pastors pounded Hoyer on the back after he left the podium.
"He hit that out of the park," said a pastor.
An estimated 600 people attended the annual event sponsored by the Coeur d'Alene Ministerial Association on a hot, sunny day at Veterans Memorial plaza.
Kootenai County Sheriff's Capt. Kim Edmondson, who is retiring, led the Pledge of Alliance.
For an hour, pastors of different churches took turns offering brief prayers for government leaders, law enforcement, school trustees, youth, restoration of biblical foundations and national repentance.
They asked for wisdom, love, truth, light, peace and understanding.
"Father, this morning, right here, right now, today, we pray against the divisiveness that plagues our nation. Full stop," said Pastor Bill Muck of Crossroads Community Church.
When worship songs were played, people raised their hands. Many stood shoulder to shoulder. Others sat on stairs or grass. A few found shade near trees. One man got down on his knees. Some bowed their heads and clasped their hands.
Dave Roberts held his grandsons, Nicolas and Dominic, close during prayer.
The chaplain with Auburn Crest Hospice wanted to be there and spoke of "the generational blessing and how much we need God in our lives and in our country."
Paul Van Noy, president of the ministerial association and pastor of Candlelight Christian Fellowship church, addressed the crowd during the opening.
"There are many cities today that are not having a National Day of Prayer event," he said. "In fact, even at the Capitol building the permit was denied."
According to Christian Headlines, after his request to host this year's National Day of Prayer at the Capitol building on Thursday was refused, the Rev. Patrick Mahoney, director of the Christian Defense Coalition, tweeted "for the first time in 70 years, there will be NO PUBLIC witness at the U.S. Capitol Building for the National Day Of Prayer! Brothers and sisters, free speech is in danger today in America."
The event was moved to the Museum of the Bible, instead, Van Noy said.
"We have a great privilege here today in Coeur d'Alene, Idaho, to gather together the way we are," he said.
Pastor Mike Slothower of River of Life Friends Church joked when it came his turn to lead prayer for community leadership, school board and North Idaho College trustees.
"I don't know how I got the most controversial thing to pray about," he said, as the crowd laughed.
"It says to pray for community leadership and that's us. And maybe today God is calling you into a position of community leadership. And maybe today that scares you. But I'm here to tell you church, we have got to rise up, we have got to fill the positions."
Pastor Tim Remington of The Altar church prayed for an outpouring of God's grace on people.
"God's grace is all over me," said Remington, who survived when he was shot six times outside The Altar in 2016. "I'm standing here because of God's grace."
Roger Roosendaal of Washington state attended the prayer rally and often raised his arms high.
"We had to come to Idaho to come to an event like this," he said.
He said he and his wife attended the National Day of Prayer in their county last year and six people attended.
"Very, very disconcerting," he said, adding he loved seeing such a large gathering for prayer in Coeur d'Alene. "This was absolutely incredible today."
Local Vern Westgate was also there.
He said people are sojourns, passing through this life, and should put their trust God.
"We know who wins in the end," he said.
Recent Headlines
---