PREP SOFTBALL: Lakeland wraps up top seed to regionals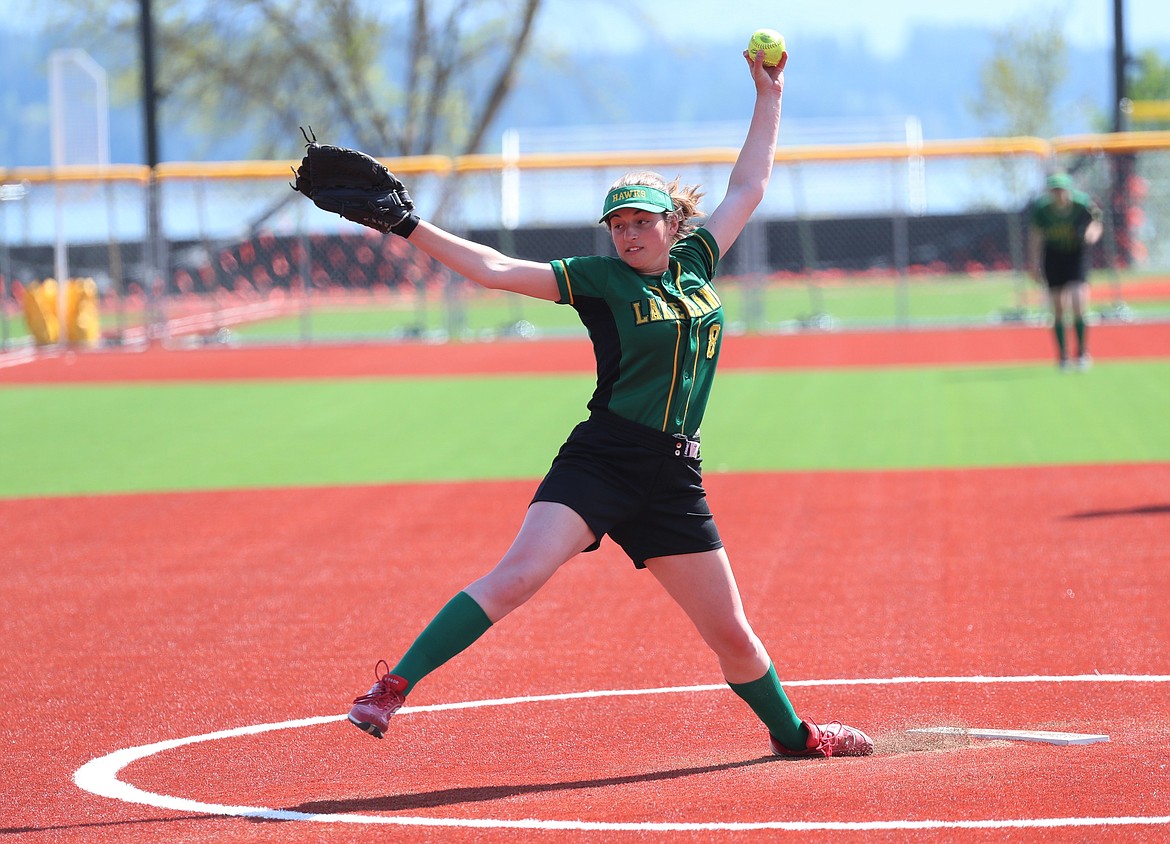 DYLAN GREENE/Bonner County Daily Bee Lakeland's Devry Bursch pitched a two-hit shutout with 12 strikeouts against Sandpoint in the first game of a doubleheader Thursday at War Memorial Field in Sandpoint.
RATHDRUM — Devry Bursch pitched a two-hit shutout with 12 strikeouts in the opener, and the Lakeland Hawks beat the Sandpoint Bulldogs 13-0 to wrap up the 4A Inland Empire League championship Thursday at War Memorial Field.
Lakeland went on to win the second game 12-3.
Lakeland (11-13, 7-1 4A IEL) will be the site of the first day of the 4A Region 1 tournament on Tuesday. No. 3 seed Moscow (3-17, 2-6) will play Sandpoint (7-16, 3-5) at 3 p.m. in a loser-out game. The winner will play Lakeland at 5 in the first game of the best-of-three championship series for the region's lone berth to state.
In the first game, Payton Sterling went 4 for 5 with two doubles for Lakeland, which swept Sandpoint in both league meetings. Kyleigh Dyer hit a two-run double in the sixth inning, and finished with three RBIs. Hailey Gosch hit a two-run single in the fourth inning, and finished 2 for 4 with three RBIs and two runs scored.
In the second game, Kathryn Wardak scattered four hits and struck out six in a complete game for Lakeland. Erin Byrne hit a two-run double in a five-run first inning, and Delaney Gosch went 3 for 4 with three RBIs. Haylee Smitt was 3 for 5, scored three runs and drove in one.
FIRST GAME
Lakeland 001 304 5 — 13 13 0
Sandpoint 000 000 0 — 0 2 2
Devry Bursch and Payton Sterling; Jaden Dickinson, Madi Garman (4) and Jaidyn Inman.
HITS: LL — See 2, H. Gosch 2, Smit, Dyer, Sterling 4, D. Gosch 2, Wardak. Spt — Cessna, Tuinstra. 2B — Dyer, Sterling 2.
SECOND GAME
Lakeland 501 104 1 — 12 13 2
Sandpoint 100 001 1 — 3 4 3
Kathryn Wardak and Delaney Gosch; Cresanna Authier, Jaden Dickinson (6) and N/A, Lily Gammon (3).
HITS: LL — H. Gosch, Smit 3, Walls 2, Byrne 2, D. Gosch 3, Staudinger. Spt — Ward 2, Cessna, Brackett. 2B — D. Gosch, Smith, Byrne, Cessna. HR — Ward.
Lake City 9
Coeur d'Alene 2
COEUR d'ALENE — The host Timberwolves wrapped up the No. 2 seed to the 5A Region 1 tournament with the victory over the Vikings in a resumption of a game halted in the bottom of the first inning April 24 with no score.
On Tuesday at Lewiston's Airport Park, Lake City (15-5, 7-5 5A Inland Empire League) will play No. 3 Post Falls (12-6, 6-6), and No. 4 seed Coeur d'Alene (7-13, 3-9) plays No. 1 Lewiston (19-5, 8-4), both at 2 p.m.
The winners play at 4 for the regional title and a trip to state, and the losers also play at 4 in a loser-out game.
On Thursday, Coeur d'Alene lost two players to injury — third baseman Catherine Bakken and designated runner Natalya Lucero. Coeur d'Alene coach Bobbi Darretta said she wasn't sure if either would be back for regionals.
"It's a huge bummer that it happened," Darretta said of the injuries.
No other information was reported.
Recent Headlines
---