PREP BASEBALL: Lakeland notches first league win, denies Sandpoint league title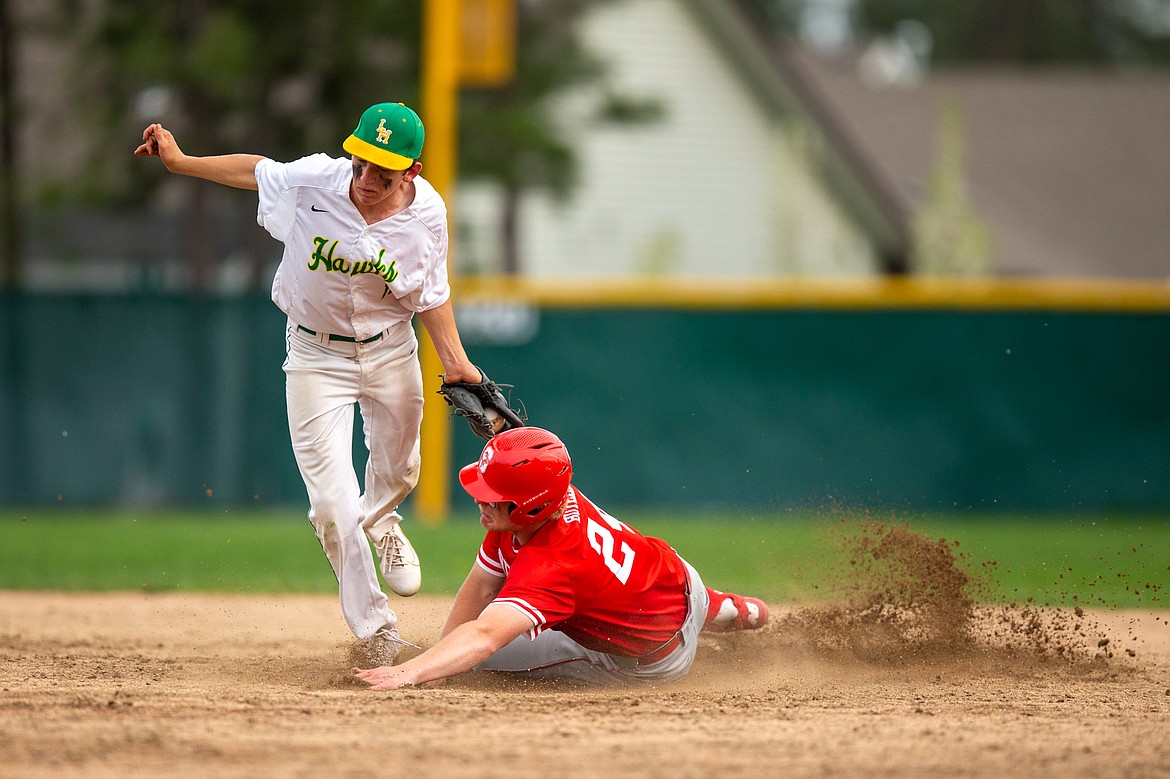 JASON DUCHOW PHOTOGRAPHY Lakeland shortstop Scotty Hocking tags out Ethan Butler of Sandpoint at second base on a steal attempt Thursday at Gorton Field in Rathdrum.
RATHDRUM — Sophomore Nick Nowell hit a two-run triple to score Caleb Jacobson and Garrett Love as the Lakeland Hawks used a six-run bottom of the fifth inning to beat the Sandpoint Bulldogs 6-2 in the first game of an Inland Empire League doubleheader at Gorton Field on Thursday. Sandpoint beat Lakeland 9-5 in the nightcap.
After Thursday's games, Sandpoint (15-8, 8-8 IEL) and Moscow (10-8, 8-8) finished tied in the league standings. Moscow won the tiebreaker and will host the 4A Region 1 tournament on Monday. Lakeland (2-21, 1-15) will face Sandpoint at 3 p.m., with the winner advancing to face Moscow in a best-of-3 game series starting later that day. The loser is out.
Payden Wysong struck out six in 5 ⅔ innings for Lakeland (2-21, 1-15 IEL) in the first game.
"It was so nice to see my club compete in all phases tonight," Lakeland coach Jason Bradbury said. "Payden did a great job for us in Game 1. He kept them off balance the whole game and had good control of his pitches. Nick Nowell came up with a couple of big hits for us in that game. He's been battling an injury for a while and has done tons of work to keep playing. It's nice to see all his hard work paying off."
Max Thielbahr had three hits and three RBIs in the second game for Sandpoint. Nowell also drove in a pair of runs in the second game for Lakleand.
"I'm really pleased with how my team competed," Bradbury said. "We were starting to put it together and gain some confidence. Hopefully, we can keep it going into districts."
Lakeland is scheduled to host Timberlake on Saturday at 10 a.m.
FIRST GAME
Sandpoint 000 020 0 — 2 3 1
Lakeland 000 060 x — 6 11 2
E. Williams, K. McDonald (5) and T. Brackett; Payden Wysong, Scott Pote (6) and Gunner Vandever. W — Wysong. L — Williams.
HITS: Spt — Thielbahr, Bocksch, Williams. LL — Hocking, Vandever 2, Strietzel, Love, Nowell 2, Ellwood 2, Day, Pote. 2B — Bocksch, Vandever, Ellwood, Strietzel. 3B — Day.
SECOND GAME
Sandpoint 001 231 2 — 9 11 2
Lakeland 200 030 0 — 5 8 4
E. Butler, Z. Roop (5) and T. Brackett; Scott Pote, Josh Mason (5) and Gunner Vandever. W — Butler. L — Pote.
HITS: Spt — Newhart 2, Thielbahr 3, Butler 2, Lehman, Williams 2, Brackett. LL — Vandever, Strietzel 3, Love, Nowell 2, Day. 2B — Thielbahr, Williams, Newhart, Nowell, Strietzel.
Coeur d'Alene JV 5
Timberlake 4
SPIRIT LAKE — Cameron Davey drove in a pair of runs as the Viking junior varsity (17-5) edged the Tigers (10-8).
Joseph Borges hit a two-run single in the fifth inning for Timberlake, and Alex Drake finished 2 for 4 with two runs.
Timberlake plays at Lakeland on Saturday in the regular season finale.
Cd'A JV 000 320 0 — 5 5 1
Timberlake 001 030 0 — 4 5 2
Logan Markowski, Aaron Gwaltney (5), Jesse Brown 6, Kyle Seman (7) and Aidan Blanco; Luke Ahrnsbrak, Kenny Wells (5), Cooper Lenz (7) and Joseph Borges.
HITS: Cd'A JV — M. Brown, Hall, Smart, Farrar, Davey. TL — Drake 2, Borges, Kitchin, Allaway. 2B — Drake.
Recent Headlines
---