Artists Showcase opens today
by
Press Staff
|
May 7, 2021 1:00 AM
COEUR d'ALENE — The Coeur d'Alene Art Association's Artists Showcase returns for its 20th year this weekend.
Opening at 1 p.m. today at the Kootenai County Fairgrounds, 4056 N. Government Way, the Artists Showcase provides an opportunity to view and purchase fine art at reasonable prices, bringing a sense of beauty and vitality to living and work spaces.
Many of the works are inspired by North Idaho, including scenic, floral, wildlife and figurative pieces while others explore less conventional painting techniques such as collage, mixed media, textural and dimensional art. The showcase also provides opportunities for art enthusiasts to connect with the artists to get a sense of their goals and how they work while they perform demonstrations during the show.
Participating artists include Lorna Barrowman, Yvonne Benzinger, Terry Blakemore, Karen Conrad, Noel Cornelius, Ada German, Frank Gray, Judy Hohl, Joyce Holst, Jackie Jewett, Janet Launhardt, Barbara Lee, Diane Markley, Harriett Masterson, Marlee Phillips, Joanne Reeds, Judith Sanders-Wood, Avis Stafford and Cobie Schuchard.
A new feature to be introduced at the Showcase will be live music, shared by musicians from the Music Conservatory of Coeur d'Alene, a new venue for concerts and music classes for adults and children.
Three paintings by artists Marlee Phillips, Terry Blakemore and Phil Free will be raffled off to lucky winners.
The Artists Showcase goes until 8 tonight with a reception from 5 to 8 p.m. The show continues Saturday from 10 a.m. to 5 p.m.
Admission is free.
Info: www.coeurdaleneartassoc.org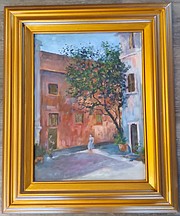 Recent Headlines
---