Cd'A Tribe swears in new officials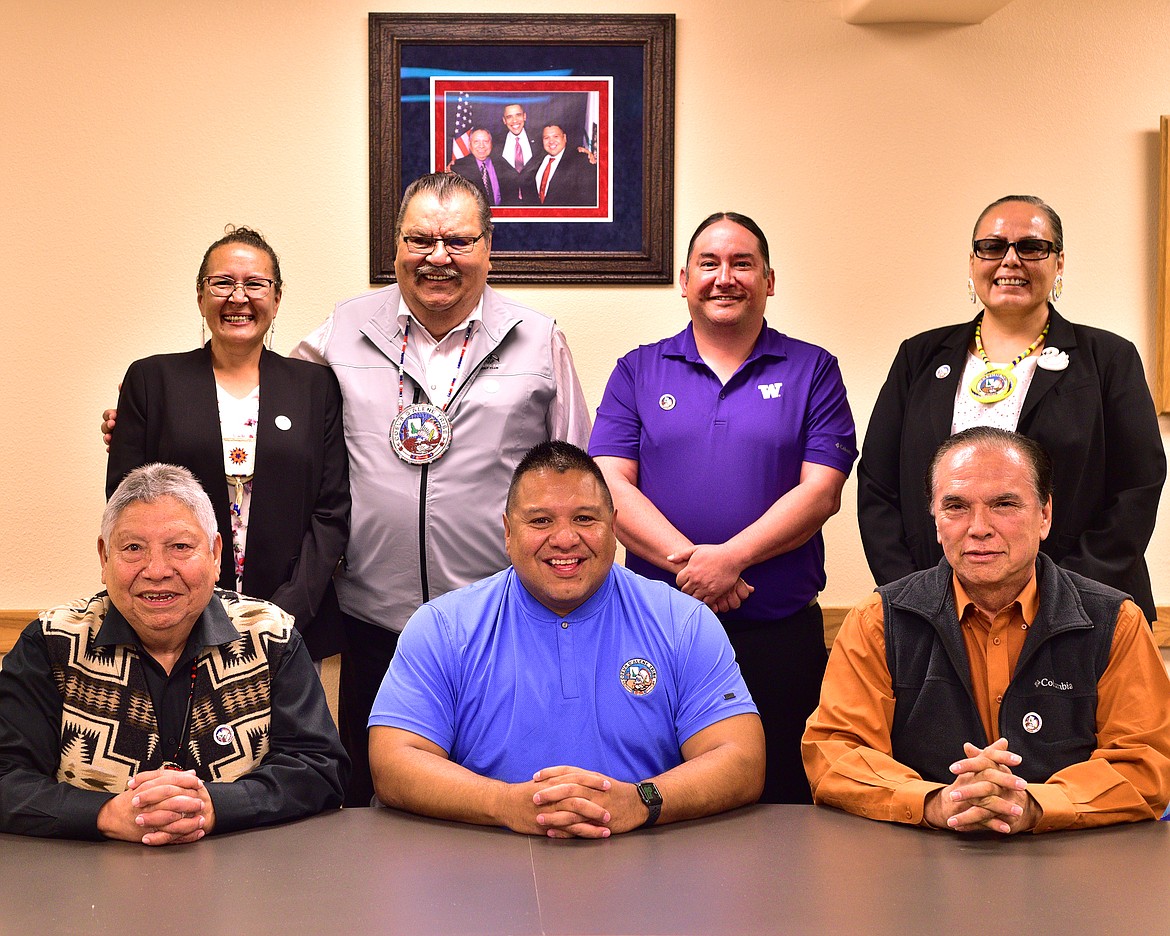 The Coeur d'Alene Tribal Council elections were held Saturday, May 1. Front row, from left: Ernie Stensgar, Chairman Chief Allan and Dave Matheson. Back row, from left: Charlotte Nilson, Vice Chairman Don Sczenski, Secretary-Treasurer Hemene James and CarylDene Swan.
Photo by Jennifer Fletcher/Coeur d'Alene Tribe
by
Press Staff
|
May 7, 2021 1:00 AM
PLUMMER — The Coeur d'Alene Tribe on Saturday held its annual Tribal Council election for three seats at Tribal Headquarters in Plummer.
Chief J. Allan, Donald Sczenski and Dave Matheson were all re-elected for three-year terms. The new council unanimously re-elected Allan as chairman, Szcenski as vice chairman and Hemene James as secretary treasurer.
The in-person election featured public health measures including mandatory masks, optional voting from vehicles and social distancing. The swearing-in ceremony was held in front of a virtual audience via live streaming, as it was in 2020, with limited staff in attendance for COVID-19 precautions.
Allan previously served as chairman from 2005 to 2018, and from June 2020 to present. He addressed the council and virtual audience and commended the Tribe for its handling of the pandemic, noting that while many businesses had closed and laid off staff, the Coeur d'Alene Tribe kept its employees working with full pay and benefits.
"We knew it would be a challenging year, and once again the Coeur d'Alene Tribe rose to not only meet that challenge, but exceed all expectations," Allan said. "And we're just getting started."
Allan and other council members repeatedly urged Tribal members to get vaccinated. They highlighted the vaccine as "our ticket to getting back to normal."
"I understand your fears, your hesitancy, your skepticism, but please come and talk to any of us and we will tell you the truth," Allan said. "If you need help getting an appointment or even a ride, please call us. Keep us on the path back to normal."
Recent Headlines
---