The usual ingredients ... with a touch of fun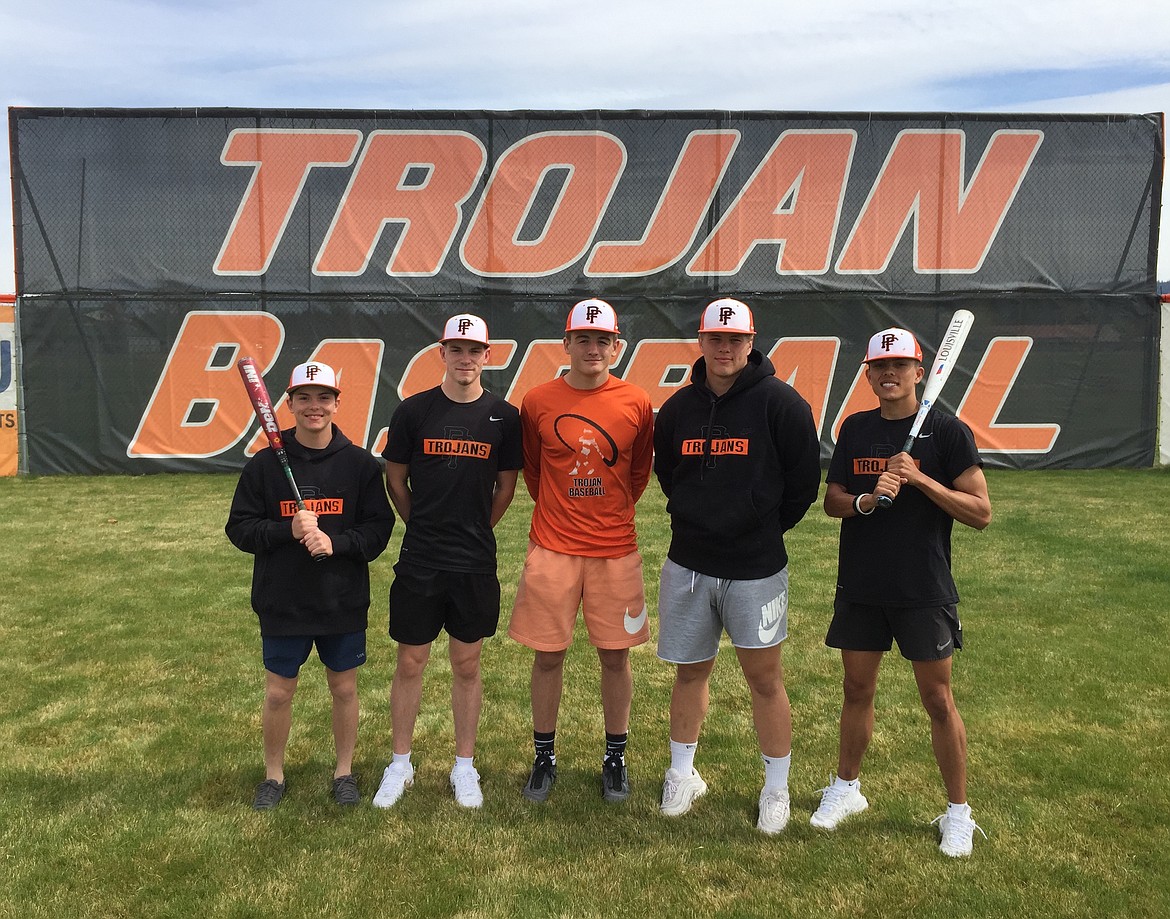 MARK NELKE/Press From left, Post Falls High baseball seniors Tim Bastedo III, Cole Rutherford, Ethan Miller, Kaden Cripps and Spencer Zeller.
By MARK NELKE
Sports editor
Senior leadership is a big part of most championship teams.
So is chemistry.
The Post Falls High baseball team has both — as well as some younger players also playing key roles — on this year's squad which, on Tuesday, won a league title in baseball for the first time in school history.
They accept coaching, they hold each other accountable …
But they try to have a good time doing it.
"I've seen other teams growing up," said Trojan senior center fielder Spencer Zeller, one of three current Trojans to have had older brothers also come through the program. "There's always been senior leadership, but it didn't seem like they had as much fun. We mess around probably more than we're serious at practice, and sometimes it gets us in trouble, but everybody gets along."
What gets these guys in trouble?
"We'll be listening to music, and messing around," senior shortstop Cole Rutherford said. "But in all seriousness, when it comes down to us getting better as players, we do take it seriously. But we joke around, and all of us have a good time. You can't just let things eat you up inside, because that's when you do bad."
The senior core consists of Zeller and Rutherford, along with second baseman Kaden Cripps, third baseman Ethan Miller and pitcher/outfielder Tim Bastedo III.
"They've all had some high-pressure at-bats, and played in a lot of meaningful situations," said Mick Zeller, in his 16th season (over two stints) as Post Falls head coach. "They've got a lot of experience, and they all play on the summertime."
Three of them (Zeller, Rutherford and Cripps) started two years ago as sophomores, and two of the five (Zeller and Cripps) were brought up as freshmen for the postseason, and played in the third-place win over Lewiston at state.
Cripps and Rutherford play for the Northwest Premier club team, and Zeller, Miller and Bastedo play American Legion ball for the Prairie Cardinals — coached by Mick Zeller in recent years.
"They all bring a lot of experience, a lot of baseball knowledge, a lot of baseball IQ," Zeller said. "There's been some days, before I took those five years off, where I had to teach a lot of fundamentals that I don't have to teach right now. It's nice to have that type of senior leadership, so we don't have to spend a lot of time in practice re-teaching stuff."
Post Falls is 18-5-1, and went 15-3 in the combined 5A/4A Inland Empire League heading into the 5A Region 1 tournament, which begins Monday.
Two years ago, with a young squad, the Trojans finished 6-15.
The year before, Post Falls finished third at state — its best showing as a 5A school.
"On that 2018 team we had (Chase) Cripps, (Jake) Rutherford and (Brock) Zeller up the middle," Mick Zeller said, "and this year, we have Cripps, Rutherford and Zeller up the middle."
Prior to this season, Post Falls had never won a league title in baseball. The Trojans won a regional title in 2005, in 4A, have and been to state four times, including a second-place finish in in '05, during Zeller's first stint as coach.
Last week, Spencer Zeller noted a league title would be nice, especially for the younger players coming up through the program, to show them it can be done.
Rutherford noted it'd be nice to do something your older brothers hadn't done.
"Seeing us being successful is super huge for the program, because baseball has been overshadowed by wrestling and basketball over the years," Rutherford added. "So it's nice to be part of that team that's getting recognition for how we're playing."
CRIPPS PLAYED in a handful of varsity games early in his freshman season when his older brother, Chase, who is now playing at Lassen Community College in Susanville, Calif., came down with mono. He returned to the junior varsity for the remainder of the season — until the postseason.
"I threw him in to pinch-hit in that play-in game, and I threw him in there to pinch-hit in that state semifinal game," Mick Zeller recalled. "Talk about a high-pressure, high-stakes situation for a freshman. And he came through and got a base hit for us."
"Probably the best experience I've had was getting a base hit after he called me in (to pinch hit) in a state semifinal game," said Cripps, who is batting .382 with a team-high 32 RBIs. "I remember everybody was all hyped for me … I was definitely scared, but I knew what I had to do."
Cripps, also a standout linebacker on the Post Falls football team, is hoping to play both sports in college. He said he's spoken to a few Big Sky schools concerning football, but is planning to play one year at a junior college in California, then going from there.
"He's got a nice, natural spring," Mick Zeller said. "And he's a pretty good bulldog on the mound. I try not to relieve with him and Cole, because it messes with your defense."
RUTHERFORD IS a three-sport standout — a receiver, punter and kick returner in football, and a three-year starting point guard on the Trojan basketball team that finished second at state his junior year.
His older brother, Jake, is a sophomore pitcher at Gonzaga. He has two younger brothers — Tyson, the No. 1 pitcher on the Trojan varsity, and Austin, a freshman who plays basketball and football.
"He is just really smooth," Mick Zeller said of Cole. "I've had some really good shortstops, obviously Cripps' brother, Chase, was really good, Brett Wynn in '08 … and he's as good as any I've ever coached. He's really quick; he gets to a lot of stuff because he's so quick, he's got a pretty strong arm for a shortstop. On the bases, he can steal any base at any time. He made some big plays in football, just outran some people, too."
Rutherford is batting .423 with a team-high 38 runs scored.
Being a shortstop in baseball, as well as a three-sport athlete, has made him mentally tough as well, Mick Zeller said.
"He's good at just letting (errors) roll off his back, and going on to the next play. … you just learn that you can't dwell on it," he said.
"Playing three sports has definitely helped me throughout high school, constantly going, going, going," Cole said. "You don't have time for the other stuff outside of high school that you always see. With basketball, the year that we ended up having this year (not making it to state), makes me want to do even better this year in baseball, because basketball got cut short, compared to what we thought was going to happen."
Rutherford hopes to play in college — either baseball or basketball, perhaps both, though he's still undecided — and has been in contact with some junior colleges, some NAIA schools, some Division II schools.
SPENCER ZELLER's lone sport is baseball. He's been around it since his dad's earlier coaching days.
"One year we were doing winter workouts for Legion and Little League," Mick recalled. "We were in the gym one day and one of the coaches was throwing soft toss to him. We had 'em broken up into age groups and he stopped and said to Spencer, 'You go up to the cages with the older kids.' And that was like Brock's age (who is three years older). So he was hitting with guys 2, 3, 4 years older. He's always had a really good swing; even playing Wiffle ball in the backyard when he was 3, 4 years old. I can't say that I taught it to him … he just really developed, like a Ken Griffey Jr. swing. Lefties, for whatever reason, their swing just looks different, and looks better than right-handers sometimes."
Spencer, a .384 hitter and second in runs scored with 34, said he and dad try to not take baseball home with them.
He said the best part of having a dad as a coach is "availability. I can take my dad's keys, and come hit whenever I want and have a lot of access that most players don't have."
Spencer has committed to play baseball at Blue Mountain Community College in Pendleton, Ore. He played mostly first base growing up, before moving to the outfield just before high school.
"I'm not blessed with height," Spencer said. "I feel like I can cover a lot of ground."
Spencer's twin brother, Colby, is a golfer. His younger brother, Drew, is a freshman who plays golf, basketball and football.
Brock and Spencer are true lefties; the other two are righties. Mick is a righty; mom, Kerri, is a lefty.
MILLER WON a state wrestling championship as a junior at Post Falls. He was a state runner-up as a senior, and third at state as a sophomore.
That demeanor carries over to the mound, and at third base.
"Ethan's just emotionless on the mound out there," Mick Zeller said. "He's just a bulldog, which probably stems from wrestling. You don't show a lot of emotion out there on the mat, usually."
Miller is third on the team with 22 RBIs. He's 5-1 on the mound with a 3.28 ERA.
"It brings a competitive edge, knowing that I've been with a winning program," Miller said of wrestling, "and hopefully I can carry that on to this baseball team to hopefully win a state championship. Keep fighting, and win the little battles that hopefully win the war."
Miller is one of four Post Falls wrestlers to sign with Ellsworth Community College in Iowa Falls, Iowa, where the head coach, Tyson Springer, formerly wrestled at North Idaho College, and the assistant coach, Derrick Booth, formerly wrestled at Post Falls. When teammate Lane Reardon was being recruited by Ellsworth, Miller and two other Trojans went along for the visit, and all ended up signing.
BASTEDO WORKED his way up through the baseball program — from the freshman team to the junior varsity and, finally, to the varsity.
"Early in the season he came in and shut down Mountain View; they're one of the top teams in the state," Mick Zeller recalled. "Pitching is his strength, and when he's on, he's tough to hit. He throws strikes."
His dad, Tim Bastedo Jr., is the junior varsity coach.
"It's nice to see a kid stick with it, and finally get his shot as a senior, and be a part of a winning team, a team that has a chance to do some things that other teams haven't had a chance to do," Zeller said.
"I just knew I needed to keep working, and I'll get up there too," Bastedo said of the varsity. "It makes me feel really good, like I'm actually helping the team."
His teammates definitely noticed.
"Definitely hard work beats talent when talent doesn't work hard," Miller said. "There's really only two things you can control — attitude and effort, and guys like Timmy really show that."
"He definitely had to work harder than us to get to where he is now," Cripps said. "We're all bigger. We're all gifted with things he can't control."
"For guys like Timmy, coming up through the program, try to focus on what you're good at, what your best attribute is, and excel at that," Spencer Zeller said, "and I feel Timmy does a good job of that. Even though he's a smaller guy, he throws well on the mound, and he's got a cannon in the outfield."
There were some pretty good Wiffle ball games in the Zellers' neighborhood as Mick's kids were growing up. In addition to the current kids on the high school team, the games included Post Falls players from a few years past.
"You develop confidence playing with those older kids," Mick Zeller said.
"You've got to be a lot more competitive, and want to have to love the game, because you're going to get beat a lot playing with kids that are older than you," Cripps said. "You have to have the willpower and strength to get through it."
Mick Zeller is in the fifth year of his second stint as Post Falls head coach. The Wallace High grad took over the Trojans program in 2001, after winning a state title at Emmett in 1998. He coached Post Falls through the 2011 campaign, then returned as head coach in 2017.
"I'd say he's had a pretty huge impact," Miller said. "He's definitely helped us stay on track and focus on every game — just win the little battles, and focus on the present."
"Coming up through school there were some different coaches, and when he got the job again as coach I was excited," Rutherford said. "He pushes us, and he holds us accountable, and he wants us to do the best we can do. He's taught us a lot, and it's exciting to be a part of this program with him as head coach."
"The biggest thing he adds to help us win right now, I think," Cripps joked, "is if we win that state championship, he's shaving off that mustache."
Zeller said that's been a standing offer for all of his teams over the years. He said he shaved it off in 2012, when the Post Falls Little League team, in which he was an assistant coach, won the state title. But it had grown back by the time the team reached San Bernardino, Calif., for the Northwest Regional.
And he shaved it off after his Emmett team won its state title more than two decades ago.
"I wasn't born yet," Spencer said. "I've seen pictures and it's not pretty. But I want to see it gone."
Recent Headlines
---