THE FRONT ROW with MARK NELKE: League success doesn't always carry over to postseason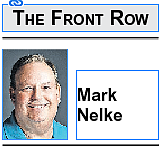 For the first time ever, the road to state in 5A baseball goes through Post Falls.
Not that being the top seed in the 5A Region 1 tournament guarantees anything — at least recently.
In the last four seasons (2016-19), Lewiston in 2017 was the only league champ to win the regional title.
In 2016, No. 4 seed Post Falls surprised top seed Lewiston in the first round at regionals, then No. 2 seed Lake City beat the Trojans in the regional title — then won its first state title since 2007. Lewiston did come back and won a state play-in game, then placed third at state.
In 2018, Lake City won the 5A Inland Empire League — but lost two close ones at regionals on back-to-back days and was eliminated. Lewiston, the No. 4 seed, won at No. 2 Post Falls for the regional title. The Trojans won a state play-in game, then beat Lewiston in the third-place game at state.
In 2019, Coeur d'Alene went 12-0 in league to win by six games, but lost in the regional title game and in the second-place game and stayed home from state.
In this year's regional openers on Monday, Post Falls plays host to No. 4 Lake City, and No. 3 Coeur d'Alene travels to Lewiston.
IN 4A baseball, Sandpoint was cruising right along, heading toward a third-place finish in the combined seven-team IEL, ahead of two of the four 5A schools. But the Bulldogs have lost three straight, including getting swept at home by Moscow on Tuesday, and might need to sweep Lakeland today to earn the top seed to regionals starting Monday.
Why would I not be surprised to see Lakeland, 1-20 entering today's play, win the 4A Region 1 title and earn the region's lone berth to state?
IN 3A, Bonners Ferry won the Intermountain League for the fifth time in the last six contested seasons. But the Badgers, who won their first state title in 2018, has lost to second-place Timberlake and last place Priest River (the Spartans' only win of the season) in the past week.
IN 2A, Grangeville is the team to beat, but that extra half-berth gives hope to Orofino and St. Maries.
In the 5A, 3A and 2A regional/district tournaments, the second-place finisher can also advance to state through the play-in route.
IN SOFTBALL, Lewiston needed at least one win Wednesday over Post Falls to secure its first league title in school history.
A Post Falls sweep and a Lake City win over Coeur d'Alene today would have created a three-way tie for first place in the 5A IEL, with point differential to determine seeding for the regional tournament next Tuesday at the home of the No. 1 seed.
Or maybe someone has created a Kansas tiebreaker for softball?
Like in baseball, the 5A Region 1 runner-up in softball can make it to state by winning a play-in game.
IN 4A, Lakeland needs just one win today at Sandpoint to secure home-field advantage for next week's Region 1 tournament, where only the winner advances to state.
IN 3A, Intermountain League champion Timberlake is the overwhelming favorite to win the District 1 tourney next week, though the runner-up can also make it to state through the play-in route.
IN 2A, Central Idaho League champ St. Maries will host the District 1-2 tournament Monday, which could be wrapped up in one day if the district champ is decided, and the second-place team ticketed for a state play-in game.
Mark Nelke is sports editor of The Press. He can be reached at 664-8176, Ext. 2019, or via email at mnelke@cdapress.com. Follow him on Twitter @CdAPressSports.
Recent Headlines
---