The heat of the moment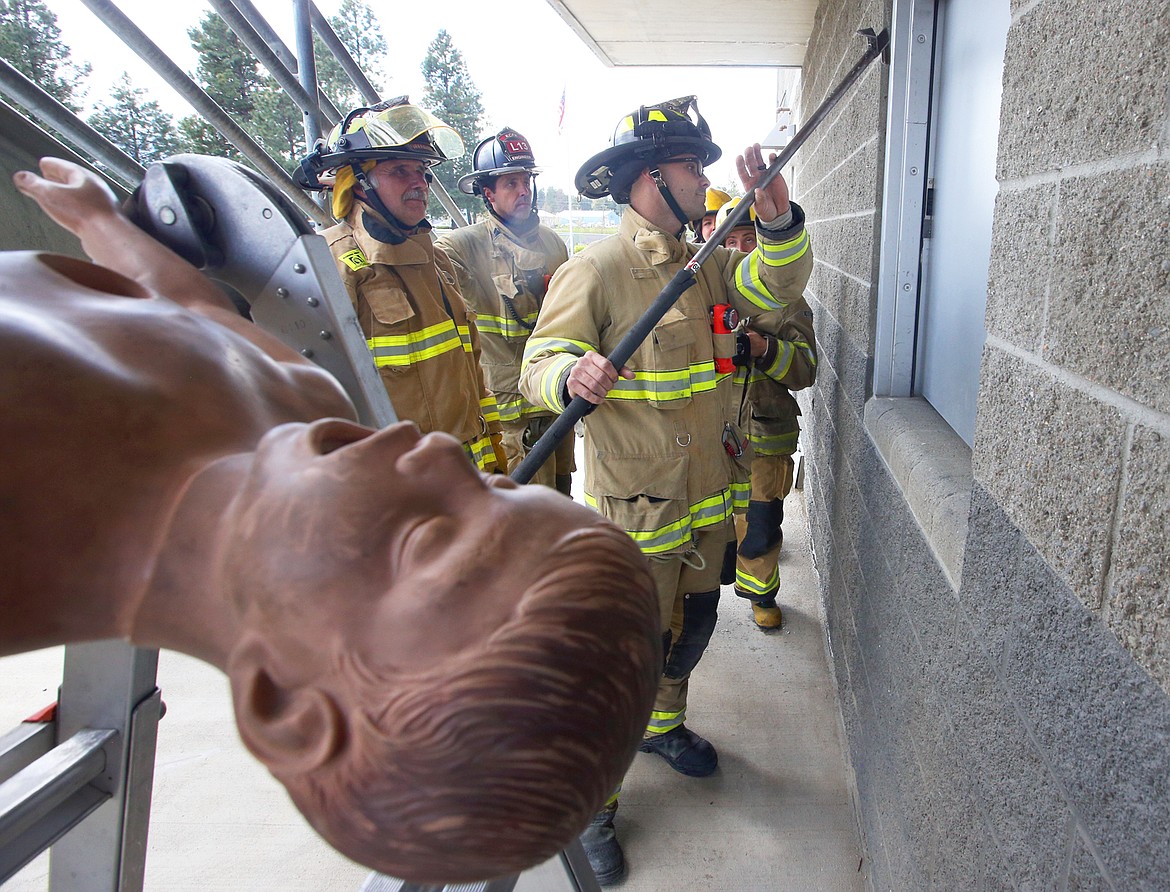 Kootenai County Fire & Rescue firefighter Shea Vucinich explains how to enter a smoky building on Tuesday to KCFR non-response personnel.
BILL BULEY/Press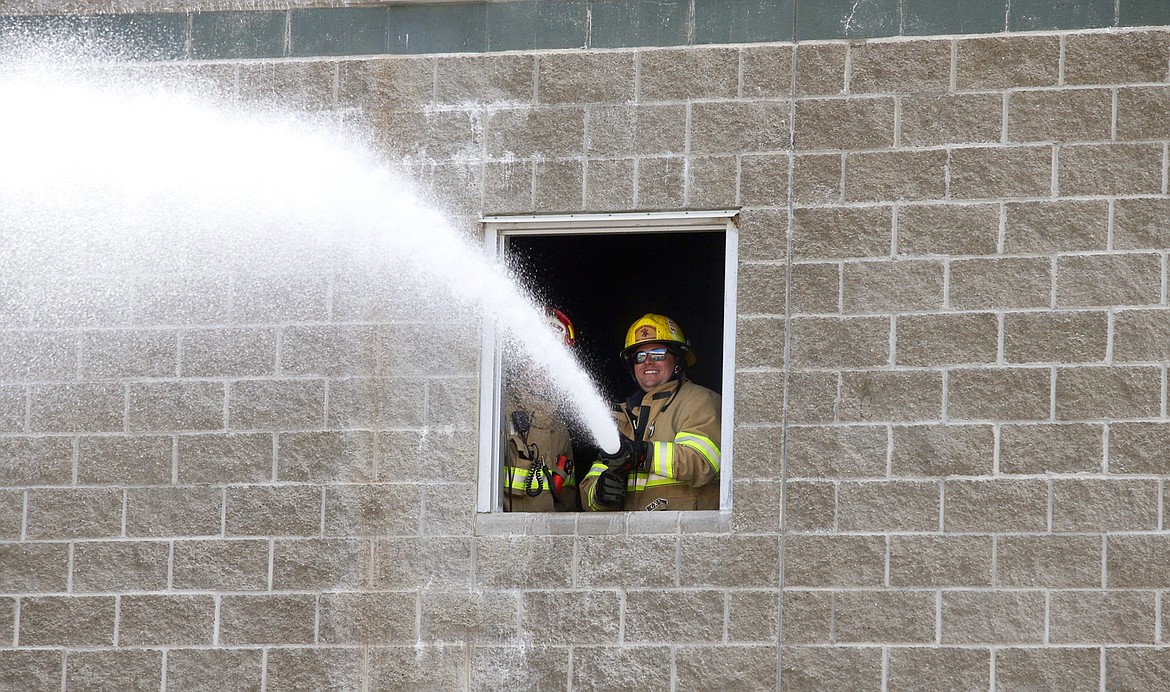 Jared Reed, KCFR emergency vehicle technician, handles a high-pressure fire hose during Tuesday's training day for non-response staff.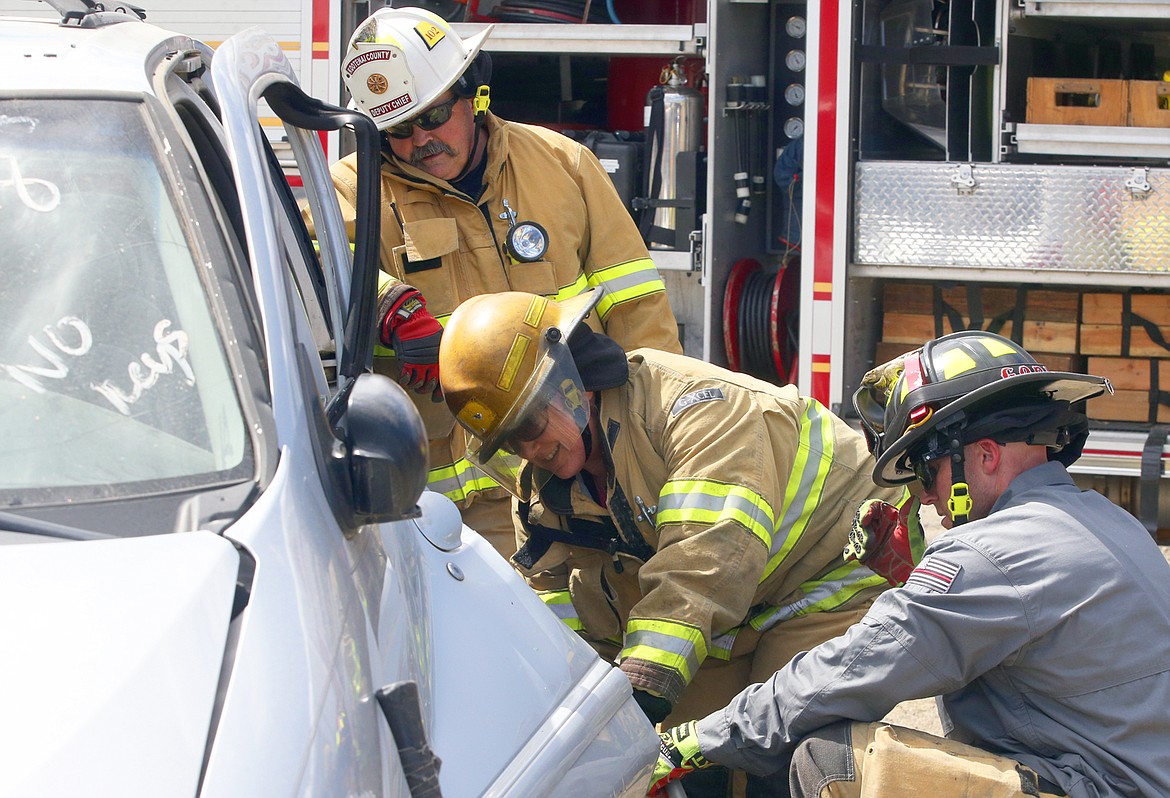 Laurie Perkinson, KCFR accounting clerk, uses the jaws of life under the watchful eyes of Capt. Adam Godwin and Chief Dan Ryan during a training day on Tuesday.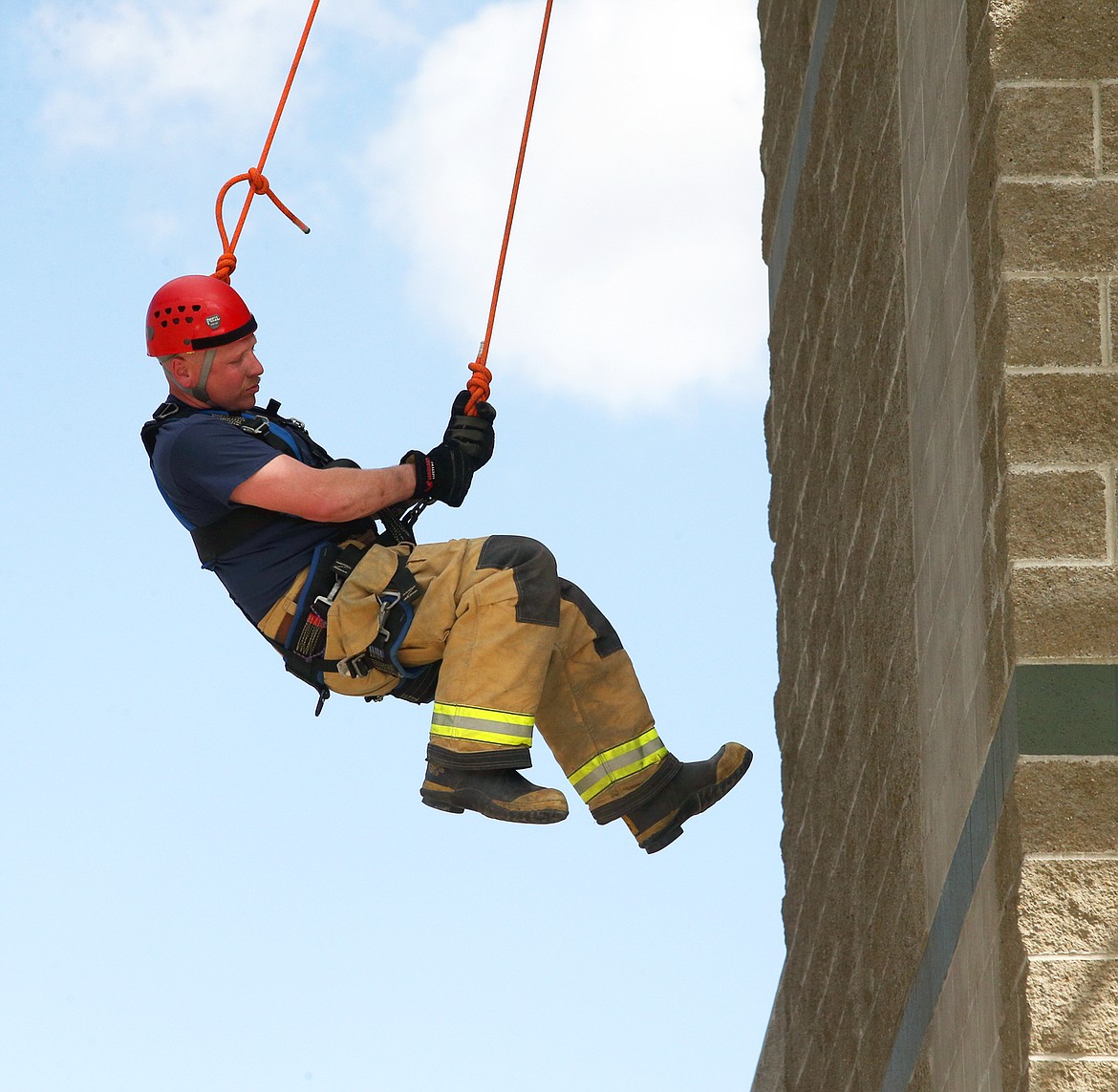 Matt Dilley, emergency vehicle technician with KCFR, rappels down a building on Tuesday during a training day at the KCFR Fire Training Center.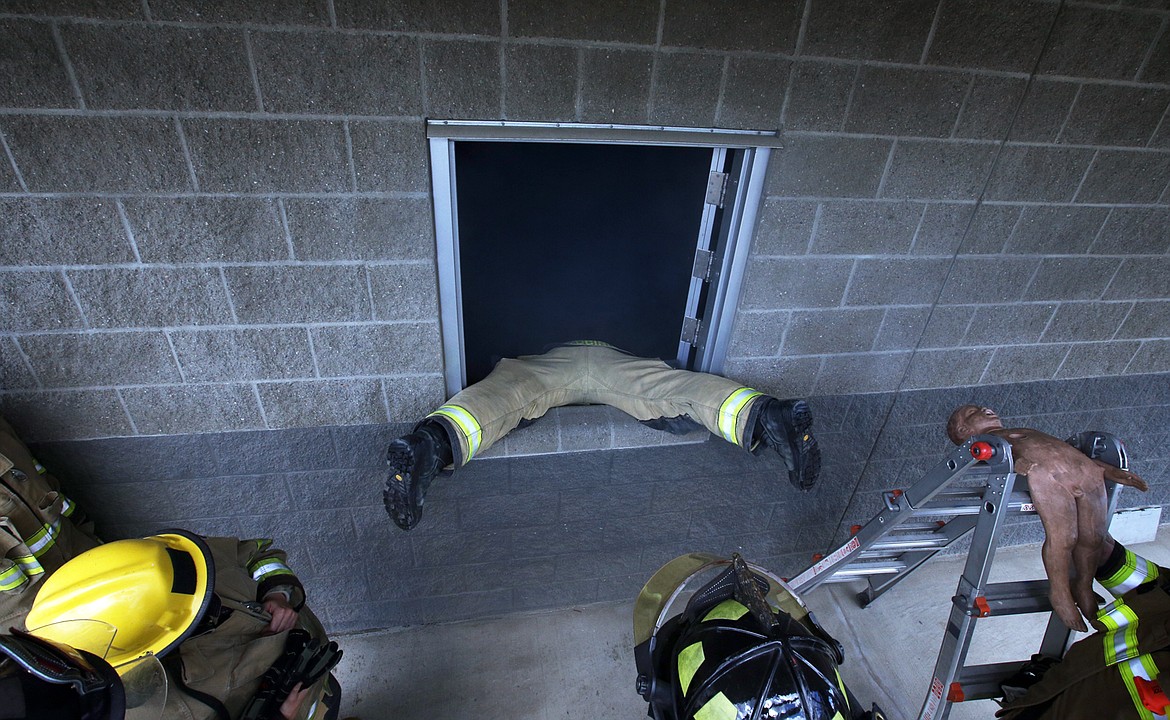 KCFR firefighter Shea Vucinich uses his legs to support himself as he demonstrates how to enter a smoky building on Tuesday at the KCFR Fire Training Center on Seltice Way f
Previous
Next
by
BILL BULEY
Staff Writer
|
May 5, 2021 1:09 AM
POST FALLS — When Kootenai County Fire & Rescue firefighters lowered Casey Hamilton, secured with harness and rope, over a building's edge so she could begin rappelling down, some 100 feet in the air, she admitted it was scary.
Her life, after all, was in their hands.
"You have all your trust in those guys," she said. "You have to."
Hamilton, KCFR director of administration, was among a group of fire commissioners, administrative and support staff with KCFR who got a chance on Tuesday afternoon to experience what firefighters face in battle.
They entered a smoky building to find a baby. Learned how to drag someone from a burning house. Manned high-pressure fire hoses. Wielded a hydraulic-extrication rescue tool to cut open doors on vehicles damaged in a crash. And last, they were placed inside a trailer with flames outside so they could feel the heat of real fire.
"When we're in the office all day we don't really get a glimpse of what they do everyday," Hamilton said as she wore a firefighter's bulky outfit that includes heavy-duty jacket, pants, boots gloves and helmet. "It's really eye-opening for us."
Her biggest surprise?
"How much this gear weighs," she said, smiling.
KCFR celebrated International Firefighter Day with field operations at the KCFR Fire Training Center on Seltice Way for its non-response personnel so they could "feel and experience the physical work and environment our firefighters are in while performing their job."
Fire Chief Chris Way said the one-day trainees did well, especially considering none of them had been in a live fire before.
"They're having fun, they're learning a lot," he said.
Way said such training gives staff an idea, too, of what tools and resources they need, and why, to do their job and protect people and property.
"When we ask for a hose, they now know why we need more hose," he said.
Voters will decide the future of Kootenai County Fire and Rescue's facilities this month.
A $14.9 million bond is on the May 18 ballot, which would go toward relocating two existing fire stations and building a fifth in an effort to keep up with the region's growth.
Paul Wagner, a fire commissioner, said the training day gave him a much better idea of what challenges firefighters face.
"The more we know about what they do and what they need, the more we can respond to those needs," he said. "When budget time comes along we have some idea of what they're going to do with it."
Laurie Perkinson, accounting clerk, under the watchful eyes of Capt. Adam Godwin and Chief Dan Ryan, used what is commonly referred to as the "jaws of life" to free drivers and passengers from damaged vehicles after a serious accident.
It was a demanding day.
"Just learning all the stuff you weren't aware that they go through," Perkinson said. "I think it just gives me a better respect for what they do every day."
Justin Capaul, battalion chief, said because all with KCFR are an intricate part of the organization, such training helps everyone involved know each other's jobs, which helps them to protect the communities they serve.
"We can flow better, work better together," he said.
Recent Headlines
---