Fresh flowers at Fallen Heroes Plaza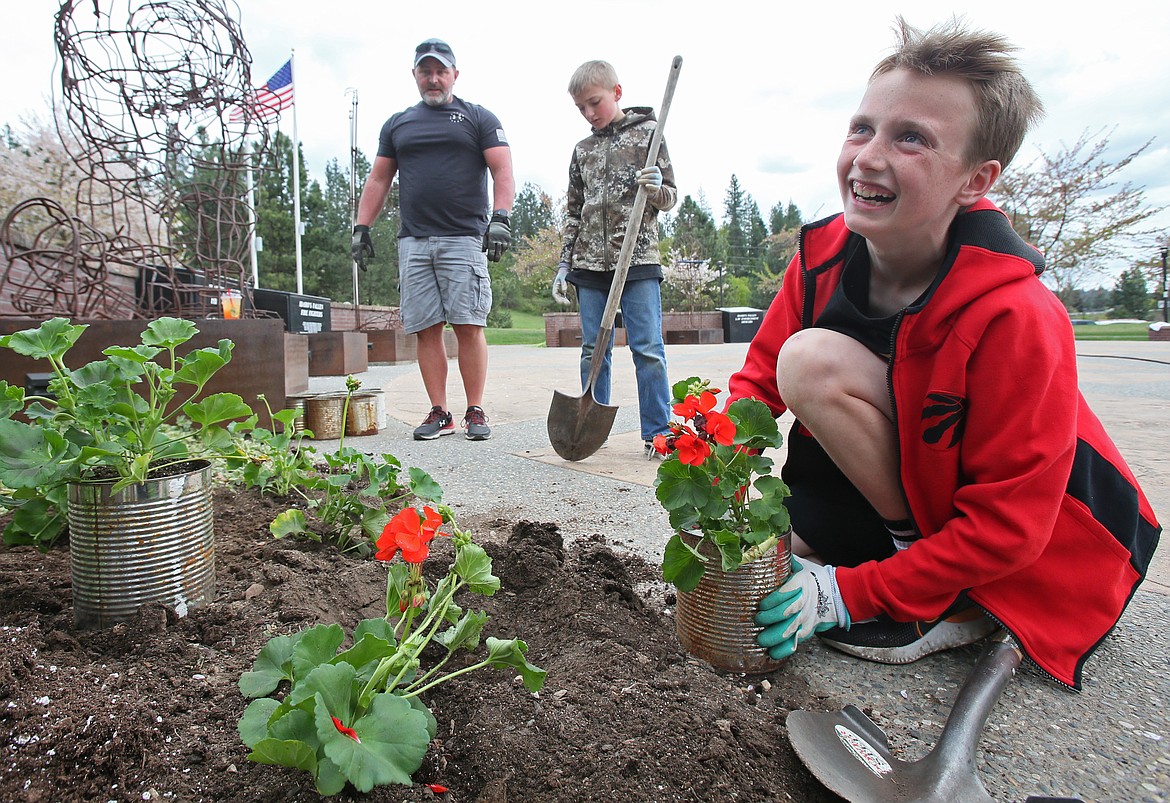 Hayden Meadows Elementary fourth-grader Hudson Rasor prepares to plant a red geranium at the Fallen Heroes Plaza in Coeur d'Alene on Monday. This is the 12th year teacher Kristin Childers and her students have participated in the project.
DEVIN WEEKS/Press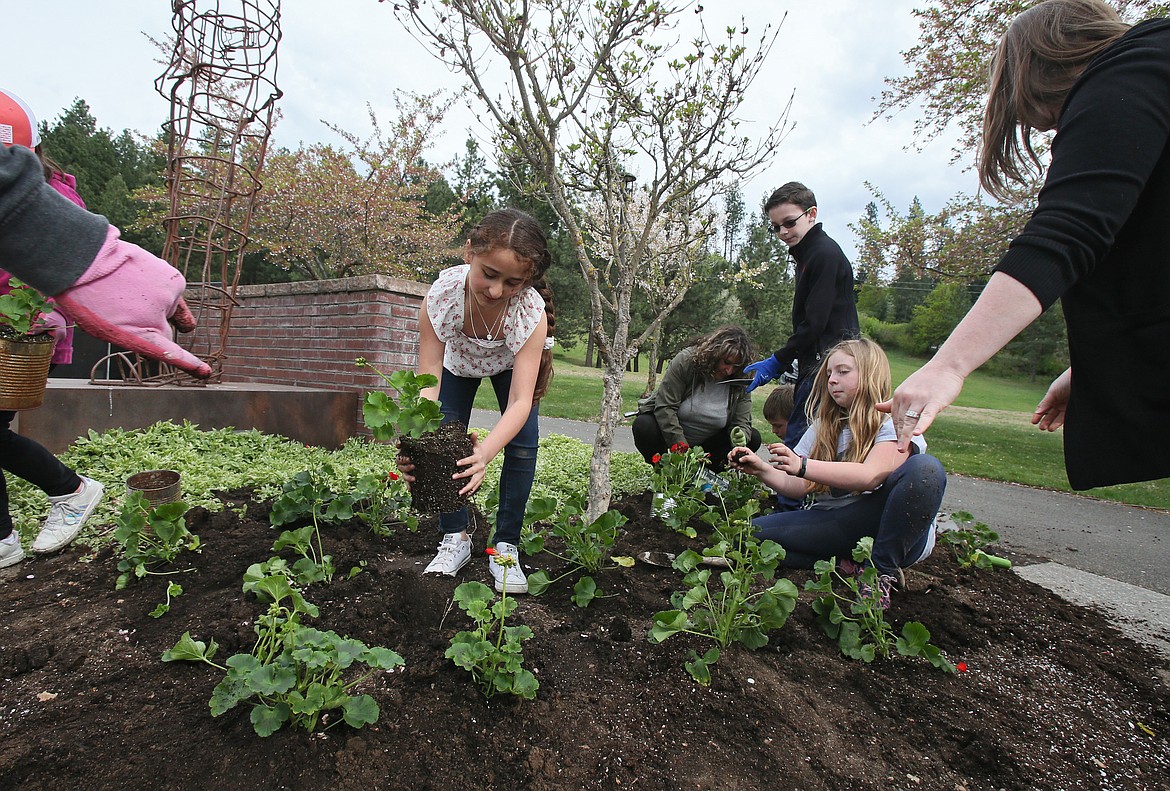 Carly Tuck, center, lovingly transplants a geranium into its new home at the Fallen Heroes Plaza in Coeur d'Alene on Monday.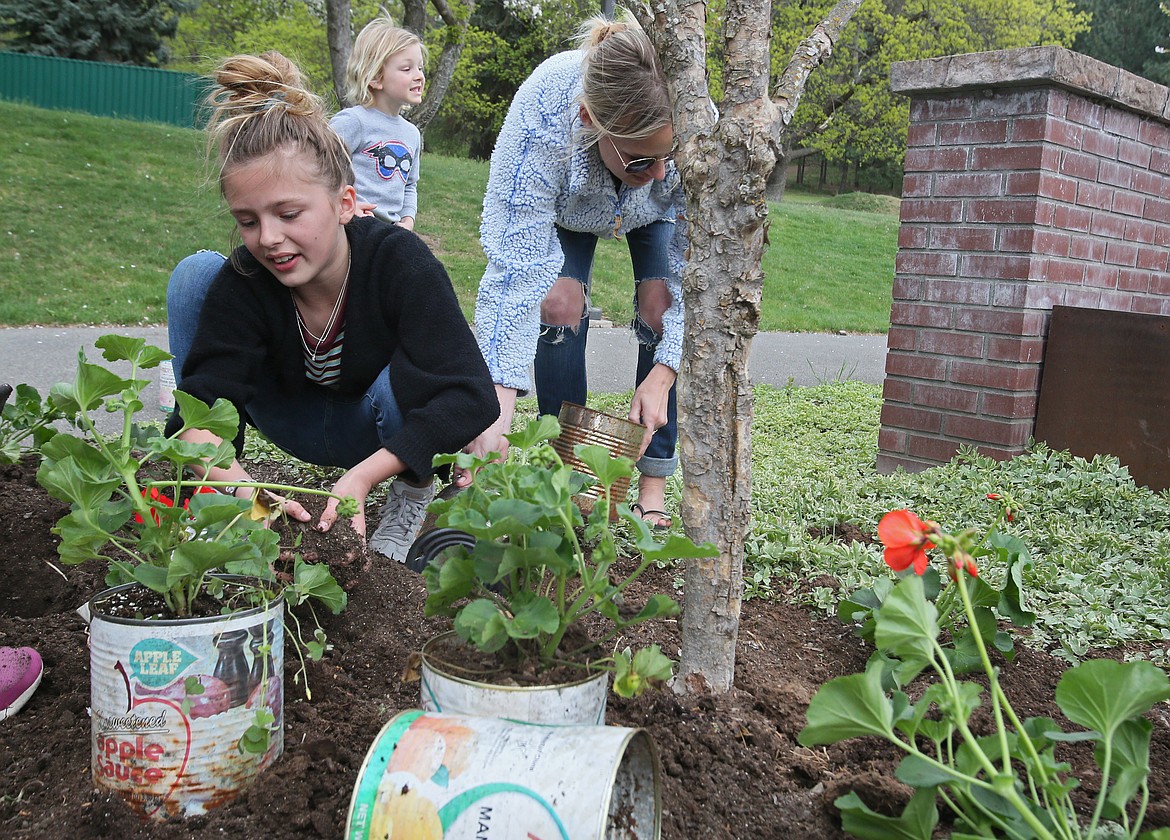 Rhya Shellard moves dirt with her bare hands Monday evening as she and her classmates plant red geraniums to beautify the Fallen Heroes Plaza in Coeur d'Alene for the season.
Previous
Next
by
DEVIN WEEKS
Staff Writer
|
May 4, 2021 1:08 AM
COEUR d'ALENE — Brilliant red geraniums with spring green stems and leaves sat in dirt-filled coffee cans, waiting for Kristin Childers' students to position them into the earth.
They didn't have to wait long. Nearly 20 of her fourth-graders were eager to gently knock the plants from their containers and give them a new home in the Firefighters and Law Enforcement Fallen Heroes Plaza at Cherry Hill Park on Monday.
"I dig holes for a living," fourth-grader Clayton McCormick jokingly said, digging his spade into the soil.
While the kids giggled and delighted in contributing to the beautification of the park, this annual event also serves as a learning moment for Hayden Meadows Elementary students.
"Everybody knows the sledding hill and the BMX, but nobody really knows what this part is about," Childers said. "It's kind of a way to do a community service project, learn about it, but then do something for it, too."
The memorial plaza has five 12-foot statues that honor the lives of public safety officers who fell in the line of duty. It also commemorates those who died in the attack on the World Trade Center in 2001 in New York City.
"We're planting a lot of plants," Clayton said. "We're planting all of them for our fallen heroes."
This is the 12th year Childers has coordinated a planting project at the plaza. Last year, she and her husband, Steve Childers, a retired Coeur d'Alene Police captain, planted the flowers themselves during the pandemic and school lockdowns.
"This is my big one. And I do Pennies for Protectors," Kristin said. "I give that to the police and fire memorial foundation."
Kristin is one of the teachers who oversees the greenhouse at Hayden Meadows. She asks if students want to collect money for the fundraiser and grow geraniums in their greenhouse. When they're ready, they plant them at the plaza.
"The money we raise for the flowers here goes back into our greenhouse, too," she said.
The project this year, including a commemorative plaza brick, cost $300.
Fourth-grader Rhya Shellard said while this is a fun project, "it's good for the community."
Classmate Sierra Tidd said this will bring more attention to the Fallen Heroes Plaza since a lot of people don't seem to know about it.
"I also think it's a good way to honor heroes," she said. "Planting these flowers beautifies the meaning of it."
"This makes our community stand out," classmate Jillian Osbon said. "It makes it brighter."
Ava Robertson said the Fallen Heroes Plaza is a great place to take photos, especially now that it has new flowers and cool statues.
Alex Alberts said this project "is pretty awesome."
"We're helping wildlife," she said.
Visit https://bit.ly/3eX4rbA to learn about the Fallen Heroes Plaza.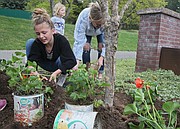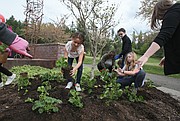 Recent Headlines
---