An up-and-down day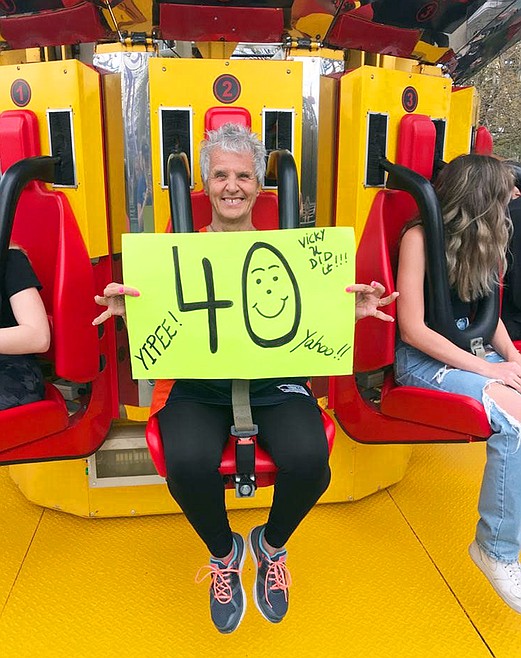 Photo courtesy Vicky Richardson Vicky Richardson holds a sign noting that she rode Panic Plunge 40 times at Silverwood Theme Park on Saturday.
by
BILL BULEY
Staff Writer
|
May 4, 2021 1:00 AM
COEUR d'ALENE — Vicky Richardson took the 'Plunge' Saturday. Over and over and over again.
And she had the time of her life.
"Oh my gosh, it was so fun," she said Monday. "I had the best day ever. I'm so glad I did it."
The Bayview woman, pretty much just because she thought it would fun, rode "Panic Plunge" 40 straight times during Silverwood Theme Park's opening day.
From the time gates opened at 11 a.m. to just after 4 p.m., the former Silverwood employee was either waiting in line, going up slowly, or coming down in one heckuva big hurry.
The crowd, she said, rooted for her and some asked for her autograph. People even offered to let her cut in line.
Paramedics checked on her twice.
She broke her June 8 personal record of riding Panic Plunge 35 straight times.
"Everybody was cheering me on and when I did my 40th drop," she said. "People were so kind and so sweet."
The 68-year-old was still delighted, even if a bit sore, two days later.
"I had such a blast," she said. "I feel like a kid."
People noticed.
One young man told Richardson, "You are an inspiration to me with what you're doing."
The circular Panic Plunge, with 12 passengers on board, slowly ascends 140 feet, pauses at the top, then drops 120 feet at 47 mph in a few seconds.
Richardson had high praise for Silverwood employee "Emery" who called her to step forth each time they had a single seat to fill.
Each ride, loading to unloading, takes about five minutes.
"It was because of her tenacity I was able to meet my goal," she said.
Richardson arrived at the park in Athol about 9 a.m. and was first at the entrance gate. She met owner Gary Norton and when she told him of her plans to ride Panic Plunge 40 times, he smiled.
"That's 40 more time than I've done it," Norton told her.
The view at the top of Panic Plunge, from east, west, north or south, was glorious on a sunny day and Richardson enjoyed them all.
Coming down wasn't quite as peaceful.
"I lost my voice," she said, laughing. "Every time I came down I screamed."
It was busy at Silverwood Saturday with waits of up to an hour on some rides.
"We had a phenomenal opening weekend due to the nice weather and most of our visitors coming from out of the area," wrote Stephanie Sampson, Silverwood's public relations manager.
The newest rollercoaster, Stunt Pilot, is expected to be open by month's end. This weekend, Mother's Day, Silverwood is offering mom a free ticket with the purchase of a ticket.
The park is also still looking to fill positions and has a job fair set for 10 a.m. to 3 p.m. May 15, with a starting wage of $15 an hour for employees 16 and older.
When Richardson was walking through the tunnel on the way back to her vehicle in the parking lot, two people asked her, "Are you the lady that rode Panic Plunge 40 times?"
An exhausted but proud Richardson said yes. She hopes her attitude and actions that earned her the title of "Queen of Bayview" inspire others, too.
"Life is too short," Richardson said. "If you have a goal, you go for it."
Recent Headlines
---