THE CHEAP SEATS with STEVE CAMERON: Update on Sammie, my visits to the Middle East, and more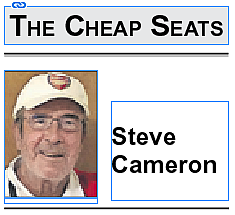 Steve Cameron Cheap Seats bug.
Yes, yes, we're going to do some notes and quotes to start the week.
First, though, we have to deal with something rather amazing.
I've been doing these sports columns for quite a while now, and yet dozens of readers continue to send emails asking about the well-being of Sammie TWGC (The World's Greatest Cat).
If you're one of those kind souls who care, you may know that Sammie has faced some serious health struggles in the nearly five years we've been roommates.
So, our update…
According to the vet, TWGC is doing fine (other than being elderly, age unknown).
She needs some joint medicine — Sammie, not the vet — because of arthritis in her front legs.
But she's in great spirits, she still sleeps curled up almost around my jaw, and however many of her nine lives have been spent, well…
TWGC is still purring along on house money.
She also thanks all her North Idaho fans for their support, and she promises to write each of you personally.
I think she's spoofing us about that, but hey…
She hasn't lost her sense of humor.
ITEM: Rasir Bolton is going to think he's landed in hoops paradise.
The 6-3 guard, who just signed with Gonzaga after spending two years at Iowa State — where he was the leading scorer last year at nearly 16 points per game — hasn't had much luck with his collegiate destinations.
Bolton played at Penn State as a freshman, the same season that coach Pat Chambers was fired for using racial slurs aimed at his Black players.
Seeking a fresh start, Bolton moved on to Iowa State — only to find an awful talent drain under coach Steve Prohm.
The Cyclones were dreadful, and Prohm was fired last year in the midst of a 2-22 nightmare.
Former UNLV coach T.J. Otzelberger came in, and immediately cleaned house — discarding Bolton, his one true star, along with several other players.
Gonzaga spotted Bolton's situation and didn't wait around, reaching out barely a week after losing the national championship game to Baylor.
Predictably, Bolton jumped.
Ray Bolton, Rasir's dad, credited the Zags for their recruiting style.
"The way they connected with him, they really did a good job of building a relationship," Ray Bolton said on his Twitter account.
Rasir joins a loaded backcourt that includes Andrew Nembhard, Dominick Harris and five-star freshman Hunter Sallis.
ITEM: The Kentucky Derby hit me with the type of memory that makes you chuckle.
You probably know that Medina Spirit captured the 147th Derby on Saturday, giving trainer Bob Baffert and jockey John Velasquez each back-to-back victories in the historic race.
Much of the post-race hoopla centered on Baffert, who apparently could train your pet mule to win a Breeders Cup race.
This was Baffert's seventh Derby triumph, which is almost unbelievable.
Meanwhile, though, I was thinking about the horse's owner, Amr Zedan.
A Los Angeles-born businessman and philanthropist, Zedan has a string of financial interests in Saudi Arabia — and he met Baffert for the first time at the airport in Dubai.
The Derby winner was named for Medina, the holiest city in Islam.
The Middle East connections made me recall my own first trip to that part of the world, just a few years ago.
I was doing some freelance work for a magazine based in Qatar, and I visited a couple of times.
My first night in Doha, the tiny Arab nation's only real city, I flopped on the hotel bed, grabbed a remote and turned on the TV.
And there, live and in glorious color, were the evening camel races.
Of course, now I'm wondering if Zedan owned camels before turning to horses and winning the Kentucky Derby.
And could Baffert train camels?
Without question.
ITEM: The Seahawks had only three selections in this year's draft, but the consensus from outside the club is that they helped themselves considerably.
Of course, that analysis includes the premier players they've acquired in return for those disappearing draft choices — safety Jamal Adams, guard Gabe Jackson and edge rusher Carlos Dunlap.
One thing the Hawks definitely have done is set up a heck of a battle for playing time at the cornerback spots.
At least one of them, anyway.
You may have seen or heard quotes about a possible reunion with Richard Sherman (more on that later this week), but with Saturday's draft of Oklahoma corner Tre Brown, Seattle has six players who appear to be competing for the outside corner spots.
Besides Brown, who is only 5-9, you have D.J. Reed (last year's starter at right corner), Ahkello Witherspoon, Tre Flowers, Damarious Randall, Jordan Miller and Pierre Desir.
Let's assume a couple of things from that information…
First, that the Hawks must be satisfied with their options at slot corner, where Ugo Amadi started most of last season.
Marquise Blair, who tore up his knee early in the year after looking good as a slot defender, clearly is on a great recovery track.
Second, Pete Carroll's love affair with tall corners on the outside has waned.
Maybe it was outstanding play from the 5-9 Reed last year, or maybe it was lack of available talent meeting the old height requirements, but…
Carroll made it clear that Brown was in the mix on the outside — not as a slot guy.
You probably won't go wrong betting that Witherspoon will get first crack at Shaquill Griffin's old gig at left corner.
Witherspoon is a free-agent signing who had some wild performance swings in San Francisco, but…
He's the most talented, if only the Hawks can add consistency to his resume.
Remember, though, Carroll is famous for being the defensive back whisperer.
That'll help.
Email: scameron@cdapress.com
Steve Cameron's "Cheap Seats" columns appear in The Press on Mondays, Wednesdays and Fridays. "Moments, Memories and Madness," his reminiscences from several decades as a sports journalist, runs each Sunday.
Steve also writes Zags Tracker, a commentary on Gonzaga basketball which will be published monthly during the offseason.
Recent Headlines
---