We're hiring!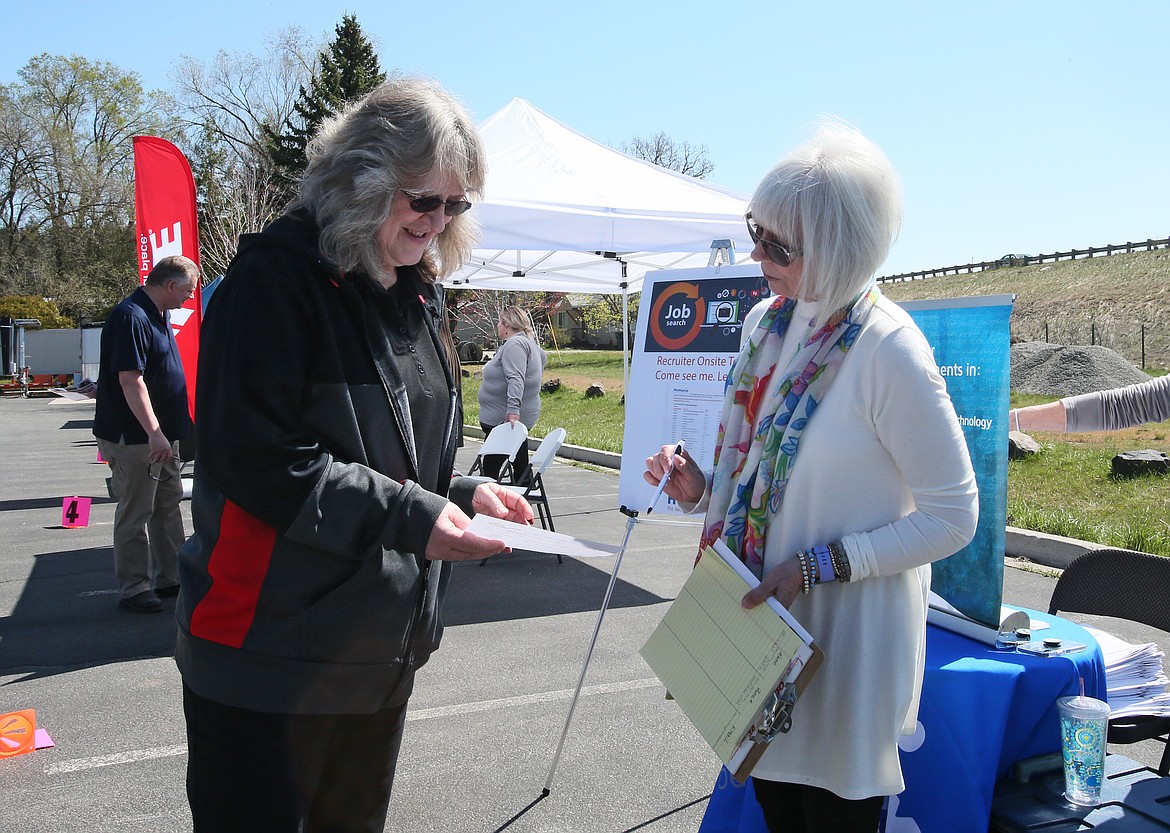 Gretchen Surber of Post Falls, left, chats with Humanix recruiter Yvonne Richardson during the Idaho Department of Labor's drive-through job fair April 21. Only about 50 job-seekers showed up, reflecting North Idaho's shallow pool of potential employees to fill its workforce. Idaho's seasonally adjusted unemployment rate was 3.2% in March, down slightly from 3.3% in February.
DEVIN WEEKS/Press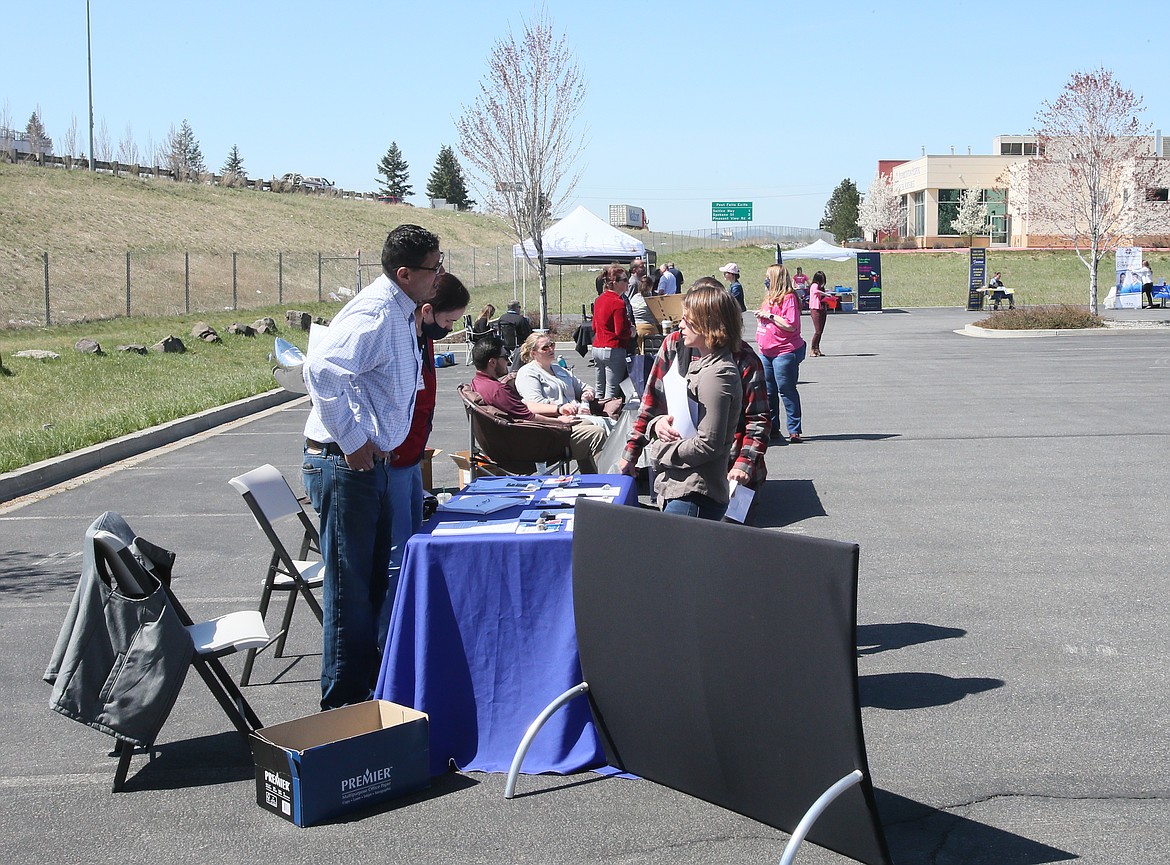 The Idaho Department of Labor held a drive-through job fair April 21 at its office in Post Falls. Employers are struggling to attract employees across industries in North Idaho. Some are increasing wages and tacking on bonuses just to retain workers through the summer.
Previous
Next
by
DEVIN WEEKS
Staff Writer
|
May 2, 2021 1:40 AM
It's easier than ever to find work in Kootenai County these days.
The problem is finding the people to do that work.
"We're receiving an elevated number of calls from employers, across all career fields, who are desperate for workers," Idaho Department of Labor supervisor Stacey Hanlon said. "We're hearing the same lamentation from all: 'We need people and we're not getting any applicants.'"
According to the Idaho Department of Labor, Idaho's unemployment rate was at 3.2% in March, dropping from 3.3% in February.
With an over-the-month increase of 1,100 jobs, the state's non-farm payroll growth leveled off over the past two months. Idaho's seasonally adjusted labor force was fairly unchanged in March at 899,375, down from 899,915 in February.
"Help wanted" signs are plastered on walls, windows and websites across the region, from fast food restaurants and service stations to hotels and amusement parks.
Sam Wolkenhauer, labor economist with the Idaho Department of Labor, said the labor shortage predates the COVID pandemic and represents a structural issue that originates in Idaho's demographics.
"Idaho's growth has resulted in a situation where consumption has outpaced the growth of the labor force," he said. "In the big picture, we have a supply and demand imbalance which is being played out across most of our major industries."
This labor shortage is a long-term problem that has been exacerbated by COVID. People have been hesitant to return to work amid health concerns and school closures, which kept many parents home with their kids.
"You can see how labor market conditions would make hiring especially difficult for businesses like restaurants and retail," Wolkenhauer said. "Workers in these industries have a lot of close contact with customers, so if someone is worried about catching COVID they are likely to choose other jobs, and with the state of the labor market and how many open jobs there are, they would likely have many other options."
The Eat Good Group, which owns a number of restaurants in the Inland Northwest, is offering $1,000 sign-on bonuses at Honey Eatery and Social Club in downtown Coeur d'Alene and Republic Kitchen and Taphouse in Post Falls for back-of-house employees who commit to their jobs through the summer. Starting pay depends on experience.
"I know we're not the only ones," Republic assistant manager Abby Chapman said. "I have a lot of of friends in the service industry. I know everyone's struggling to find people who will stay."
Chapman has worked in the service industry for about nine years. She said she is unsure if wages are a factor in the employment struggle or if there are just too many options.
"I know COVID did have a lot to do with it," she said. "It's been hard hiring at all since then. I don't know if people are still on unemployment or going over to Washington."
Wolkenhauer said unemployment benefits don't seem to be a factor in Idaho's labor shortage. Fewer than 15,000 people are claiming benefits across the state, and fewer than 900 claimants are in Kootenai County.
"Even if all those people returned to work at once, it would not be enough to fill all the open positions," Wolkenhauer said, adding that work search requirements have been reinstated in Idaho as the state returns to normal employment levels.

Even some of North Idaho's largest employers, Silverwood Theme Park and The Coeur d'Alene Resort, are bumping wages and thinking creatively to court and retain talent.
Silverwood is gearing up for a busy season and is planning some of its earliest opening dates. The park is now open weekends. Boulder Beach is opening Memorial Day weekend. Both will open full time June 12.
A recruitment blitz is underway to fill roughly 1,500 positions before the 2021 season opens. Spokesman Jordan Carter said the park is behind on applications from where it should be. Presently, the park has fewer than 1,000 employees on the roster.
"We've rehired and done everything we can to get everyone who worked here in the past back," he said. "Now, we need those people who have never worked out here or want to reconsider working out here. We're really looking for those motivated people."
Here's some motivation: increased wages.
Everyone 16 and older will start at $15 per hour this season. Last year, a starting wage for ride operators was $11.50 per hour. For those ages 14 and 15, base pay starts at $9 per hour.
"Beverage stewards who are 19 and older will be $16 per hour," Carter said.
He said they're trying to get everybody into the fold as soon as possible.
"We're a theme and water park; we can't operate without lifeguards and ride operators," he said. "For us, the biggest thing that makes a guest have a great day at the park is our cast and crew members. If we don't have enough, it takes a hit on everybody."
Silverwood has positions for all ages, from teens to off-duty teachers looking to pick up some extra income.
"It's for anybody who wants to have a rewarding job in the summer," Carter said. "We'll work with them on hours and have a lot of fun doing it."
Silverwood offers employee perks such as free season passes, free tickets for every 30 hours worked, after-hour parties, a prize-filled end-of-season bash, several $1,000 scholarships for students heading to college, and flexible scheduling, Carter said.
"Really, you're that frontline to giving these guests coming to the park a great experience and making awesome memories," he said. "We need to get as many of these (positions) hired so that we can have a great season."
Silverwood is hosting a hiring fair at the Kootenai County Fairgrounds May 15 from 10 a.m. to 3 p.m.
Brianna Shriner, human resources manager for The Coeur d'Alene Resort, said the hiring pool is "very different from what we've been used to in the past."
"We have quite a few management meetings focusing on redirecting how we're hiring and how we're retaining employees," Shriner said. "We're really focusing on retaining the employees we have right now."
The Resort has a staff of roughly 1,100 employees in the summer. Young, first-time employees start around $13.50 per hour. With gratuities, employees can make bank. The "Gooey Girls" at Dockside who make its famous enormous desserts can make up to $20 an hour, Shriner said.
"Those tipped positions are really appealing to the younger crowds, for sure," Shriner said.
As a hub for summer events, The Resort has positions desirable to high school and college students and young people on summer break. Right now, it's focusing on housekeeping, laundry and kitchen staff and later will focus on reservationists and front desk workers.
The Resort offers benefit packages, health insurance, 401K plans and growth opportunities. Sign-up bonuses and bonus structures are in the works for certain departments, including housekeeping.
"Giving them bonuses throughout the summer will hopefully retain them as well," Shriner said.
Humanix Staffing, a job placement agency, has more than 90 positions to fill, mostly in North Idaho and Spokane. These jobs range from machinist, custodian and receptionist to brake press operator, welder and financial analyst. The wages range from $13.50 to $25 per hour and maybe more depending on experience.
"Seriously, we are struggling," recruiter Yvonne Richardson said. "It's tough."
Humanix was among about 20 employers who had booths at a drive-through job fair at the Department of Labor on April 21. Only about 50 job-seekers came by.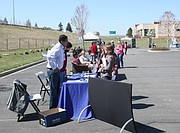 Recent Headlines
---