PREP SOFTBALL: Coeur d'Alene topples error-prone Sandpoint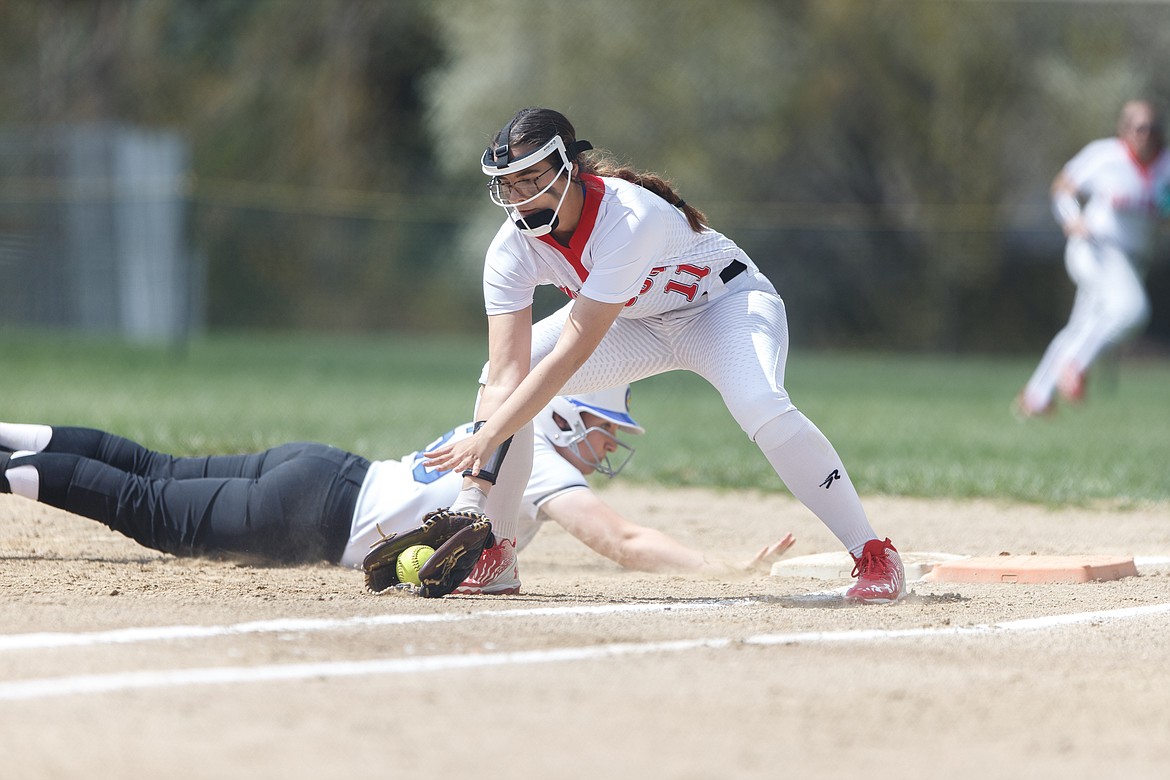 JASON DUCHOW PHOTOGRAPHY Matea Dorame of Coeur d'Alene dives back to first as Sandpoint first baseman Kaylee Brackett fields a throw Saturday at Sandpoint Middle School.
SANDPOINT — They played on grass and dirt instead of turf, but the Coeur d'Alene Vikings made the best of it in a 23-1 victory over the Sandpoint Bulldogs in what became a nonleague softball game Saturday at Sandpoint Middle School.
The Vikings (7-12) traveled north expecting to play on the new artificial turf at War Memorial Field, but a lacrosse tournament bumped the softball teams to one of the Bulldogs' former home fields.
Some of the Coeur d'Alene players were able to have cleats delivered in time for the game, but others had to play in shoes they brought to use on the turf.
"We made it work," Coeur d'Alene coach Bobbi Darretta said.
Skylar Burke, in her first game back since suffering a shoulder injury April 20 at Lewiston, had three hits for the Vikings. Alexis Blankenship led off the second inning with an inside-the-park homer. And Bekah West, a senior who hadn't pitched in three years, threw a scoreless fifth, walking one and retiring the side on four batters.
"She came up to me (during the game) and said, 'Can I pitch?'" said Darretta, a former pitcher at Lake City, and now a private pitching coach. "I wish I would have known (she had pitched before); it was a lot of fun to watch her."
Sandpoint honored eight seniors on its senior day. In the bottom of the third, senior AnnaMarie Gonzalez opened the inning with a single and eventually came around to score the Bulldogs' only run.
Gonzalez typically plays on the junior varsity team, but she took advantage of her opportunity to shine on varsity.
"She has worked harder than every player in this program, so for her to reap that reward was really exciting," Sandpoint coach Elizabeth Hawkins-Williams said.
Sandpoint committed 12 errors. Since spring break, the Bulldogs have lost 10 straight games.
Sandpoint's game at Coeur d'Alene on Tuesday — the Vikings' senior day — was not played because of a communications snafu concerning umpires, and will not be made up because Sandpoint has two doubleheaders slated vs. 4A opponents this week.
Because Sandpoint and Coeur d'Alene will not be able to play both of their league games, the league reverts from a combined Inland Empire League to separate 5A and 4A IELs.
Coeur d'Alene wraps up the regular season Thursday at Lake City, resuming the second game of a doubleheader which was called due to rain with no score in the bottom of the first.
Darretta said the Vikings hope to honor West before Thursday's game — despite it being on the Timberwolves' home field.
"They (the Vikings) did something for the Lake City seniors when same situation happened a few years ago to them, so we're returning the favor," Darretta said.
Sandpoint (6-13) travels to Moscow on Tuesday and plays host to Lakeland on Thursday.
Coeur d'Alene 640 94 — 23 18 1
Sandpoint 001 00 — 1 6 12
Game called after 5 innings due to 10-run rule.
Kristine Schmidt, Bekah West (5) and Kaydence Constable; Jaden Dickinson, Kinzie Ward (3), Jaidyn Inman (5) and Lily Gammon.
HITS: Cd'A — Burke 3, Blankenship 3, Farrar 2, West, Moehring 2, Dorame 2, Bakken, McPhedran 2, Cleave 2. Spt — Barlow, Ward, Gammon, Brackett, Cash, Gonzalez. 2B — Blankenship, McPhedran, Gammon. 3B — Dorame. HR — Blankenship.
St. Maries 11-12
Grangeville 1-6
ST. MARIES — Taci Watkins struck out 14 in a six-inning one-hitter in the first game, and went 7 for 9 on the day at the plate as the Intermountain League champion Lumberjacks swept the Bulldogs in their league finale.
Watkins was 4 for 5 with four RBIs and three runs scored in the second game for St. Maries (17-2, 12-0 IML).
The lone hit in the opener for Grangeville (7-11, 5-7) was a leadoff single in the fourth.
Stacie Mitchell doubled and tripled and drove in two runs in the opener for the Lumberjacks.
In the second game, St. Maries led 6-4 in the bottom of the fifth when Watkins singled in a run, then scored on a triple by Jenna Holder, who finished 2 for 2 with three RBIs.
In the sixth, Emily Hill, who finished 3 for 4 with two RBIs, singled in a run, and Watkins added a two-run triple.
St. Maries is scheduled to wrap up the regular season Friday with a doubleheader at Genesee.
FIRST GAME
Grangeville 000 100 — 1 1 2
St. Maries 023 402 — 11 15 5
Game called in 6th inning due to 10-run rule.
A.Zahorka and Smith; Taci Watkins and Jenna Holder.
HITS: Grange — Vanderwall. SM — Badgett, Telford 2, Watkins 3, Holder 2, Barden, Miller 2, Mitchell 2, Fuller, McGreal. 2B — Barden, Holder, Miller, Mitchell, Watkins. 3B — Mitchell, Telford, Watkins.
SECOND GAME
Grangeville 020 200 2 — 6 8 4
St. Maries 311 124 x — 12 13 1
A. Zahorka and Smith; Gracie Barden, Taci Watkins (5), Darriene Todd (6) and Jenna Holder, Lexi Chappell (6).
HITS: Grange — Vanderwall, Barger, Smith 2, Kent 2, Anderson, Zimmerman. SM — McGreal, Telford, Watkins 4, Holder 2, Miller, Spray, Hill 3. 2B — Kent 2. 3B — Zimmerman, Holder, McGreal, Spray, Watkins.
Recent Headlines
---