Cranberry Road Winery to open Wednesday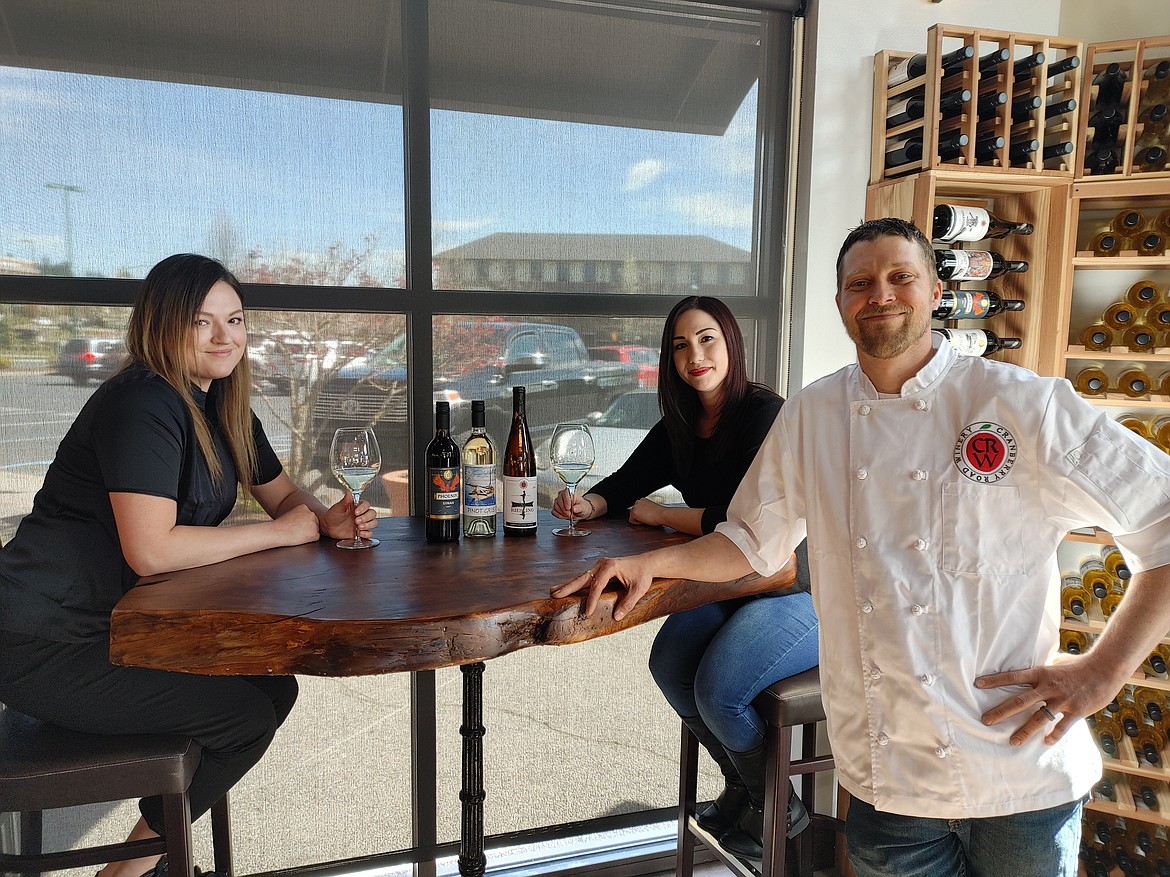 Genevieve Croyle, Danielle Cliff and Travis Harper are among the new employees at Cranberry Road Winery, which is scheduled to open Wednesday in Riverstone.
Courtesy photo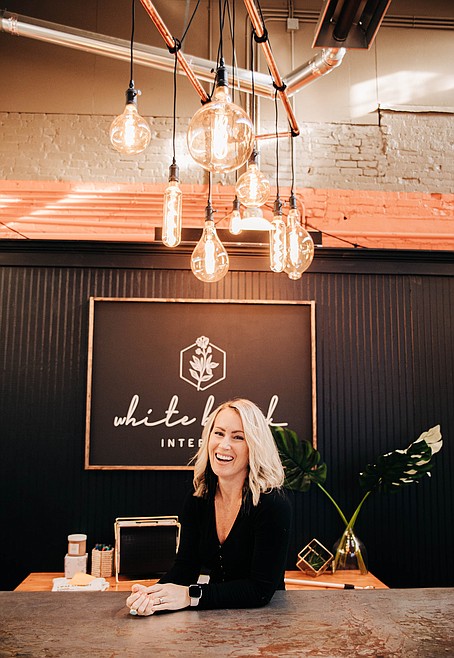 Owner Griffin Turnbull is seen inside the new downtown location of White Brick Interiors, at 311 Coeur d'Alene Ave.
Previous
Next
by
NILS ROSDAHL/Special to The Press
|
May 2, 2021 1:20 AM
With an interesting and tasty menu and a very special decor, Cranberry Road Winery will open Wednesday at 2380 N. Old Mill Loop (between Beyond Bones Chiropractic and Sushi I) in Riverstone.
The high-end bistro menu comprises steaks, seafood, pizzas, salads, pastas and more with an open kitchen where customers can see the food being prepared and cooked. Other options are starters, desserts and a kids' menu.
The tables, counters and even the chandelier are of handmade cedar of several shapes and sizes. It also has five TVs.
The restaurant moved here from Westport, Wash. Hours are 11 a.m. to 9 p.m. Wednesday through Sunday. Phone 208-966-4991. Check www.cranberryroad.net.
White Brick Interiors moves to downtown
With home decor, jewelry, gifts and novelty and locally made items, White Brick Interiors has moved from Riverstone to 311 Coeur d'Alene Ave. (the former Modern Glass building).
Owner Griffen Turnbull and helper Anissa Limesand have hours of 10:30 a.m. to 6 p.m. Tuesday through Thursday, 10:30 to 4:30 Friday and 10:30 to 3:30 Saturday.
Phone 208-755-8641. Check www.thewhitebrick.com.
Prairie Crossing development planned
A 50-acre parcel in the northeast corner of Prairie Avenue and Highway 41 is in the planning stage.
Also bordered by the Spokane International Railroad to the north, the property diagram includes a grocery store, bank, gas station, a fast-food drive-through, retail spaces and 264 apartments.
Brokers are Steve Ridenour and K.C. Reese with www.naiblack.com.
Cd'A called nation's 'hottest housing market'
The lead sentence in an article of the Wall Street Journal says "The picturesque lakeside city of Coeur d'Alene, Idaho, tops the list of the country's hottest emerging housing markets."
The website identifies the top metro areas for home buyers seeking an appreciating housing market and appealing lifestyle amenities.
"Buyers from other western states are moving to northern Idaho in droves seeking a more rural and less expensive place to live," the article says. "Coeur d'Alene is also a popular second-home and luxury market owing to the area's natural beauty and access to outdoor activities such as skiing and water sports."
The Wall Street Journal/Realtor.com Emerging Housing Market Index ranks the 300 biggest metro areas in the nation. Following Coeur d'Alene are Austin, Texas., Springfield, Ohio, Billings, Mont., and Spokane, Wash., "just across the border from Coeur d'Alene."
Now the Tidbits
• Watch for Fairmont Memorial at 206 W. Ironwood.
• Back Forty Real Estate will be at 311 Coeur d'Alene Ave.
• A new Jitterz coffee stand will be at 7925 N. Ramsey.
• The Two Lakes Motel is near completion at 320 E. Coeur d'Alene Lake Drive.
• Stormin' Norman's Shipfaced Saloon will be at 314 N. Fourth.
• Evidently a four-story building is planned for across from Red Robin in Riverstone with underground parking, the first floor commercial and the upper floors condos.
• A "Coming Soon" sign for Consign Furniture & Jewelry is in the southeast corner of Lancaster Road and Warren Street.
• Watch for something coming into the ShopKo building.
• Watch for something in the Pier 1 Imports building.
• A new commercial and residential building will be built at Government Way and Davidson Avenue.
• Terraza Waterfront Cafe will be at 1950 Bellerive Lane in Riverstone.
• North Idaho Physical Therapy will have a new location on Schneidmiller Avenue in Post Falls.
• Killer Burger will put its first Idaho location near the intersection of Prairie and U.S. 95.
• Watch for major changes with the Burger Bunker and Bunker Bar off Spokane Street in Post Falls.
• A new building for Linden Coffee Co. is under construction at 1502 N. Third.
• A new gas station-convenience store will be in the northeast corner of Atlas at Seltice.
• Truck manufacturing company Kenworth plans a large building for 4374 W. Expo Parkway west of Post Falls.
• A large storage complex and new corporate office for Steel Structures of America will be built off Highway 41.
• The Den will be a new tavern at 761 N. Idaho St. in Post Falls.
• My Nails & Spa will be off Canfield Avenue.
• The CdA Corner Store is adding a kitchen and tables downtown.
• A Union Gospel Mission thrift store is under construction at 7761 N. Government Way.
• Squatch Mountain will be a gift store at 211 E. Sherman.
• Takara Restaurant will open on Lakeside downtown.
• Emerge will be at 119 N. Second St.
• The building at 1015 Ironwood will house Element Dental and administrative offices for Northwest Dental Benefits.
• Schmidty's Burgers will be at 1524 E. Sherman.
• A 120-room boutique hotel will be where the Outback Steakhouse was off Northwest Boulevard and I-90.
• Coeur d'Alene Nissan will have a major addition to its building off U.S. 95.
• Metro Car Wash will be near Wendy's in Post Falls.
• The Hayden Dairy Queen will be at 513 W. Hayden Ave.
• 108 North is under construction connected to the Moose Lounge downtown.
• A new motel is under construction on Coeur d'Alene Lake Drive between Mullan Avenue and Michael D's Eatery.
• Safe Splash is under construction on Kathleen Avenue.
• The "…ward" words such as "toward" don't have an "s". And "farther" refers to distance (hint is the "far" in it), and "further" refers to additional, such as "We'll look at this further."
• • •
Contact Nils Rosdahl at nrosdahl@cdapress.com.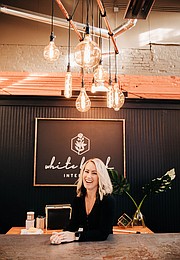 Recent Headlines
---