Penning a new chapter
by
BILL BULEY
Staff Writer
|
May 1, 2021 1:10 AM
POST FALLS – It was 41 years ago when John Hartung was named director of a library in Kootenai County.
It wasn't much of a network.
Hartung worked out of small rented office, had a 1967 bookmobile, 2,500 books and a typewriter.
"And that's it. That was the entire county library at that point," he said, shaking his head.
When he started, he was the only employee, working about 65 hours a week.
"I did it all. I drove the bookmobile, I did all the book ordering, I did all the cataloguing, I did all the processing," he said, laughing.
For all that, Hartung was paid $1,000 a month.
Today, under his leadership since 1979, the Community Library Network grown from a few beginning chapters into a full-length novel.
It has facilities in Athol, Harrison, Hayden, Pinehurst, Post Falls, Rathdrum and Spirit Lake, and a large bookmobile fleet.
The network employs about 100 people, offers 250,000 books and magazines and other print products, and offers another 40,000 or so electronic materials.
The CLN has about 60,000 cardholders and in a normal year, more than half a million adults and kids come through its doors.
The 70-year-old Hartung, who brims with enthusiasm and energy, is proud of what he — and most of all, his staff — have done.
"I have an excellent staff," he said.
With what many consider an excellent Community Library Network in place, Hartung decided this chapter of his life is over. Friday was his final day, the last page, if you will, of leading the network, as he heads into retirement due to health reasons and a need to rest more and take it easy.
The network's new director, Amy Rodda, starts Monday.
It's a bittersweet moment for Hartung, who would have preferred to have penned a few more plot twists to his career.
"I would not have retired if my health had held up," he said Thursday as he sat in his office, now mostly empty with but a few boxes to go. "I love this job."
When he started out, he set two goals: Work 40 years at the library and work until he was 70.
"I succeeded in both of those things," he said.
He earned his undergraduate degree from the University of Colorado in Boulder and has a master's degree in library management from the University of Idaho. In his final year as director, he earned $115,000, a testament to his dedication and success.
But this was never about money.
"I got into this because I love public service. I certainly didn't get into it because I was getting paid a whole lot," he said.
Hartung grew up in Rhode Island and was 5 years old when he got his first library card. He was 7 when he biked, alone, to the library for the first time.
He recalls checking out 15 or so volumes of the Freddy the Pig book series by Walter R. Brooks and illustrated by Kurt Wiese.
The library opened new worlds to him, and he ventured eagerly into them.
Wherever he went — Moscow, Denver, Phoenix, Winnemucca or Santa Fe — it wasn't long before he walked quietly inside that community's library doors, stopped, looked and listened.
"Usually when I move to a new place, after I move my stuff in the house, the first thing I do is find the library," he said.
In North Idaho, he was driving the bookmobile before taking the director title.
It took time to build up what was then and is still today, legally, the "Consolidated Free Library District."
He pulls out an old picture of what was the Rathdrum library in about 1990. It was a doublewide trailer near the railroad track. Every time the train passed, the trailer and the pages of its book shook.
Another picture shows a small lifeless, gray building, what was some 35 years ago the Hayden Library.
"We had crappy facilities," he said bluntly.
One of the first things he did as director was to establish focus groups with a goal to set a long-term goal for the libraries in the county. Consolidation was a priority.
In the 1980s, Rathdrum, Athol, Hayden and Spirit Lake libraries became part of the network, which was renamed in 1985 as the Community Library Network.
"We created in essence a new entity," he said.
As years and decades passed, the CLN took on more prominent roles. It wasn't just a place to check out books and study quietly. It was where people could file for unemployment, learn how to use a computer and discover new skills. Teens could hang out there — up to 50 a day did at the Post Falls Library pre-COVID — and an overwhelmed mom could get a much-needed chance to relax and read while her child attended story hour.
"I need this place," a woman told Hartung one day. "I need to be able to come in here."
It's stories like that, moments with the public and staff, Hartung will miss most.
"That's going to be really hard to fill," he said.
When asked about challenges of his job, Hartung spoke of convincing people they should visit and use the library, as it's supported by their tax dollars.
That wasn't the only challenge he mentioned.
"Every day is different. There's always something strange going on. Libraries attract strange people," he added, laughing. "I mean that in both good and bad. I've met some amazing folks at the library."
Now, it's time for life's next chapter. With his wife of 42 years, Joan, at his side, he won't be reading dull books.
Once he's rest up and feels fully recovered, he and Joan will easily fill their days. They love sailing on Lake Pend Oreille. John plays clarinet in the Panhandle Symphony. They enjoy cruising the roads in their rare 2003 Mazda Miata.
Despite the Community Library Network's success under his leadership, Hartung turns away credit and points it, instead, at those who worked for him.
"You can have a beautiful building and all kinds of stuff in it, but if you don't have a good staff, you don't have a good library," he said.
Thanks to John Hartung, the Community Library Network has both.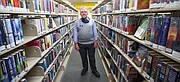 Recent Headlines
---