Graphic design students win poster contest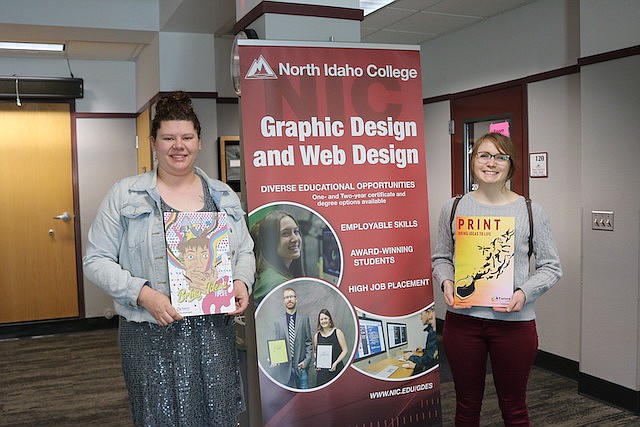 North Idaho College graphic design student Crystal Hardt, right, won first place in the Pacific Printing Industries Association's annual ExploreVizComm poster contest. Hannah Deruyter, left, won third place. This is the fourth consecutive year an NIC student has won first place in this regional contest.
COURTESY PHOTO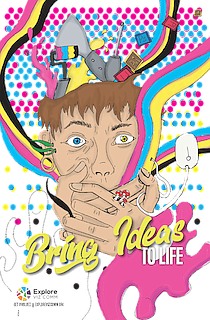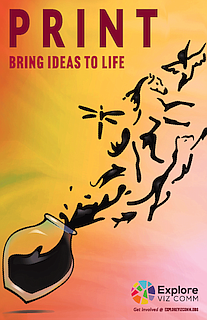 Previous
Next
North Idaho College students won first and third place in the Pacific Printing Industries Association's annual ExploreVizComm poster contest.
Crystal Hardt took the first-place prize in the college entry category of the competition that attracted more than 100 entries from students in Alaska, Hawaii, Idaho, Oregon, Utah and Washington.
Hardt, who will be graduating from NIC in May with an Associate of Applied Science degree in graphic and web design, created a poster with an illustration of a falling ink jar with images – a dragonfly, a horse, a hummingbird – in the spilling ink.
The mission of the contest is to create a poster that inspires businesses to support educational outreach in the print and graphics industry. The themes of the competition were "Print – Bring Ideas to Life" or "Print – Messaging You Can Touch."
"I love surrealism, so while my poster isn't as off-the-wall as some, I used a bit of that principle in my design," Hardt said. "I especially appreciated that it brought me to a point where I could be creative in representing print and ink, essentially bringing ideas to life in a visual manner."
Hardt will receive a $500 scholarship from PPI.
NIC graphic design student Hannah Deruyter won third place in the contest.
ExploreVizComm is a career educational program funded by the Educational Trust of the Pacific Printing Industries Association. Supported by companies in the print and graphics industry, ExploreVizComm works to educate students about the wide range of jobs in the industry.
This is the seventh year PPI has run the student poster competition, and the fourth consecutive year that an NIC graphic design student has won first place.
"North Idaho College continues to have outstanding students who have won our contest for several years," said a statement from PPI. "Thank you to Phillippe Valle for his contribution and efforts to keep the program going."
Valle, an associate professor of graphic design, is the longtime coordinator of NIC's graphic design program.
In 2018, NIC graphic design program students won first, second and third place, and last year, NIC students won first and second place.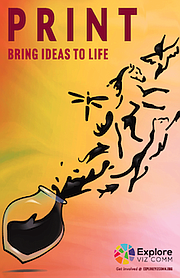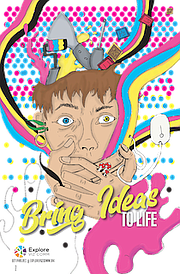 Recent Headlines
---