THE FRONT ROW WITH JASON ELLIOTT: Getting the finish the kids deserve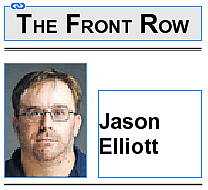 Granted, this prep season has been different in a lot of different ways.
Limited travel to within league rivals in most, if not all, cases — and the cases, due to the COVID-19 pandemic — will do that.
But just in a few moments at Post Falls High last Friday, it felt different again.
It felt like, for the first time in almost 13 months, things were getting back to normal.
MAYBE IT was the packed bleachers, or the nice weather with temperatures in the 60s for the Christina Finney Relays track and field event, but it really felt like things were back to normal.
Kids competed, encouraged and rooted for each other, something that you see all the time when it comes to the sport.
As one coach explained, it was the best weather they'd had for a meet all year with some events ran in heavy wind or rain, or in some cases, a little bit of snow.
None of that mattered last week, or will as Post Falls High plays host to the District 1 all-star meet on Thursday afternoon. While it's also called the Meet of Champions, nobody's had the chance to prove that since 2019.
Granted, we could see a handful of those athletes on top of the state podium at either Eagle High (5A, 4A meets) or Middleton (3A, 2A, 1A meets) in a few weeks. Champions or not, you can get a good idea of who to watch come that final weekend from Thursday's event.
THE NORTHERN part of the state gets ready to host state golf tournaments May 17-18, and it's a wonder if this isn't the year someone can win it on their home turf.
The 5A tournament is at Avondale Golf Club in Hayden Lake, 4A at The Links Golf Club in Post Falls, 3A at Twin Lakes Village Golf Club in Rathdrum and 2A at Circling Raven Golf Club in Worley.
Just in case you're curious, those attending must be at least 25 feet from the competitors at all times, according to the state golf manual listed on the Idaho High School Activities Association website.
In other words, keep your distance so the kids can keep playing.
LOOKING BACK at the last year, did it feel like the athletes got cheated out of finishing what they started?
Sure, but it was everywhere else around the country.
Maybe next year, we'll get to see our neighbors a little more and see some of those nonleague matchups that pack the stands again.
For right now, it's best to enjoy what we have in front of us.
If we've learned anything over the past 13 months, it could be over before we know it.
Jason Elliott is a sports writer for The Press. He can be reached by telephone at (208) 664-8176, Ext. 2020 or via email at jelliott@cdapress.com. Follow him on Twitter @JECdAPress.
Recent Headlines
---