THE CHEAP SEATS with STEVE CAMERON: Zags still enjoying the stream — er, the ride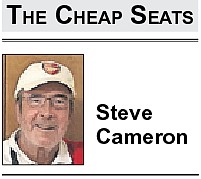 Mark Few was in just the mood you'd have expected.
Cranky.
Yes, the national media probably had something to do with that, since a lot of them are more used to finding Coach K or Roy Williams sitting down for this interview.
Right off the bat, a couple of questions carried the implication that, yeah, Gonzaga's happy after slipping past USC, but this season is all about winning that national championship.
Right?
Those of us who know Few, even a little bit, winced at our Zoom screens.
Frown warning.
As a lifelong fisherman, Few made it very clear that he wasn't tossing back a Final Four — just because he wants to land something bigger.
"Hey, people keep moving this thing forward on us," the coach snapped. "That's not how we roll.
"This right here is quite an accomplishment, and we're going to enjoy the heck out of it."
After yet another question on that same theme, I suspect the media got Few's message.
In case they missed the point…
"That's not how we roll," Few repeated. "It's not how I roll."
IF THE worldwide mob of reporters hadn't been listening in, I would have been tempted to hit the "Raise Hand" function, been recognized, and asked…
"So, Mark, you're saying that's really NOT how you roll, then?"
Since the coach knows me, and occasionally puts up with my ludicrous sense of humor, he might have been amused.
The NCAA spokespeople running the show, however…
Probably would not.
To be fair to the national media gang, it's probably no surprise that they were thinking about next weekend — and the possibility of the first undefeated season since 1976.
After all, the Zags had just absolutely pounded USC 85-66, pocketing their fourth straight cruise-control victory in this tournament.
All the rest of the country knows is that Gonzaga made the first two rounds of this affair look like batting practice.
USC's supposedly smothering zone was dismantled with ease.
Ditto a man-to-man effort that the Trojans tried when it was obvious their zone was being shredded.
And even that wasn't even the REAL killer.
The Zags' defense, so often overlooked because the offense has been "historically good," (Few's words), just keeps tightening the screws on some pretty salty teams.
USC WAS just another bunch who couldn't find any rhythm as the game was decided early on.
The Trojans also learned that any of Few's guys, including Drew Timme — note the very first possession of the game — will steal the ball and start one of those blistering fast breaks.
It's a wonder they don't steal someone's socks.
Look, it's fair to watch this team play, and then start peering ahead to matchups at the Final Four.
Can they really pull it off?
Can they run the table?
I mean, it's been 45 years.
Honestly, I think Few knows that discussion of an unbeaten season is reasonable.
He probably walked into the interview session feeling certain that questions about winning Gonzaga's first national title would come up immediately.
I SUSPECT that's why Few went overboard to insist that the Zags and their fans are celebrating the West Region title — yep, they have a big ol' trophy, and Jalen Suggs met the media with the net hanging around his neck.
Few is definitely one of those people who will tell you to enjoy the journey instead of worrying about the destination.
But don't think, even for a second, that the Zags aren't zeroing in on one more goal.
It's not very far off on the horizon, either.
Suggs let that cat out of the bag when he followed Few into the interview room.
"We've got to get two more," he said.
Oops!
Sorry, Coach, it just slipped out.
Email: scameron@cdapress.com
Steve Cameron's "Cheap Seats" columns appear in The Press on Tuesdays, Wednesdays and Fridays during the NCAA tournament. "Moments, Memories and Madness," his reminiscences from several decades as a sports journalist, will return and run each Sunday after Gonzaga's season is concluded.
Steve also writes Zags Tracker, a commentary on Gonzaga basketball which will be published each Thursday during the tournament.
Recent Headlines
---