THE CHEAP SEATS with STEVE CAMERON: The numbers say beating the Zags is easier said than done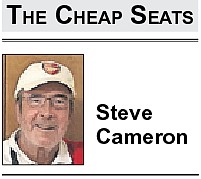 Time for a short math class, boys and girls.
In 29 games, Gonzaga is shooting almost exactly 64 percent on attempts inside the 3-point line.
It doesn't appear that the Zags are rattled as the NCAA tournament moves along, either, since they hit an almost obscene 76 percent on their 2-point shots in Sunday's 83-65 waltz against Creighton.
Right, back to our math…
No one still in the tournament — shoot, almost no one in the history of college basketball — can match the Zags in the accuracy of their 2-point shooting.
OK, so if you are a potential opponent and you cannot possibly outscore Gonzaga inside the arc AND you're going to give up more chances than you get (the Zags had 50 points in the paint against Creighton), obviously you're in trouble.
The math says that with far better shooting and plenty of attempts, the Zags will likely give you a whipping.
SO HOW do you beat Gonzaga?
Wait, you're thinking.
It's obvious.
Just kill them with 3-pointers.
After all, if you're scoring three points while the Zags keep settling for a measly two, you're home free.
That would be a valid piece in our math class, as well, except…
Gonzaga doesn't let you simply stand around and fire off lovely, uncontested 3-pointers.
Creighton came into that Sweet 16 matchup with a couple of goals involving those deep shots.
They hoped to make about 15 of them while shooting 40-45 percent (or better) — and to frustrate the Zags offense, they planned to play off Andrew Nembhard and Joel Ayayi, thus allowing for serious pressure on Gonzaga's better shooters.
And the result of this scheme?
Creighton was held to a 5-of-23 nightmare from deep.
"We did a great job (defensively), particularly chasing them off the 3-point line," said Zags guru Mark Few.
Even when the Bluejays got the ball to their better outside shooters, they were routinely hustled and hurried by Gonzaga's perimeter defenders.
Few pointed out that his guards are all big, physical guys with plenty of length and the ability to frustrate shooters.
Creighton coach Greg McDermott agreed.
"(Gonzaga) isn't a one-trick pony," he said, referring to all the hoopla about the Zags' offense.
"They keep you from doing a lot of things that you planned, and defensively they make it difficult to get a lot of the looks you want."
AT THE other end of the floor, Creighton's plan to ignore Nembhard and Ayayi — in order to crowd the paint and follow Corey Kispert — didn't go very well, either.
Nembhard hit an open 3-ball on the Zags' first possession, and less than a minute later, Ayayi swished the first of his three long ones.
The Zags just seem more skilled, and more comfortable, with and without the ball.
That nearly astronomical shooting percentage from 2-point range truly is a mathematical advantage.
Just to put it in perspective, the USC team looming in front of the Zags on Tuesday has shot 46.7 percent from the floor for the season, just 34.8 percent from 3-point range and 64.7 from the foul line.
That's despite 53-percent shooting from 7-foot-1 Evan Mobley, which tells you the rest of the Trojans haven't exactly been lighting it up.
Oh, and while we're talking about shooting percentage, Gonzaga's 49.1 percent effort last week against Oklahoma was its worst of the season.
Again, the math just looks so good.
IF YOU insist on worrying, however, there are a couple ways that Southern Cal can negate what appear to be major disadvantages.
Yes, they're actually fretting.
The tall, tall Trojans perhaps could have a huge night on the glass, and convert so many second chances that it flips the shooting numbers we've seen so far.
Or USC could just get hot.
They torched Kansas and Oregon, but neither of those teams defended well at all.
Or, finally…
Gonzaga could have a poor shooting night against USC's smothering zone defense.
Solid decision making can prevent that, but if you really want to be nervous…
Those are some of the ways things might go wrong.
From the beginning of time, though, numbers have told the truth.
If they do so again, the Zags will be headed to the Final Four.
Email: scameron@cdapress.com
Steve Cameron's "Cheap Seats" columns appear in The Press on Tuesdays, Wednesdays and Fridays during the NCAA tournament. "Moments, Memories and Madness," his reminiscences from several decades as a sports journalist, will return and run each Sunday after Gonzaga's season is concluded.
Steve also writes Zags Tracker, a commentary on Gonzaga basketball which will be published each Thursday during the tournament.
Recent Headlines
---