Get the top price — staging and decluttering
by
TYLER WILSON/Special to The Press
|
March 28, 2021 1:00 AM
In a hot real estate market, it seems like every house sells quickly, regardless of its age or appearance. Sellers might think they don't need to do much before listing their home, and, sure, a poorly-staged home might sell just fine if someone wants it enough.
But you can do so much better just by putting in a little extra effort.
A well-staged home that presents well both in-person and online can often garner a higher ticket price in the first place. In short, you can ask for more than your neighbors can because you made your house look nicer than theirs.
Depending on you and your real estate agent's strategy for selling, an immaculately staged home combined with a visible and well-attended open house can create a bidding war that may result in a top-of-the-market price.
However, you won't accomplish this feat by displaying all your creepy dolls and old newspapers.
In 2021, it's shocking to STILL see online listings with pictures of cluttered rooms and random junk. For the most part, if a buyer can't visualize the space for their needs, they're likely to move on to the next listing (the exception being, of course, that there aren't many listings right now).
Real estate agents will also tell you that a nicely staged home presents better than a vacant one. So even if the home is empty, you might consider utilizing a staging service to accessorize the home with spare-but-inviting furniture and decor.
At the very least, however, you've got to pack away all the "extra."
Some simple suggestions before taking pictures or allowing the public into your home:
• Clean off the kitchen countertops. Show off the space and versatility of the kitchen by making sure all the cooking gadgets and doodads have their own space. There shouldn't be a toaster on the island or any food visible (unless you've got some fancy jars storing your cereal or decorative pasta).
• De-personalize. Stash the family pictures temporarily. Yes, your kids are probably adorable, but maybe not as adorable as you think, or maybe a buyer doesn't like kids, or maybe a buyer will be jealous that their own jerk kids aren't as cute as yours. I'm exaggerating the scenario, obviously, but the idea here is you don't want specific items in the home that can potentially distract buyers from considering how they'll use the space.
• Keep floors clean. Everything should have its own dedicated space. You can't tout square footage (or convince others that utilized its space well) if buyers can't see the floor.
• Give special consideration to a home's best assets. Sure, clean up the kids' rooms and make sure the basement half-bathroom presents itself fine, but focus on wowing buyers with the amenities absent from other houses. If you have a spacious master bedroom with a huge walk-in closet and a double-sink attached bathroom and a jet tub, focus your attention on making this space look as spectacular as possible. Same goes for remodeled or new kitchens or desired bonus amenities like fireplaces, spacious decks, etc.
• Clean, clean, clean. You don't want any nasty smells lingering in the home. With COVID still lingering, you probably should be keeping windows open during open houses or viewings anyway, but regardless, it should smell fresh. If you're struggling to remove a certain smell, you probably need to address a larger problem (mold or pet stains, etc.)
• Your animals need to take a vacation. Make sure they aren't there during viewings, elusive cats included, and also make sure you clean up whatever they leave behind, most especially hair and dander.
These are the basics. I know it seems like you might get away with not doing some of these things, especially when you hear stories about Californians making offers on North Idaho homes sight unseen. You may not be that lucky, and even if you are, wouldn't you rather want to create a bidding war between multiple Californians because your house looks better than all the other options? Make those Cali-folks pay.
• • •
Let us know about standout neighborhoods and developments that we may feature in an upcoming Neighborhood of the Week. Contact Tyler Wilson at twilson@cdapress.com.
Real Estate Agents, take advantage of Neighborhood of the Week by sending in your suggestions for featured areas, including sites outside the normal confines of Coeur d'Alene, Post Falls and Hayden.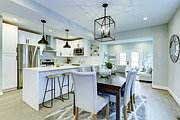 ---