'I don't work for you, Greg'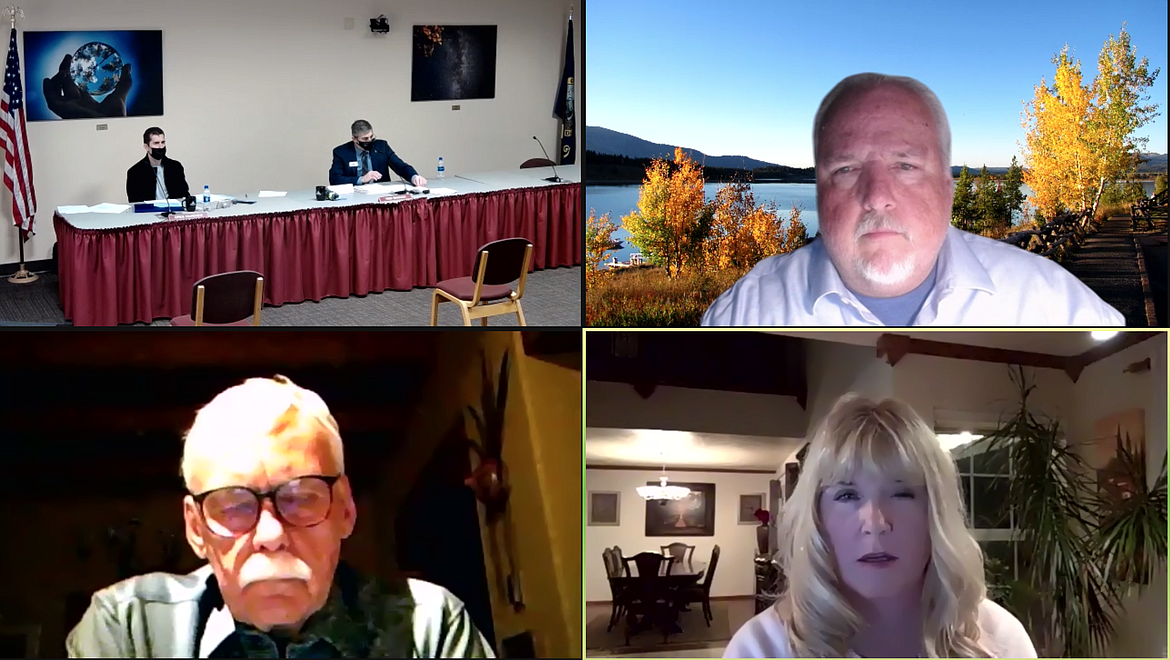 The monthly North Idaho College board of trustees meeting proved that the tension between members is steadfast and a long ways from over. From top left to bottom left: Trustees Greg McKenzie, Todd Banducci, Michael Barnes, Christie Wood and Ken Howard. (MADISON HARDY/Press)
In the several weeks that have followed a failed motion to recall North Idaho College board of trustees chair Todd Banducci, the board has continued to struggle to achieve cohesion.
During the board's formal monthly meeting Wednesday night, tension emerged between vice-chair and freshman Trustee Greg McKenzie and NIC President Rick MacLennan regarding an article published in the Chronicle of Higher Education earlier this month. Picking apart the series of recent events through multiple emails obtained through a public information request and pulling from the Press publications, the article described NIC as an institution divided against itself and the community. Referencing several emails sent by Banducci and an email by MacLennan — reported in the Press Jan. 20 — the Chronicle's article took the stance that Kootenai County's "right and far-right" population is vigorously developing a "disdain for colleges." 
McKenzie asked MacLennan if he had anything to say regarding the Chronicle's portrayal of NIC, noting comments on MacLennan's Twitter account that said "we'll (NIC) be fine" and "we're not going down that easily."
"I was just wondering what you meant by we're not going down that easily," McKenzie said. "And specifically, I was hoping you would address who is trying to take you down." 
MacLennan had nothing to add to the comments and said they "speak for themselves." McKenzie also asked the president to address an email where MacLennan deemed the vice-chair actions as "undermining." At which point, Trustee Christie Wood tried to bring the conversation to a halt, arguing that any personnel discussions should be done privately, in executive session. However, Banducci said he would not recognize Wood to speak at that time. 
"This is absolutely inappropriate, and you know it," Wood said. "You know better."
Calling attention to the special meeting where Wood called for Banducci's resignation, McKenzie asked her to comment on the lingering tension. 
"I don't work for you, Greg," Wood said. "Let's move on."
There was some reprieve in the meeting until the board began to discuss the controversial conduct policy rescinded by the body in December 2020 in a 3-2 vote — Wood and Trustee Ken Howard dissenting. Though the written language of Policy 2.01.10 described the "ethical" and "businesslike" expectations of board members, some trustees felt it overstepped.  
"I've had issues with the board conduct policy because I thought it stifled communication," Banducci said. "I thought it infringed on people's First Amendment rights, and I was not a fan of it." 
In an attempt to create a systematic language that would please the board, Howard and newly-elected Trustee Michael Barnes have taken it upon themselves to revise the policy. In an update Wednesday night, Howard said the two have had several positive workshops but will need more time. 
McKenzie again referenced his previous comments about MacLennan, despite Wood's suggestion to wait until an executive session. Banducci thought it was pertinent to discuss situations that could help develop functional policy procedures publicly. 
"It's sort of a Catch-22," Banducci said. "We have situations, call them case studies if you want, and those would be examples that people would want to discuss as to how that would affect what is created and what the ramifications are."
Howard assured the board that he and Barnes would allocate considerable attention to the policy's workings and present their findings to the board so they can review and make recommendations before a vote. After a few additional comments persisted by Wood and McKenzie, Howard pleaded to end the conversation. Barnes, who in the end had the final word, tried to appeal to both sides.
"People, tools, they change and therefore procedures to meet those policies necessarily do change over time," Barnes said. "That is why we want to make a careful assessment of what is the high-level statement for the policy and then address under separate procedural documents how we go about that in our current situation, our climate, and our culture." 
The next NIC board of trustees meeting is April 28. 
Recent Headlines
---